Zohar Quotidiano # 999 – Siamo in Grado di Vedere le Meraviglie.
Click here to listen to the Daily Zohar [audio:https://dailyzohar.com/wp-content/uploads/audio/dz999.mp3|titles=Daily Zohar 999]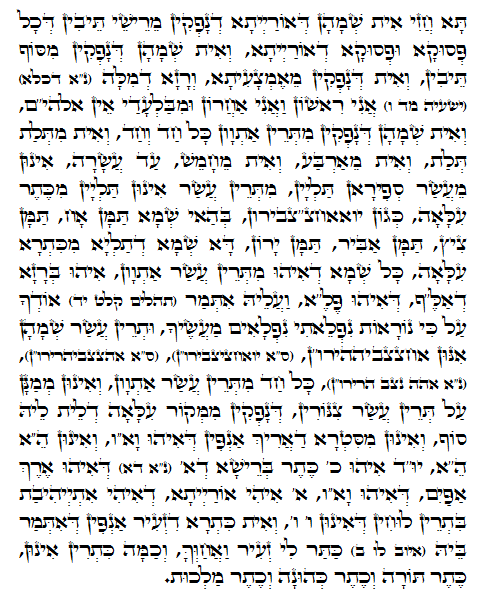 Tikkun 70 – 104.
I versi della Toràh nascondono Nomi Santi. Dalle loro iniziali vengono Nomi che hanno la loro radice in Chockmàh. Dalle ultime lettere vengono Nomi che hanno la loro radice in Binàh e dalle lettere centrali vengono Nomi che hanno la loro radice in Keter.In questa sezione lo Zohar dice che questo segreto è "accennato,suggerito" dalla frase "Io sono il primo e Io sono l'ultimo" frase presa dal versetto seguente:
Isaia 44:6.
"כֹּה – אָמַר יְהוָה מֶלֶךְ – יִשְׂרָאֵל וְגֹאֲלוֹ, יְהוָה צְבָאוֹת: אֲנִי רִאשׁוֹן וַאֲנִי אַחֲרוֹן, וּמִבַּלְעָדַי אֵין אֱלֹהִים""Così dice YHVH, il Re d'Israele, il suo Redentore YHVH degli eserciti: Io sono il primo e sono l'ultimo, e all'infuori di me non c'è Dio".
HaShèm è all'inizio, alla fine e in ogni cosa tra inizio e fine. Non c'è niente eccetto Lui.
Lo Zohar continua e ci insegna che i Nomi di due lettere provengono dalla radice di Chockmàh.i Nomi di tre lettere provengono dalla radice di Binah, i Nomi di quattro lettere provengono dalla radice di Chessèd, i Nomi di cinque lettere provengono dalla radice di Ghevuràh e così via, mentre i Nomi di 10 lettere sono in Malchùt.
I Nomi di 12 lettere sono di Arich Anpìn come il nome יואאחצ"צבירון. Questo Nome contiene riferimenti alle luci di Keter con le parole אח, ציץ, ירון "che vengono fuori di esso". Ogni lettera ha 12 canali assegnati ad essa che provengono dalla testa superiore di Keter. (Ci sono tre teste per Keter, ma qui non è il momento di approfondire).
Salmi-Tehillìm 139:14.
"אוֹדְךָ – עַל כִּי נוֹרָאוֹת, נִפְלֵיתִי:
נִפְלָאִים מַעֲשֶׂיךָ, וְנַפְשִׁי, יֹדַעַת מְאֹד ""odecha àl kì norà'òt niflèti niflà'ìm ma'asècha vènafshì iodà'àt mè'òd""Io rendo grazie a Te, perché sono fatto in modo stupendo; sono stupende le tue opere, che la mia anima conosce fino in fondo."
Re Davide vide la gloria di HaShèm in ogni cosa intorno a lui e tutti i Salmi che ha scritto sono la testimonianza di questo. Con questo verso Re Davide rende grazie ad HaShèm per aver ricevuto la capacità di vedere le meraviglie della Creazione e per aver permesso alla sua Anima di connettersi ad esse.
Noi non siamo il re Davide, ma abbiamo lo Zohàr che ci rivela tutte le meraviglie del mondo. Lo Zohar è il nostro sguardo ai Nomi Sacri che sono nascosti così meravigliosamente nella Toràh. Lo Zohàr ci svela i segreti in una forma nella quale noi tutti siamo in grado di connetterci per attirare Luci Celesti nella nostra vita.
{| |}