Zohar Quotidiano # 983 – Non Raderti la Barba.
Click here to listen to the Daily Zohar [audio:https://dailyzohar.com/wp-content/uploads/audio/dz983.mp3|titles=Daily Zohar 983]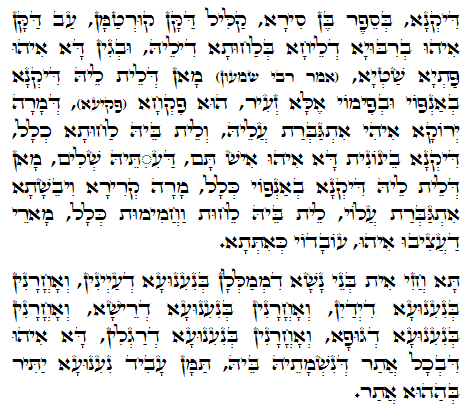 Hebrew translation:
Tikkun 70 – 88
Una barba sottile con pochi capelli indica un uomo saggio con una mente acuta.
Una barba folta e piena indica una persona ingenua che si può ingannare facilmente.
Un pò 'di peli sul viso e intorno alla bocca indicano un uomo intelligente, ma che non ha equilibrio interiore. Queste persone usano la loro intelligenza in modo negativo e ingannano gli altri.Le persone con barba normale e proporzionalmente densa sono dalla Colonna Centrale.Coloro che non hanno la barba sul viso hanno la tendenza verso la tristezza o di cadere in uno stato emozionale negativo, perché non possono contenere molta Luce.
Il pelo della barba rappresenta la connessione ad Arìch Anpìn, che è uno dei capi di Keter insieme a Atìk Yomìn.I 13 attributi di HaShèm vengono da Arìch Anpìn e portano saggezza e misericordia per tutti i mondi inferiori.
E 'beneficiario per un uomo farsi crescere la barba per essere in grado di connettersi e incanalare questa Luce alta.C'è una storia circa Baba Sali (Rabbi Israel Abu-Chatzeira), un grande Kabbalista della generazione precedente. Ha insegnato ai suoi studenti i vantaggi della crescita della barba e i suoi studenti hanno seguito il loro Insegnante. Dopo un po 'uno di loro è venuto senza barba. Alla domanda "cosa è successo?", Ha risposto: "Mia moglie mi ha costretto a raderla". Il Baba Sali disse al suo allievo di tornare da sua moglie e dirle che se lei non lo lascia farsi crescere la barba, allora crescerà una barba per lei stessa.
Conoscendo i poteri di Baba Sali,la donna ha fatto in modo che al marito crescesse di nuovo la barba e questa volta se l'è tenuta.Se uno ha problemi principali con il farsi crescere la barba suggerisco di non radersi con lame affilate, perché l'immissione di lame direttamente sul viso porta aspetti di giudizio . Meglio utilizzare "trimmer" di qualche tipo.
Baba Sali non ha mai tagliato la barba e ha utilizzato gli occhi solamente per scopi Santi. Era conosciuto per fare molti miracoli. Il suo vero nome era Rabbi Israel Abu Chatzeira ma la gente lo chiamava Baba Sali che significa "il padre che prega" perché stava pregando per gli altri e le sue preghiere erano solitamente risposte. E' stato quello che ha aperto alle persone la Sinagoga del Santo Ari a Safed . Prima di allora, tutti i tentativi di utilizzare la Sinagoga hanno portato danni e anche alla morte delle persone.Baba Sali ha fatto una meditazione speciale ed è riuscito ad equilibrare l'energia in quel luogo.
Poichè la testa è un 'volto' completo che include tutte le Dieci Sefiròt,questo la rende un dispositivo spirituale che ci collega al regno spirituale. Mantenendo tutte le 7 aperture degli occhi (2), delle orecchie (2), del naso (2) e della bocca per scopi Santi ci garantisce grandi capacità di usare Chockmàh interna (emisfero cerebrale sinistro) e Binah ( emisfero cerebrale destro) come strumenti per attirare la luce da Keter, a Da'at e per il mondo di sotto.
Le donne non hanno e non devono lasciarsi crescere i peli facciali, perché sono vasi/recipienti e la loro attenzione dovrebbe essere concentrata sulla costruzione di grandi desideri per attirare la Luce al mondo e manifestarla.
{| |}