Zohar Quotidien # 968 – Combien d'eau peux-tu supporter?
Cliquez ici pour entendre Zohar Quotidien [audio:https://dailyzohar.com/wp-content/uploads/audio/dz968.mp3|titles=Daily Zohar 968]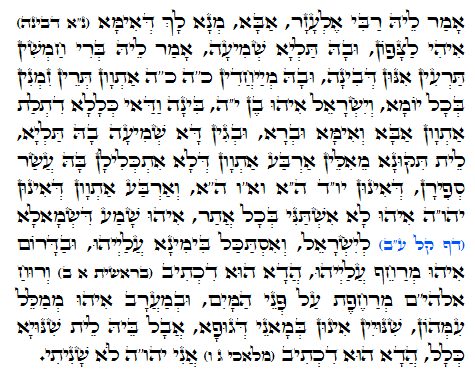 Hebrew translation:
Tikkoun 70 – 73

Rabbi Élazar demande à son Rabbi Shimon, "d'où prends-tu que Bina est nord et le sens de l'ouïe?"
Deutéronome 6:4
"שְׁמַע, יִשְׂרָאֵל: יְהוָה אֱלֹהֵינוּ, יְהוָה אֶחָד "
"Écoute, O Israël: YHVH notre Dieu, YHVH est un. "
Rabbi Chimon explique que la prière de Chema Yisrael est notre connexion aux 50 portes de Bina. Le premier mot est 'Écoute' et le second mot est 'Israël' qui est le nom de Jacob. Il est l'aspect de Zeir Anpin that qui est le fils בן of YH יה. YH est le père et la mère supérieur. Les lettres בן+יה sont les mêmes que בינה, Bina. Pour cette raison, l'ouïe se connecte à Bina.
Rabbi Chimon augmente son explication et dit que parce que les quatre lettres du nom YHVH sont la vue, l'ouïe, l'odorat et la parole, chacune d'entre elles inclue les dis Séfirot. Le nom YHVH lui-même ne change pas et est comme l'âme pour le corps en un certains sens. Il leur donne chacun la force vitale nécessaire pour fonctionner.
Le changement dans les sens ne pouvait être qu'au niveau des Séfirot qui représentent le récipient mais la lumière intérieure qui est YHVH ne change jamais.
Malachi 3:6
"כִּי אֲנִי יְהוָה, לֹא שָׁנִיתִי; וְאַתֶּם בְּנֵי-יַעֲקֹב, לֹא כְלִיתֶם"
" Car je suis YHVH, je ne change pas; et vous, enfants de Jacob, vous n'avez pas été consumés.."
YHVH est le nom qui représente tuote la Création et la lumière de l'Infini qui alimente tous les mondes de Adam Kadmon à travers Atzilout (Émanation), Béria (Création), Yetzira (Formation) and Assiya (Action).
IL est important de comprendre que la lumière, YHVH, est toujours la même.
Imagine une source d'eau sans fin et un gros barrage avec des tuyaux qui acheminent l'eau à l'utilisateur final, le consommateur. Rlle passe de gros tuyaux vers de plus petits jusqu'à ce qu'elle atteigne le consommateur final qui utilise le robinet. Il ne peut se connecter directement à la source sinon cela briserait son système (maison, récipient…) Cette eau est la même eau que celle de la source mais la capacité à utiliser à canaliser plus d'eau dépend du tuyau et de sa place dans le processus de livraison au consommateur en bout de ligne.
La leçon pour nous est que nous pouvons avoir tous le spouvoirs que nous voulons ou dont nous avons besoin si nous avons un récipient assez grand et assez fort pour le prendre. Nous pouvons facilement grandir comme canal si nous abandonnons le désir de tout posséder pour soi-même et choisissons de transmettre la force de laquelle nous recevons. Quand nous nous comportons comme celui qui nous donne, nous atteignons le même niveau et nous nous connectons au niveau au-dessus de lui.Nous pouvons continuer avec la même méthode et continuer à augmenter notre habileté à canaliser l'eau/lumière de plus en plus.
Si nous voulons beaucoup d'eau, nous ne devrions pas nous y accrocher.
{||}