Click here to listen to the Daily Zohar [audio:https://dailyzohar.com/wp-content/uploads/audio/dz966.mp3|titles=Daily Zohar 966]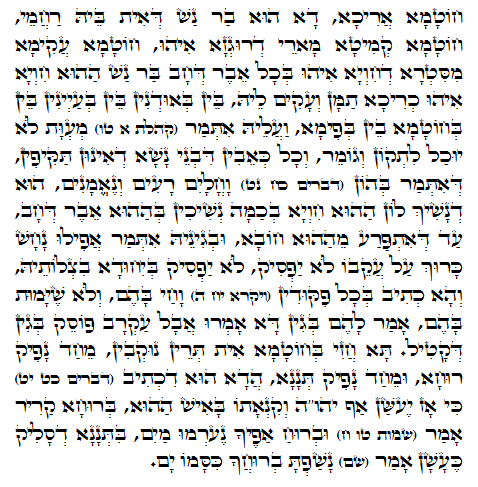 Hebrew translation:
Tikkun 70 – 71
Izraz 'bel' spodaj je povezan z duhovnim stanjem in ni povezan z barvo polti. Preberi predhodni Zoharjev Dnevnik za razumavenje barv ljudi.
"Beli ljudje z dolgim in ravnim nosom imajo dobro in sočutno srce. Redko postanejo jezni. Kratek in kljukast nos nakazuje vzkipljiv značaj in težnjo k jezi.
Če je vrh nosu ukrivljen proti levi ali desni, pomeni, da je oseba imela grehe v prejšnem življenju, ki so jo povezali z drugo stranjo. Prosim bodite pozorni, da je veliko ljudi, ki so imeli nezgodo z nosom. Zatorej ne hiteti s sodbo osebe. Grehi iz prejšnega življenja so vidni na obrazu ali telesu, ki so bili vpleteni v greh. Oseba je lahko prišla v to življenje kot gluha, škilje oka, s kljukastim noso, z našobljenimi ustnicami itd.
Pridigar 1:15
"מְעֻוָּת, לֹא-יוּכַל לִתְקֹן; וְחֶסְרוֹן, לֹא-יוּכַל לְהִמָּנוֹת "
"Kar je krivo se ne more izravnati, in kar je manjkajoče se ne more šteti"
Zohar nam govori, da se deformirani deli telesa s katerimi smo bili rojeni ne morejo spremeniti, četudi se oseba očisti. Samo po smrti in reinkarnaciji se lahko popravi.
Če ima nekdo nek ukrivljen del telesa, potem je najverjetneje zelo resno grešil v prejšnem življenju. Ta bi moral usmeriti posebno pozornost na svojo duhovno navezavo in dejanja, da se izogne vračanju v naslednje življeje s podobno telesno napako ali še slabše.
{||}