Zoharjev dnevnik – Ali preizkušaš ali pa zaupaš v Boga
Pritisni tukaj za poslušanje Zohajevega devnika.žž [audio:https://dailyzohar.com/wp-content/uploads/audio/dz1025.mp3|titles=Daily Zohar 1025]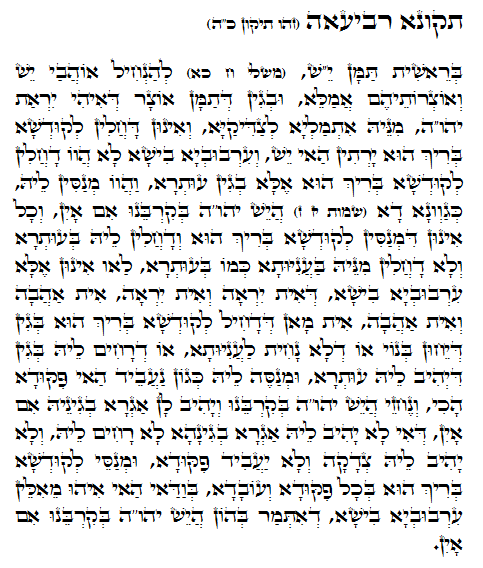 Tikkun 4 – 1
Knjiga Pregovorov 8:21 "לְהַנְחִיל אֹהֲבַי יֵשׁ; וְאֹצְרֹתֵיהֶם אֲמַלֵּא"
"Da Bom njim, ki me ljubijo nasledil bogastvo in napolnil jim zaklade."
V besedi zvezi "בְּרֵאשִׁית", "V začetku" imamo besedo יראת, "Strahospoštovanje" ter "יש", kar pomeni " v obstoju" oz. kar ima osnovo/jedro . Zohar nam pojasnjuje da črki יש s številčno vrednostjo 310 nakazujejo na število SVETOV, ki jih bo Bog podaril kot darila "שי" pravičnikom, ki vzdržujejo čisto ljubeten in strahospoštovanje do Njega.
Izraeliti so zapustili Egip. Egipt predstavlja svet materijalnosti in fizičnega obstoja. Potem so sledili Mojzesu z namero navezati se ne duhovni sistem YHVH kot so to opravili Abraham, Izak in Jakob. Vendar z Izraeliti so prišli tudi pripadni Erev Rav. To so mešane skupine tistih, ki so bili dobre duše in tistih, ki so bili zle duše. Imeli so neizmerno željo – sebično zase. Ta želja jim je bila vtisnjena v Egiptu za veliko generacij. Prav tako kot Izraeliti so sledili Mojzesu ter zlatu, ki so ga Egipčani dali Izraelitom, preden so le-ti zapustili Egipt. Erev Rav bitja so vedno želeli biti na zmagovalni strani ter na ta način uživati fizično udobnost, ki ga je Bog namenil za Izraelitska plemena.
Erev Rav bitja, niso posedovala čistosti and strahospoštovanja do Boga. Sledili so svetlobi iz osebne koristi. Njihova vera je bila šibka in se popolnoma razgubila ob prvem manjšem soočenju za neuodonostjo.
V Drugi Mojzesovi knjigi 17:3 so se pritoževali vedno kadaro so pogrešali vode.
"וַיִּצְמָא שָׁם הָעָם לַמַּיִם, וַיָּלֶן הָעָם עַל-מֹשֶׁה; וַיֹּאמֶר, לָמָּה זֶּה הֶעֱלִיתָנוּ מִמִּצְרַיִם, לְהָמִית אֹתִי וְאֶת-בָּנַי וְאֶת-מִקְנַי, בַּצָּמָא."
"Ljudje so bili žejni vode; In ljudje so se pritoževali čez Mojzesa rekoč: 'Zakaj si nas odvedel izven Egipta, da umremo od žeje mi in naši otroci in naša živina.
Njihov dvom v Boga je bil tako močan, da so postavili vprašanje:
17:7 "הֲיֵשׁ יְהוָה בְּקִרְבֵּנוּ, אִם-אָיִן" "'Je mar YHVH med nami ali nič od tega? '"
Zohar nas poduči da so bile želje Erev Rav bitij, da postanejo bogata. Svetu je bila prav tako zastrto v besedu "בְּרֵאשִׁית" Kot יראת יש, kar pomeni strah ( pomanjakanje ) osnove.
Zohar dodaja, da ljudje, ki sledijo zapovedim ali dajejo prostovoljno daritev tzedaka,preizkušejo Boga da bi podaril daje materialne koristi. Zohar nas opozarja v nagovoru na tiste ljudi, ki so dajali tzedaka/redno darovanje rekoč ob pakiranju za preizkušnjo, da se preveri darila Boga, materijalne dobrine, če so od the Erev Bog. Rav.
+