Click here to listen to the Daily Zohar [audio:https://dailyzohar.com/wp-content/uploads/audio/dz966.mp3|titles=Daily Zohar 966]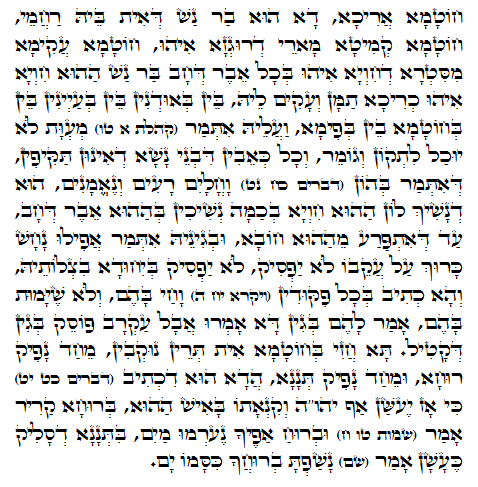 Hebrew translation:
Tikkun 70 – 71
Der Bergriff 'weiß´unten, steht im Zusammenhang mit einem spirituellen Zustand und bezieht sich nicht auf die Hautfarbe. Lest den vorherigen Daily Zohar um die ´´Farbe´´ von Menschen zu verstehen"
"Weiße Menschen, mit langen geraden Nasen, haben gute mitfühlende Herzen. Sie werden selten ärgerlich. Kürzere, krumme Nasen deuten auf Jähzorn und schnell wütend zu werden hin'.
Wenn die Nasenspitze nach rechts oder links gebogen ist, meint das, die Person hatte in seinen früheren Leben Sünden, die ihn zur anderen Seiten verbunden haben. Bitte beachtet, es gibt viele Menchen die Nasenunfälle hatten, also sollten wir diese Tatsache prüfen, bevor wir eine Person vorschnell beurteilen. Die Sünden aus früheren Leben sind auf dem Gesicht oder an Köperteilen, die an der Sünde beteiligt waren, sichtbar. Eine Person könnte in dieses Leben als gehörlos, schielend, mit krummer Nase, krummen Mund, ect., kommen.
Ecclesiastes 1:15 "מְעֻוָּת, לֹא-יוּכַל לִתְקֹן; וְחֶסְרוֹן, לֹא-יוּכַל לְהִמָּנוֹת " "Das was krumm ist, kann nicht gerade gamacht werden; und das was fehlt, kann nicht nummeriert sein"
Der Zohar sagt uns, dass die 'deformierten' Körerteile, mit denen wir geboren wurden, in diesem Leben nicht verändert werden können, selbst wenn die Person sich reinigt. Erst nach dem Tod und Reinkarnation, können sie wiederhergestellt werden.
Wenn jemand einige krumme Körperteile hat, dann hatte er vermutlich schwerwiegende Sünden in seinen früheren Leben und er sollte sollte einen zusätzlichen Fokus auf seine spirituellen Verbindungen und Aktionen richten, um zu vermeiden in dem nächsten Leben mit einem ähnlichen oder noch schlimmeren Körper, zurückzukommen.