Zoharjev dnevnik št. 993 – Trije koraki za pretehtati pred razporoko oz. ločitvijo
Pritisni tukaj za poslušanje Zoharjevega dnevnika [audio:https://dailyzohar.com/wp-content/uploads/audio/dz993.mp3|titles=Daily Zohar 993]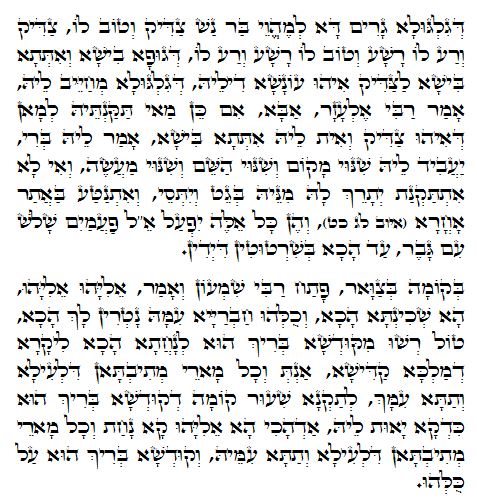 :
Tikkun 70 – 98
Oseba lahko pride v to življenje s popravo povezano na njegovo usodo in navezavo na luč. Lahko postane pravična oseba vendar lahko je poročena z ženo, ki je izziv za njegovo usodo in mu lahko povzroča težavo, da ohrani sledenje pravični poti. Rabin Elazar je povprašal svojega očeta, kako lahko taka oseba popravi odnos s svojo partnerko ženo. Rabin Shimon mu odgovarja, da bi moral narediti tri spremembe v svojem življenju.
Preseliti v drug kraj, ki jo naredi srečnejšo. Namreč prenekaterikrat socialno okolje generira okolje, ki vpliva na odnos.
Spremeni njeno ime. S tem pridobi prenovljeno dušo, ki ji lahko poda boljše razumevanje in razumevanje duhovnega dela njenega partnerja.
Spremeni svoja dejanja v odnosu. Sprejema ženo v ljubezni in spoštovanju in s tem vpliva na pozitivne spremembe v njej.
Jobova knjiga 33:29 "הֶן-כָּל-אֵלֶּה, יִפְעַל-אֵל– פַּעֲמַיִם שָׁלוֹשׁ עִם-גָּבֶר. "
"Poglejm vse to Bog počne človeku dvakratno, trikratno, trikratno …."
Rabin Shimon citira ta verz in pravi, da Bog izvaja te korake z namenom, da nas zadrži v procesu popravek/tikkun-a. Če slednje tri ne bo pripeljalo par skupaj na isto pot, potem bi se moral moški moral zaščititi pred osebnim padcem z ločitvijo in poročiti žensko, ki bi mu pomagala zgraditi boljšo osnovo za svetlobo. Proces treh korakov reševanja partnerske zveze je resna zadeva namreč moški ne bi smel iskati hitrih kratkih bližnjic in opravičil za razporoko samo zato, ker je dovoljena. Proces poprave/tikkun-a lahko povede osebo v težaven in izzivajoč odnos. Moški je odgovoren za pritegnitev svetlobe v dom in žena za njeno manifestacijo. Mož mora vložiti vse napore za razrešitev vseh odprtih zadev in pritegniti mir in složnost v njuno zvezo in družino. Samo potem, ko so izčrpane vse tri možnosti spremembe, se lahko razmišlja o zaključitvi Poprave/Tikkun-a z njegovo ženo in prične pisati račun za razporoko. Pravilo je, da moški udejani vsa potrebna dejanja za razporoko saj je namreč njegova odgovornost in njegova Poprava. Današnje dni možje pooblastijo poobblaščene notarje ali odvetnike, da to naredijo strokovno.
Žena, ki je omožena z moškim, ki je daleč od svetlobe mora ustvariti osnovo zanjga, da ustvari željo in mu omogoči priložnosti, da se dokaže kot ustrezen usmerjevalec svetlobe zanjo in in družino. Ona ima namreč moč manifestacijein lahko določa smer odnosa. Če je moški impotenten, kar pomeni nesposoben usmerjati svetlobo potem velja z njene strani razmisliti o ločitvi. Vendar, če imata skupaj otroke potem manifestacija svetlobe že obstaja, Potem ne more zahtevat ločitve brez upoštevanje blagostanja in stabilnosti otrok.
Denar in materijalni uspeh družine ne bi smel nikdar biti razlog razporoke. Vedno bi morali biti srečni, kar dobivamo v življenju in se usmeriti na dušo in navezave duše. Modri so nas učili, da je to življenje samo prehod v Palačo Velikega Kralja. Če je duša čista, potem ta lahko gre v notranje sobane. Kajti Kralju ni mar za zlato ali za zvrst tkanine na koži.
{||}