Zoharjev dnevnik Št 1003 – Sveti pečatnik
Click here to listen to the Daily Zohar [audio:https://dailyzohar.com/wp-content/uploads/audio/dz1003.mp3|titles=Daily Zohar 1003]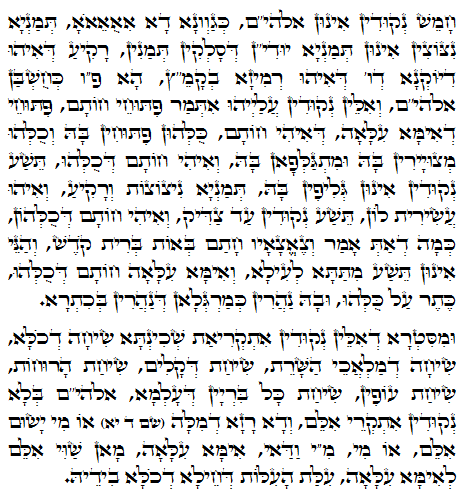 Tikkun 70 – 108 אִאֻאֵאֹאָ – EE-OO-EH-OH-AH


Pet črk Alef predstavlja ime אלהים in pet krat se pojavlja beseda svetloba 'אור' v zgodbi Stvarjenja prvega dne. Pet črtk Alef prav tako predstavlja pet Sefirojev: BLAGOST (Chessed), MOČ/VZDRŽNOST/SODBA ( Gevurah ), RAVNOTEŽJE/LEPOTA/DUHOVNOST (Tiferet), ZMAGA (Netzach) ter VELIČASTJE (Hod). Pet Sefirojev, ki konstruirajo TELO/BIT. Pet Sefirojev, ki zadržuje svetlobo. Temelj-Yessod je lijak in Malchut je upravičenec in s tem tudi potrošnik. Zohar nam odstira, da so samoglasniški znaki (Nikkud) črke Alef vgrajeni v dveh besedah iz verza Druge Mojzesove knjige 28:11 "פִּתּוּחֵי חֹתָם" "vreznine pečatnika". To je skrivnost oblike kamnov na oprsni plošči, ki jo je Visoki Svečenik včasih nosil na vrhu svojih oblačil med služenjem v Svetem Templju. Številčna vrednost samoglasniških znakov (Nikkud) petih črk Alef je 86. Podobno kot v imenu אלהים ELHYM. Vsaka pika samoglasniškega znaka je kot črka Yod. Torej ima številčno vrednosti 10. Samoglasniški znak 'Kamatz' je oblikovan iz vodoravne črtice ter pike pod črtico. Črta je kot črka Vav. Torej ima številčno vrednost 6. Imamo pa še 80 pik kar znese številčno vrednost 80. K temu dodamo še številčno vrednost črke Vav, ki je 6. Skupaj torej imamo številčno vrednost 86.
Svetloba prihaja iz MODROSTI (Chokmah) in je usmerjena v RAZUMVANJE(Binah), kjer oblikuje vse črke in samoglasniške znake. To določa RAZUMEVANJE(Binah) kot vidik pečatnika. S svojo ustvarjalno silo ona ( RAZUMEVANJE predstavlja ženski vidik ) vzpostavlja oznake in vtise na Sefirojih spodnjih ravni.
Rabin Elazar reče očetu: "Ampak Tora vendar prikaže samoglasniške znake druge črke kot Shuruk*, v črkah Alef je to Kubutz**. Rabin Šimon pojasni, da takrat ko črka Vav ni na voljo za oblikovanje Shuruk-a potem je vzeta pika iz znaka Cholam***, ki je dejansko črka Vav s piko na vrhu. Prav tako odvzame srednjo piko Shuruk-a in spodnjo piko Chirik-a. Skupaj tvorijo Kubutz.
Rabbi Elazar tells his father 'but the Torah shows the Nikkud of the second letter as Shuruk (Vav with a dot in the middle) but in the Alefs it is Kubutz (three diagonal dots below the letter)". Rabbi Shimon explains that when the Vav is not available to make Shuruk then it takes the dot of the Cholam that is a Vav with a dot on top. It also takes the middle dot of the Shuruk and the lower dot of the Chirik. All together they form the Kubutz.
Shuruk* – je črka Vav s piko na sredi višine črke in sicer na levi strani črke predstavlja samoglasnik u
Kubutz** – so tri pike razporejene v diagonali desno proti levo pod črko predstavlja samoglasnik u
Cholam*** – je predstavljen s piko nad črko in predstavlja samoglasnik o
Chirik**** – je predstavljena s piko pod črko in sicer predstavlja samoglasnik i
{||}