Click here to listen to the Daily Zohar [audio:https://dailyzohar.com/wp-content/uploads/audio/dz993.mp3|titles=Daily Zohar 993]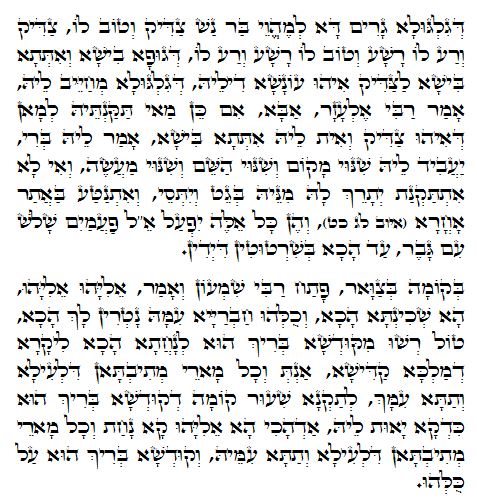 :
Tikkun 70 – 98
Eine Person kann in dieses Leben mit einer Korrektur kommen, die auf seinen Glauben und sein Vertrauen in das Licht bezogen ist. Er kann zur gerechten Seite gewechselt sein aber mit einer Frau verheiratet sein, die seinen Glauben infrage stellt und es ihm schwer macht, dem richtigen Weg zu folgen.
Rabbi Elazar fragt seinen Vater wie diese Person seine Beziehung mit seiner Frau korrigieren kann. Rabbi Shimon antwortet, dass er versuchen sollte drei Veränderungen in seinem Leben vorzunehemen.
1.An einen neuen Ort ziehen, der sie glücklich machen würde, weil manchmal das soziale Umfeld Energien schafft, die Einfluss auf die Beziehung haben.
2.Ihren Namen ändern. Damit wird sie eine erneuerte Seele bekommen, die ihr ein besseres Verständnis und Anerkennung für die spirituelle Arbeit ihres Mannes geben kann
3.Seine Handlungen zu ändern. Seine Frau mit Liebe und Respekt zu behandeln,um so positive Veränderungen in ihr zu beeinflussen.
Job 33:29 "הֶן-כָּל-אֵלֶּה, יִפְעַל-אֵל– פַּעֲמַיִם שָׁלוֹשׁ עִם-גָּבֶר. "
"Siehe, diese Dinge tut Gott, zweimal, ja dreimal mit einem Menschen"
Rabbi Shimon zitiert diesen Vers und sagt, dass Gott die Schritte für uns während unseres Korrektur Prozesses tut . Wenn diese drei das Paar nicht zusammen auf den gleichen Weg bringen, dann sollte der Mann sich vorm Fallen schützen, indem er sich von seiner Frau scheiden lässt und eine heiratet, die ihm helfen wird ein besseres Gefäß für das Licht aufzubauen.
Der drei Schritte Prozess ist eine seriöse Sache und der Mann sollte nicht nach einer Ausrede suchen, die Scheidung zu bekommen, weil es erlaubt ist. Der Tikun Prozess einer Person in einer schwierigen und herausfordernden Beziehung kann dauern. Der Mann ist derjenige der das Licht nach Hause bringt und die Frau manifestiert es. Der Mann sollte große Anstrengungen machen um das Problem zu lösen und um Frieden und Einheit zwischen sie zu bringen.Nur nachdem er alle drei Methoden von Veränderung ausgeschöpft hat, wird es als ein vollständiges Tikun mit seiner Frau bezeichnet und dann kann er einen Scheidungsbrief schreiben.
Die Regel ist, dass der Mann die Handlung tut, die Scheidung von Hand zu schreiben, weil es seine Verantwortung und sein Tikun ist. Heutzutage übergeben Männer es einem qualifiziertem Schreiber, der die Aufgabe in seinem Namen erledigt.
Eine Frau, die mit einem Mann verheiratet ist, der weit vom Licht entfernt ist, sollte für ihn ein Gefäß schaffen, sich das Licht zu wünschen und ihm Gelegenheiten geben,sich als ein geeigneter Kanal für sie und die Familie zu beweisen. Sie hat die Macht der Manifestation und kann die Richtung der Beziehung bestimmen.
Wenn der Mann' impotent' ist, dass heißt unfähig das Licht zu kanalisieren, dann kann sie eine Scheidung in Betracht ziehen, aber wenn sie Kinder zusammen haben, dann ist es schon eine Manifestation des Lichts und sie kann nicht um eine Scheidung ohne Rücksicht auf das Wohlbefinden und die Stabilität der Kinder.
Geld und materieller Erfolg der Familie sollten niemals ein Problem für eine Scheidung sein. Wir sollten immer mit dem was wir im Leben bekommen, glücklich sein und uns auf die Seele und spirituelle Verbindungen konzentrieren. Die Weisen lehrten uns, dass dieses Leben nur ein Korridor zu dem Palast des großen Königs ist. Wenn die Seele rein ist, dann kann sie in die inneren und großen Räume des Palastes gehen, weil der König sich nicht um Gold oder den Typ des Gewebes der Haut kümmert.
{||}