Click here to listen to the Daily Zohar [audio:https://dailyzohar.com/wp-content/uploads/audio/dz994.mp3|titles=Daily Zohar 994]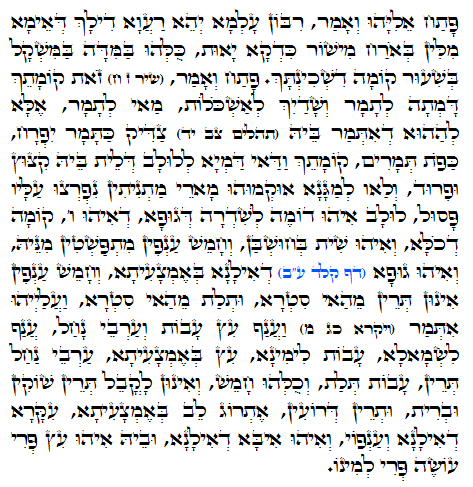 :
Tikkun 70 – 99
Elijah kam auf eine besondere Einladung von Rabbi Shimon herunter. Er erklärte die Ebenen der Shechina.
Song of Songs 7:8 "זֹאת קוֹמָתֵךְ דָּמְתָה לְתָמָר, וְשָׁדַיִךְ לְאַשְׁכֹּלוֹת " "Dieses deine Statur ist wie die einer Palme und deine Brüste die einer Traube"
Elijah zitiert diesen Vers und sagt, dass die Shechina wie eine Palme ist, groß und fruchtbar.
.
Leviticus 23:40 " וּלְקַחְתֶּם לָכֶם בַּיּוֹם הָרִאשׁוֹן, פְּרִי עֵץ הָדָר כַּפֹּת תְּמָרִים, וַעֲנַף עֵץ-עָבֹת, וְעַרְבֵי-נָחַל; וּשְׂמַחְתֶּם, לִפְנֵי יְהוָה אֱלֹהֵיכֶם–שִׁבְעַת יָמִים" "Und ihr sollt euch am ersten Tag die Frucht des Zitronenbaumes nehmen, Zweige der Palme, und Äste von dichten Bäumen und Bachweiden und ihr sollt euch vor YHVH eurem Gott sieben Tage freuen."

Die Shechina ist wie ein fehlerloser Lulav , der gerade nach oben geht und dessen Blätter sich nicht spalten. Wie der Lulav, verbindet die Shechina mit Yessod und Zeir Anpin und ist wie die 'Wirbelsäule' des Körpers und der Aspect von Tiferet, mittlere Säule. Es ist das Geheimnis des Baums des Lebens.
Die 5 Zweige des Lulavs, drei sind auf der rechten Seite für Chessed, Gevurah und Tiferet von Yessod und auf der Linken sind zwei Zweige für Netzach und Hod. Der Palmenzweig in der Mitte ist wie der Buchstabe ו Vav und verbindet die sechs Elemente miteinander. Etrog, das ist die Zitrusfrucht, ist für Malchut und kann nur mit den Sechs nach einem speziellen Segen verbunden werden.
Es gibt viele Geheimnisse über den Gebrauch des Lulavs während der Feiertage von Sukkot. Sie kommen nach Rosh Hashana, das ist ein Gericht von 48 Stunden und nach Yom Kippur, das ist der Tag an dem das Urteil verkündet wird. An Sukkot schwenken wir den Lulav in 6 Richtungen (4 + Oben und Unten) um das Licht zu bekommen, das uns an Yom Kippur für das ganze Jahr zugeteilt wurde.
Dieses Studium von Elijah lehrt uns, indem wir uns mit der Shechina verbinden, durch den Zohar und spirituelle Verbindungen, sind wir imstande fortlaufend Licht in die Welt und in unser Leben zu ziehen.
{||}