Daily Zohar – Tikunim – # 1001 – ¿Por qué tienes hambre?
Click here to listen to the Daily Zohar [audio:https://dailyzohar.com/wp-content/uploads/audio/dz1001.mp3|titles=Daily Zohar 1001]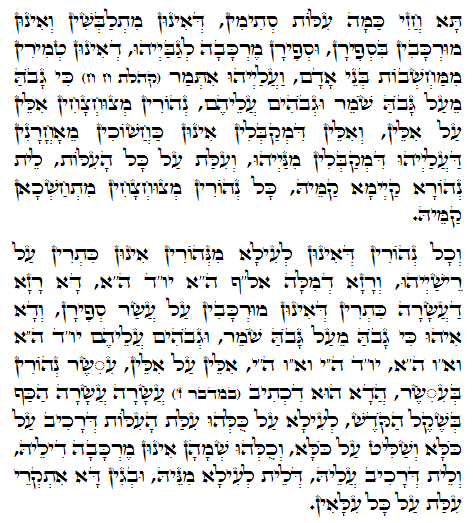 Traduccion Sebastian Palen
Tikun 70-106
La cabeza de Arij Anpin tiene tres niveles de luz que se conectan a la luz infinita.
Galgalta – גולגלתא – cráneo
Kruma d'Avira – אוירא קרומא ד – Membrana del aire
Moja Stima'ah – מוחא סתימאה – cerebro oculto
El dibujo de abajo es muy general sólo para mostrar la relación entre las dos cabezas de Keter, ATIK y Arij. ATIK fue "copiada" de Adam Kadmon y la Luz Infinita. Es uno y todo misericordia. Su siguiente fase es Arij donde podemos empezar a ver la formación de los aspectos de lo masculino y femenino (no se muestra a continuación).
Haga Click para agrandar
[frame type="lifted"]https://dailyzohar.com/wp-content/uploads/2012/08/atik-arich-215×300.jpg[/frame]
El proceso en Keter creó la capacidad de continuar la construcción de los mundos y canalizar la luz interminable a los niveles más bajos.
El Zohar nos enseña que aun cuando Keter es la máxima Sefirá con las luces más bellas, todavía se considera "oscura" en relación a los niveles superiores y el Ein sof.
Las 10 Sefirot representan el proceso de la evolución de la luz infinita a la materia en el mundo físico. Cada nivel trae consigo el nivel inferior mediante la creación de un recipiente para ello.
La Sefirá superior 'empuja' la luz hacia abajo para formar una vasija y luego vuelve a subir dejando la luz a todos los niveles por debajo de ella.
Keter tiene la luz de todas las diez Sefirot de abajo y no tiene ninguna carencia
Jojma tiene la luz de nueve Sefirot, en sí y ocho por debajo de ella. Jojma no carece de verdad, ya que recibe toda la luz de Keter, que es sólo una raíz de todos.
Bina tiene la luz de las ocho Sefirot a continuación. Bina comienza a experimentar el deseo de esparcir luz que fue heredada desde Jojma. El proceso continúa en los niveles inferiores hasta llegar a Maljut que se queda con la luz fuera, pero con el mayor deseo de todos. Maljut tiene el "sabor" de todas las Sefirot de la luz por encima de ella y está en constante hambre.
Tener deseos de las cosas materiales es como consumir nuestros propios recipientes y hacerlos frágiles. Cuando utilizamos la existencia material para expandir nuestro recipiente y el deseo de la luz, crecemos espiritualmente y nuestra alma puede alcanzar niveles elevados.
{||}