Click here to listen to the Daily Zohar [audio:https://dailyzohar.com/wp-content/uploads/audio/dz1002.mp3|titles=Daily Zohar 1002]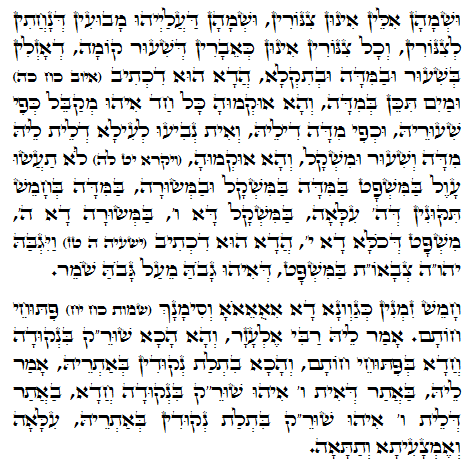 Tikkun 70 – 107
As Sefirot são canais da Luz Infinita. Tudo que existe tem o aspecto das dez Sefirot em si, senão não poderia existir. Mesmo as moléculas de ar que respiramos, tem esse aspecto. Se existe e pode ser definido e medido, então tem as 10 Sefirot.
As Sefirot são veículos e recipientes para trazer a força da luz que sustenta tudo e existe no nível de Malchut. Cada recipiente recebe luz conforme seu desenho original e capacidade.
Levítico 19:35 "לֹא-תַעֲשׂוּ עָוֶל, בַּמִּשְׁפָּט, בַּמִּדָּה, בַּמִּשְׁקָל וּבַמְּשׂוּרָה" "Não cometereis injustiça no juízo, nem na vara, nem no peso, nem na medida."
Se tentarmos dobrar as leis espirituais e distribuir luz em situações onde não seja justo ou apropriado, isso corrompe o equilíbrio na natureza.
Isaías 5:16 "וַיִּגְבַּהּ יְהוָה צְבָאוֹת, בַּמִּשְׁפָּט; וְהָאֵל, הַקָּדוֹשׁ, נִקְדָּשׁ, בִּצְדָקָה" "Porém YHVH dos Exércitos será exaltado em juízo; e D'us, o Santo, será santificado em justiça."
O equilíbrio espiritual está nas mãos de YHVH. Podemos conectar com Ele com justiça pela elevação espiritual, usando as dez Sefirot.
Quando sabemos que as 10 Sefirot estão em torno de nós e toda ação determina nosso nível de conexão com YHVH, podemos trazer o verdadeiro equilíbrio em nossas vidas.
{||}
traduzido por Denis Schaefer