Click here to listen to the Daily Zohar [audio:https://dailyzohar.com/wp-content/uploads/audio/dz951.mp3|titles=Daily Zohar 951]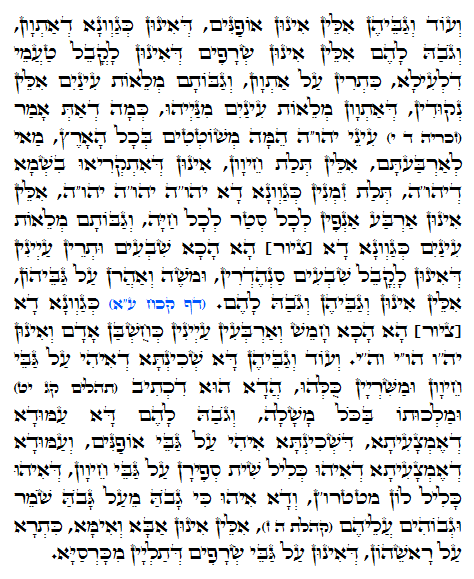 Hebrew translation:

Traducción Sebastian Palen
Tikun 70-54
Los ángeles del mundo de la Creación בריאה (Briah), se llaman los Serafines. Los ángeles del mundo de la Formación יצירה (Yetzirah) se llaman jaiot (Criaturas Sagradas). Los ángeles del mundo de עשיה (Asiá) Acción, se llaman Ophanim (Ruedas).
Las letras sagradas hebreas son recipientes que reciben su luz de las Nikkud, que son las vocales hebreas. Literalmente quiere decir "puntean". Cuando agregamos la Nikkud a la letra, es como dar vida a un recipiente vacío y animarlo.
La luz desciende del mundo de Atzilut אצילות por los mundos de Briah בריאה Yetzirah יצירה y al mundo de la acción עשיה (asia), Maljut , donde los Ophanim (ruedas) mueven todo lo que tiene existencia, desde los electrones alrededor del núcleo del átomo, las letras hebreas, el sistema solar, y todo lo demás en el universo.
La luz que viene de las letras tiene cuatro tipos,
Teamin – Atzilut – marcas de entoacion que se utiliza cuando se lee la Torá
Nekudot – Bería – Proporciona el alma en las letras
Tagin – Yetzirah – La forma superior del recipientecomo está descrito en la Torá
Otiot – Asiah – La forma básica / vasija de la letra.
Cada nivel recibe del que es superior a sí mismo. Los Ophanim reciben de la jaiot y serafines para manifestarse en el mundo inferior.
Zechariah 4:10
"עֵינֵי יְהוָה, הֵמָּה מְשׁוֹטְטִים בְּכָל-הָאָרֶץ"
"… Los ojos de YHVH, que corren hacia y desde toda la tierra"
Los 'ojos de YHVH es el aspecto de los Nekudot 'puntos', que animan las letras. Sin ellos, la letra no tiene "vida" o el significado, cada letra puede tener cualquiera de los Nikkudot posibles.
El hombre es una de las santas criaturas del Santo Trono. Es el canal para los otros tres, león, buey y águila en el mundo de Maljut. Cada una de las criaturas tiene aspecto de YHV en la forma siguiente.


–

–

Tiene 15 'ojos' y 45 ojos a la vez, como el nombre de YHVH ampliado de Zeir Anpin (מ"ה).
Las letras de YHVH se construyen desde 'ojos' conectados
En la forma completa del nombre que tiene 24 ojos en cada nombre y todos los ojos a la vez 72.


–

–

(si imprime esta página no deben ser desechada, mantengala dentro de un libro Zohar o guardela en un libro sagrado.)
{||}