Click here to listen to the Daily Zohar [audio:https://dailyzohar.com/wp-content/uploads/audio/dz1003.mp3|titles=Daily Zohar 1003]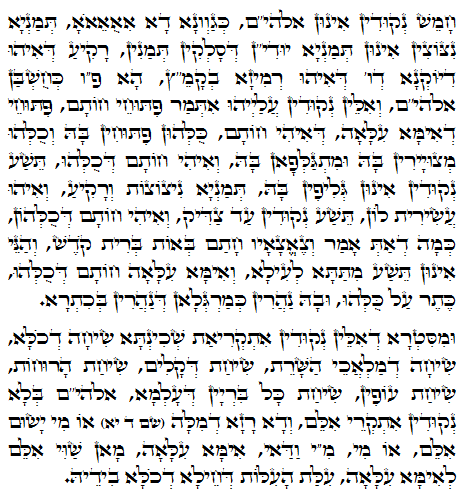 Tikkun 70 – 108.
אִאֻאֵאֹאָ – AA -OO-EE-UU- II

Le cinque lettere Alef rappresentano il nome אלהים (Elohìm) e cinque volte la parola 'Luce' 'אור' appare nella storia del primo giorno della Creazione. Esse rappresentano anche le cinque Sefirot Chessèd, Ghevuràh, Tiferet, Netzàch e Hòd che costruiscono il vaso/recipiente. Esse attraggono la Luce. Yessòd è l'imbuto e Malchùt è il beneficiario / consumatore.
Lo Zohàr ci rivela che il Nikkùd delle cinque lettere Alef è implicito nelle due parole del versetto in Esodo-Shemòt 28:11. "פִּתּוּחֵי חֹתָם" "incisioni di sigillo". E 'il segreto delle forme delle pietre sul pettorale che il Sommo Sacerdote usava portare sopra ai suoi abiti sacerdotali quando serviva nel Santo Tempio.
Il valore numerico del Nikkùd delle cinque lettere Alef è 86, come nel nome אלהים ELOHI'M. Ogni punto è come una Yòd e ha il valore numerico di 10. Il Kamàtz è costruito da una linea e un punto al di sotto di esso. La linea è come una Vàv e ha il valore numerico di 6. Abbiamo 8 punti = 80 + la lettera Vàv=6 insieme 80+6=86.
La Luce che proviene da Chockmàh và in Binàh e forma tutte le lettere e i Nikkùd. Questo rende Binàh l'aspetto di un sigillo e con la sua forza creativa essa fà i segni e le impressioni sulle Sefiròt al di sotto.
Rabbi Elazar dice a suo padre ', ma la Toràh mostra il Nikkùd della seconda lettera come Shurùk (una Vàv con un punto al centro) ma nelle cinque lettere Alef è un Kubùtz (tre punti diagonali sotto la lettera) ". Rabbi Shimòn spiega che quando la Vav non è disponibile per rendere Shurùk poi prende il punto del Cholàm che è una Vàv con un punto sopra. Ci vuole anche il punto centrale dello Shurùk ed il punto inferiore del Chirìk. Tutti insieme formano il Kubùtz.
{| |}