Daily Zohar – Tikunim – # 1029 – Você aceitaria quatro tipos de morte sobre si mesmo, nesta noite?
Click here to listen to the Daily Zohar [audio:https://dailyzohar.com/wp-content/uploads/audio/dz1029.mp3|titles=Daily Zohar 1029]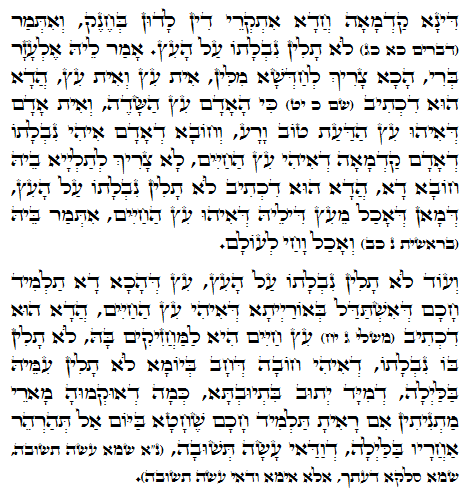 Tikkun 5 – 3
Existem quatro tipos de morte que a alma passa no processo de sua limpeza para alcançar a vida imortal no mundo vindouro.
O tipo de morte está relacionado com o Tetragrama
Deuteronômio 21:22 "וְכִי-יִהְיֶה בְאִישׁ, חֵטְא מִשְׁפַּט-מָוֶת–וְהוּמָת: וְתָלִיתָ אֹתוֹ, עַל-עֵץ" "Quando também em alguém houver pecado, digno do juízo de morte, e for morto, e o pendurares num madeiro"
A Torah nos conta que se uma pessoa foi sentenciada à morte, nós devemos enforcá-la depois de matá-la. Essa é uma instrução estranha, mas existe uma boa razão para iso e é para o benefício da alma do criminoso.
21:23 "לֹא-תָלִין נִבְלָתוֹ עַל-הָעֵץ, כִּי-קָבוֹר תִּקְבְּרֶנּוּ בַּיּוֹם הַהוּא–כִּי-קִלְלַת אֱלֹהִים, תָּלוּי; וְלֹא תְטַמֵּא, אֶת-אַדְמָתְךָ, אֲשֶׁר יְהוָה אֱלֹהֶיךָ, נֹתֵן לְךָ נַחֲלָה" "O seu cadáver não permanecerá no madeiro, mas certamente o enterrarás no mesmo dia; porquanto o pendurado é maldito de Deus; assim não contaminarás a tua terra, que o YHVH teu Deus te dá em herança."
A Torah continua a nos dizer que não devemos deixar o corpo na árvore por muito tempo, ele deve ser enterrado antes do fim do dia, o que significa antes do por do sol.
Deuteronômio 20:19 "כִּי הָאָדָם עֵץ הַשָּׂדֶה" "Quando sitiares uma cidade por muitos dias, pelejando contra ela para a tomar, não destruirás o seu arvoredo, colocando nele o machado, porque dele comerás; pois que não o cortarás (pois o arvoredo do campo é mantimento para o homem), para empregar no cerco."
O homem foi criado à imagem de Deus, que é a Árvore da Vida. Quando uma pessoa age contra as leis espirituais, ela se desconecta da Árvore da Vida. Depois da destruição do segundo Templo Sagrado, o Sinédrio, que era a suprema corte, foi removido do Templo Sagrado e por causa disso eles não podiam sentenciar as pessoas à morte. Foi assim, por causa da destruição do Templo Sagrado, que o mundo entrou no estado de morte. O ato de enforcar é o aspecto da conexão da alma à Árvore da Vida e dar a oportunidade de passar por um processo de limpeza e de reencarnar para correção adicional. Pela última história conhecida dos Israelitas, não houve sentença de morte conhecida, por autoridade religiosa espiritual, e portanto nenhum enforcamento.
Atualmente, conectamos a alma do morto à Árvore da Vida recitando um Kadish especial no momento do enterro. Este é o aspecto de pendurar (conectar) à Árvore. A Torah é nossa conexão com a Árvore da Vida e quando nos agarramos à ela, sustentamos nossas almas e nos desconectamos do aspecto deste mundo.
Provérbios 3:18 " עֵץ-חַיִּים הִיא, לַמַּחֲזִיקִים בָּהּ" "É árvore de vida para os que dela tomam, e são bem-aventurados todos os que a retêm."
Gênesis 3:22 "וְלָקַח גַּם מֵעֵץ הַחַיִּים, וְאָכַל, וָחַי לְעֹלָם" "e tome também da árvore da vida, e coma e viva eternamente"
Viver eternamente é ser purificado para sempre e não ter que voltar a esta vida, mas no tempo da Redenção Final.
Um dos mais importantes processos de limpeza da alma é feito antes de dormir. O Santo Ari nos conta que antes de dormirmos devemos submeter nossas almas à luz, confessar nossoa 'pecados' e aceitar todos os quatro tipos de morte em nós. Quando estamos prontos para fazer isso, deixamos nossas almas se aproximarem da luz do estado distante que estávamos durante o dia. Quando recitamos a prece Shema também devemos aceitar os quatro tipos de morte, para estarmos em maior unidade com a luz. Link à carta dos nomes e dos quatro tipos de morte para meditação
{||}
traduzido por Denis Schaefer