Daily Zohar – Tikunim – # 1049 – Waiting for Amen
Click here to listen to the Daily Zohar [audio:https://dailyzohar.com/wp-content/uploads/audio/dz1049.mp3|titles=Daily Zohar 1049]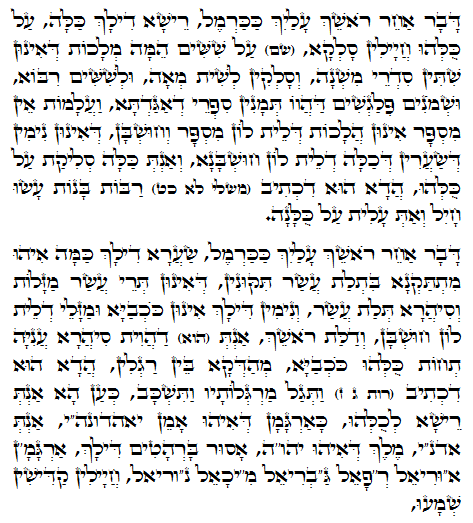 Hebrew translation:
Tikkun 6 – 8
Continue from Daily Zohar #1048
Songs 7:6
" רֹאשֵׁךְ עָלַיִךְ כַּכַּרְמֶל"
"Thy head upon thee is like Carmel… "
Another explanation to this verse tells us that the head is Zeir Anpin, which is the aspect of the Torah, and is on top of Malchut, which is the aspect of the oral Torah. All study levels of the Torah with the revealed secrets create channels of light that is the aspect of the hair coming down from the head. It elevates Malchut as it says in Proverb 31:29 "רַבּוֹת בָּנוֹת, עָשׂוּ חָיִל; וְאַתְּ, עָלִית עַל-כֻּלָּנָה" "Many daughters have done valiantly, but you went above them all.'"
Songs 7:6
" רֹאשֵׁךְ עָלַיִךְ כַּכַּרְמֶל"
"Thy head upon thee is like Carmel… "
The Zohar brings another explanation to this verse. The head and its hair have 13 'Tikunim' that, in these aspects, are established channels to the upper levels. The thirteen are the 12 signs of the Zodiac plus the Moon. The Zohar tells us that the Moon includes all signs because it channels their influence to our world.
There are 13 'Tikunim' of the 'beard' of Arich Anpin (Tikunei Dikna D'Arich Anpin). The light from the head that is Keter, (Arich Anpin) comes down through the sides of the head to the root of the beard (chin level) and spreads to the chest from that point, 'feeding' Zeir Anpin. The hair is the aspect of the constellations and their stars.
The moon is the aspect of the Israelites that don't have their own light but are responsible to channel it to the world below. While they are in this state of exile, the other nations have the control over Malchut. When the time of the Redemption comes, the angels of Malchut ארגמן (See DZ 1047) will connect the head יהוה YHVH and Malchut אדני ADNY as יאהדונהי that is numerically 91 and the secret of Amen אמן that are the first and the last two letters of the 5 angels ארגמן (Uriel אוריאל, Michael מיכאל and נוריאל Nuriel).
It is an important meditation to scan the sequence of the two names יאהדונהי when answering Amen to a blessing. This draws the light and makes connection between the two names of God, the upper YHVH and lower ADNY. The Zohar tells us that the person that answers Amen gets more light than the one who makes the blessings. That is because while answering Amen we use two names instead of one, that is in the actual blessing.
When answering Amen to a Kadish, we use the sequence of אידהנויה. It is the same names and same numerical value. The difference is the order of the name. Because the Kadish elevates the connection, we start with the lower name ADNY אדני.
{||}