Click here to listen to the Daily Zohar [audio:https://dailyzohar.com/wp-content/uploads/pinchas/audio/dp-1093.mp3|titles=Daily Zohar 1093]
Mobile devices, please touch here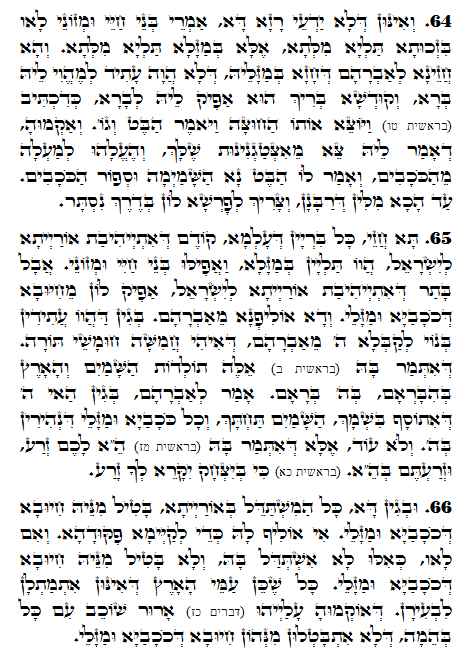 Hebrew translation:
64. וְהֵם שֶׁלֹּא יָדְעוּ סוֹד זֶה, אָמְרוּ, בָּנִים חַיִּים וּמְזוֹנוֹת לֹא בִזְכוּת תָּלוּי הַדָּבָר, אֶלָּא בְּמַזָּל תָּלוּי הַדָּבָר. הֲרֵי רָאִינוּ אֶת אַבְרָהָם שֶׁרָאָה בְמַזָּלוֹ שֶׁלֹּא הָיָה עָתִיד לִהְיוֹת לוֹ בֵּן, וְהַקָּדוֹשׁ בָּרוּךְ הוּא הוֹצִיאוֹ הַחוּצָה, כְּמוֹ שֶׁכָּתוּב (שם טו) וַיּוֹצֵא אֹתוֹ הַחוּצָה וַיֹּאמֶר הַבֶּט וְגוֹ'. וּפֵרְשׁוּהָ שֶׁאָמַר לוֹ: צֵא מֵאִצְטַגְנִינוּת שֶׁלְּךָ, וְהֶעֱלָהוּ לְמַעְלָה מֵהַכּוֹכָבִים, וְאָמַר לוֹ: הַבֶּט נָא הַשָּׁמַיְמָה וּסְפֹר הַכּוֹכָבִים. עַד כָּאן דִּבְרֵי רַבּוֹתֵינוּ, וְצָרִיךְ לְפָרֵשׁ אוֹתָם בְּדֶרֶךְ נִסְתָּר.
65. בֹּא וּרְאֵה, כָּל בְּרִיּוֹת הָעוֹלָם, קֹדֶם שֶׁנִּתְּנָה הַתּוֹרָה לְיִשְׂרָאֵל הָיוּ תְלוּיִים בְּמַזָּל, וַאֲפִלּוּ בָּנִים חַיִּים וּמְזוֹנוֹת. אֲבָל אַחַר שֶׁנִּתְּנָה תוֹרָה לְיִשְׂרָאֵל, הוֹצִיא אוֹתָם מֵחִיּוּב כּוֹכָבִים וּמַזָּלוֹת, וְזֶה לָמַדְנוּ מֵאַבְרָהָם, מִשּׁוּם שֶׁהָיוּ בָנָיו עֲתִידִים לְקַבֵּל ה' מֵאַבְרָהָם, שֶׁהִיא חֲמִשָּׁה חֻמְשֵׁי תוֹרָה, שֶׁנֶּאֱמַר בָּהּ (שם ב) אֵלֶּה תוֹלְדוֹת הַשָּׁמַיִם וְהָאָרֶץ בְּהִבָּרְאָם, בְּה' בְּרָאָם. אָמַר לְאַבְרָהָם: בִּגְלַל הַה' הַזּוֹ שֶׁנּוֹסְפָה לְשִׁמְךָ, הַשָּׁמַיִם תַּחְתֶּיךָ וְכָל הַכּוֹכָבִים וְהַמַּזָּלוֹת שֶׁמְּאִירִים בַּה'. וְלֹא עוֹד, אֶלָּא שֶׁנֶּאֱמַר בָּהּ (שם מז) הֵ"א לָכֶם זֶרַע. וּזְרַעְתֶּם בְּהֵ"א. (שם כא) כִּי בְיִצְחָק יִקָּרֵא לְךָ זָרַע.
66. וּמִשּׁוּם זֶה, כָּל הַמִּשְׁתַּדֵּל בַּתּוֹרָה בִּטֵּל מִמֶּנּוּ חִיּוּב כּוֹכָבִים וּמַזָּלוֹת, אִם לוֹמֵד אוֹתָהּ כְּדֵי לְקַיֵּם מִצְווֹתֶיהָ. וְאִם לֹא – כְּאִלּוּ לֹא הִשְׁתַּדֵּל בָּהּ, וְלֹא בִטֵּל מִמֶּנּוּ חִיּוּב כּוֹכָבִים וּמַזָּלוֹת. כָּל שֶׁכֵּן עַמֵּי הָאָרֶץ שֶׁנִּמְשְׁלוּ לִבְהֵמוֹת, שֶׁבֵּאֲרוּ עֲלֵיהֶם (דברים כז) אָרוּר שֹׁכֵב עִם כָּל בְּהֵמָה, שֶׁלֹּא הִתְבַּטְּלוּ מֵהֶם חִיּוּב שֶׁל כּוֹכָבִים וּמַזָּלוֹת.
Pinchas 64-66
Genesis 15:5
" וַיּוֹצֵא אֹתוֹ הַחוּצָה, וַיֹּאמֶר הַבֶּט-נָא הַשָּׁמַיְמָה וּסְפֹר הַכּוֹכָבִים–אִם-תּוּכַל, לִסְפֹּר אֹתָם; וַיֹּאמֶר לוֹ, כֹּה יִהְיֶה זַרְעֶךָ."
"And He brought him forth abroad, and said: 'Look now toward heaven, and count the stars, if thou be able to count them'; and He said unto him: 'So shall thy seed be.'"
Genesis 17:5
" וְלֹא-יִקָּרֵא עוֹד אֶת-שִׁמְךָ, אַבְרָם; וְהָיָה שִׁמְךָ אַבְרָהָם, כִּי אַב-הֲמוֹן גּוֹיִם נְתַתִּיךָ "
"Neither shall thy name any more be called Abram, but thy name shall be Abraham; for the father of a multitude of nations have I made thee. "
God taught Abraham the system of Tree of Life that is the entire spiritual system. It included the secrets of Zodiac and the energy of the constellations. Later, Abraham wrote the first known book about the system of the Sefirot, Kabbalah and Astrology. This book is called 'Sefer Yetzirah', meaning 'The Book of Formation".
[infobox type="info" clickable="no"]Click here to for Sefer Yetzirah text (Free) (Hebrew and English in PDF format)
link to Sefer Yetzirah on Amazon (English) by Arie Kaplan[/infobox]
Before the Torah was given to the Israelites, the entire world was under the control of the Zodiac that dictated the life's path of each living person.
After the Torah was revealed on Mount Sinai, it became the only tool that can give us the power to change our path in life and our destiny.
The Zohar reveals to us that when God added the letter H ה to Abram to make him Abraham, the additional letter ה was like a new Ibbur / Light that changed his life. The numerical value of the letter is 5 and it refers to the five books of the Torah. They control the 10 Sefirot of the Tree of Life Keter, Chokmah, Binah, Zeir Anpin (Six Sefirot of Chessed to Yessod) and Mallchut.
When we study the Torah and follow the precepts, we reveal and connect to the light that is above the Zodiac, bypassing it's influence.
{|}