Daily Zohar # 1282 – Pinchas – Before you move that stone…
Daily Zohar 1282
Daily Zohar 1282
Zohar Pinchas, Vol. 20 (English)/Vol 15 (Hebrew)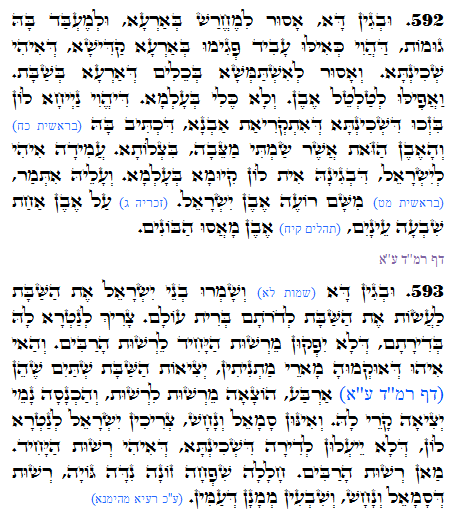 Hebrew translation:
592. וּמִשּׁוּם זֶה אָסוּר לַחֲרֹשׁ בָּאָרֶץ וְלַעֲשׂוֹת בָּהּ גֻּמּוֹת, שֶׁנַּעֲשָׂה כְּאִלּוּ עָשָׂה פְּגָם בָּאָרֶץ הַקְּדוֹשָׁה, שֶׁהִיא שְׁכִינָה. וְאָסוּר לְהִשְׁתַּמֵּשׁ בַּכֵּלִים שֶׁל הָאָרֶץ בְּשַׁבָּת, וַאֲפִלּוּ לְטַלְטֵל אֶבֶן וְלֹא דָבָר, אֶלָּא כְּלִי סְתָם, שֶׁיִּהְיֶה מְנוּחָה לָהֶם בִּזְכוּת הַשְּׁכִינָה שֶׁנִּקְרֵאת אֶבֶן, שֶׁכָּתוּב בָּהּ (בראשית כח) וְהָאֶבֶן הַזֹּאת אֲשֶׁר שַׂמְתִּי מַצֵּבָה – בִּתְפִלָּה, עֲמִידָה הִיא לְיִשְׂרָאֵל, שֶׁבִּגְלָלָהּ יֵשׁ לָהֶם קִיּוּם בָּעוֹלָם, וְעָלֶיהָ נֶאֱמַר (שם מט) מִשָּׁם רֹעֶה אֶבֶן יִשְׂרָאֵל. (זכריה ג) עַל אֶבֶן אַחַת שִׁבְעָה עֵינָיִם. (תהלים קיח) אֶבֶן מָאֲסוּ הַבּוֹנִים.593. וּמִשּׁוּם זֶה נֶאֱמַר, (שמות לא) וְשָׁמְרוּ בְנֵי יִשְׂרָאֵל אֶת הַשַּׁבָּת לַעֲשׂוֹת אֶת הַשַּׁבָּת לְדֹרֹתָם בְּרִית עוֹלָם. צָרִיךְ לִשְׁמֹר אוֹתָהּ בְּדִירָתָם, שֶׁלֹּא יֵצְאוּ מֵרְשׁוּת הַיָּחִיד לִרְשׁוּת הָרַבִּים. וְזֶהוּ שֶׁבֵּאֲרוּהוּ בַּעֲלֵי הַמִּשְׁנָה, יְצִיאוֹת הַשַּׁבָּת שְׁתַּיִם שֶׁהֵן אַרְבַּע, הוֹצָאָה מֵרְשׁוּת לִרְשׁוּת, וְהַכְנָסָה גַּם כֵּן יְצִיאָה קוֹרֵא לָהּ. וְאֵלּוּ הֵם סָמָאֵל וְנָחָשׁ, צְרִיכִים יִשְׂרָאֵל לִשְׁמֹר עֲלֵיהֶם שֶׁלֹּא יִכָּנְסוּ לַדִּירָה שֶׁל הַשְּׁכִינָה, שֶׁהִיא רְשׁוּת הַיָּחִיד. מִי רְשׁוּת הָרַבִּים? חֲלָלָה שִׁפְחָה זוֹנָה נִדָּה גּוֹיָה, רְשׁוּת שֶׁל סָמָאֵל וְנָחָשׁ, וְשִׁבְעִים מְמֻנִּים שֶׁל הָעַמִּים.
Pinchas 592-593
Exodus 31:16
"וְשָׁמְרוּ בְנֵי-יִשְׂרָאֵל, אֶת-הַשַּׁבָּת, לַעֲשׂוֹת אֶת-הַשַּׁבָּת לְדֹרֹתָם, בְּרִית עוֹלָם"
"Wherefore the children of Israel shall keep the sabbath, to observe the sabbath throughout their generations, for a perpetual covenant"
One of the rules of observing the Shabbat is to avoid moving objects from one place to another. It goes against the 'rest' state of Shabbat. When the Shechina is elevated to Binah and unified with the Light we get into a resting state and the light is in constant connection with Malchut. When we do some kind of 'work', we move away from the 'resting' state and the Light.
The Zohar teaches us that the Shechina is the aspect of stone.
Genesis 28:22
" וְהָאֶבֶן הַזֹּאת, אֲשֶׁר-שַׂמְתִּי מַצֵּבָה–יִהְיֶה, בֵּית אֱלֹהִים; וְכֹל אֲשֶׁר תִּתֶּן-לִי, עַשֵּׂר אֲעַשְּׂרֶנּוּ לָךְ"
"and this stone, which I have set up for a pillar (מַצֵּבָה), shall be God's house; and of all that Thou shalt give me I will surely give the tenth unto Thee.'"
Jacob's stone was the foundation for the Holy Temple and the connection to the Shechina. The tenth is the aspect of Malchut that is the tenth Sefira.
The other aspect of stone is revealed in the verse with the words 'I have set up for a pillar (מַצֵּבָה)'. 'Pillar' has the numerical value of 137, same as Kabbalah. The 'pillar' is erected from the ground up as our spiritual connection that is made 'to receive' the Light. The Hebrew letters are called stones and we use them with words in our spiritual connection that allow us to gain access to their spiritual roots and draw light.
Zechariah 3:9
"כִּי הִנֵּה הָאֶבֶן, אֲשֶׁר נָתַתִּי לִפְנֵי יְהוֹשֻׁעַ–עַל-אֶבֶן אַחַת, שִׁבְעָה עֵינָיִם; הִנְנִי מְפַתֵּחַ פִּתֻּחָהּ, נְאֻם יְהוָה צְבָאוֹת, וּמַשְׁתִּי אֶת-עֲו‍ֹן הָאָרֶץ-הַהִיא, בְּיוֹם אֶחָד."
"'For behold, the stone that I have set before Joshua; on one stone are seven eyes. Behold, I will engrave an inscription on it,' declares YHVH of hosts, 'and I will remove the iniquity of that land in one day."
In this verse from the prophecy of Zecharia, God tells us that when he brings out Mashiach, Malchut that is the aspect of stone, will receive light from the seven Sefirot and become purified.
{||}