Daily Zohar # 1339 – Pinchas – The messenger of good news
Zohar Pinchas, Vol. 20 (English)/Vol 15 (Hebrew)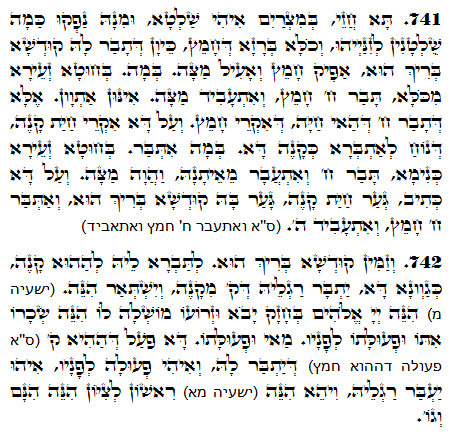 Hebrew translation:
741. בֹּא וּרְאֵה, בְּמִצְרַיִם הִיא שׁוֹלֶטֶת, וּמִמֶּנָּה יוֹצְאִים כַּמָּה שִׁלְטוֹנִים לְמִינֵיהֶם, וְהַכֹּל בְּסוֹד שֶׁל חָמֵץ. כֵּיוָן שֶׁשָּׁבַר אוֹתָהּ הַקָּדוֹשׁ בָּרוּךְ הוּא, הוֹצִיא חָמֵץ וּמַכְנִיס מַצָּה. בַּמֶּה? בְּחוּט קָטָן מֵהַכֹּל שָׁבַר אוֹת ח' שֶׁל חָמֵץ, וְנַעֲשָׂה מַצָּה. אֵלּוּ אוֹתִיּוֹת, אֶלָּא שֶׁשָּׁבַר ח' שֶׁל חַיָּה זוֹ, שֶׁנִּקְרָא חָמֵץ. וְעַל זֶה נִקְרָא חַיַּת קָנֶה, שֶׁנּוֹחַ לְשַׁבְּרוֹ כְּמוֹ קָנֶה זֶה. בַּמֶּה נִשְׁבָּר? בְּחוּט קָטָן כְּמוֹ שַׂעֲרָה שָׁבַר ח' וְעָבַר מֵאֵיתָנָהּ, וְהָיָה מַצָּה. וְעַל זֶה כָּתוּב גְּעַר חַיַּת קָנֶה. גָּעַר בָּהּ הַקָּדוֹשׁ בָּרוּךְ הוּא, וְנִשְׁבַּר ח' שֶׁל חָמֵץ וְנַעֲשָׂה ה'. (וְעוֹבֵר ח' שֶׁל חָמֵץ וְנַעֲשֶׂה).
742. וְעָתִיד הַקָּדוֹשׁ בָּרוּךְ הוּא לִשְׁבֹּר לוֹ לְאוֹתוֹ קָנֶה כְּמוֹ זֶה, יִשְׁבֹּר רֶגֶל ק' מִקָּנֶה, וְיִשָּׁאֵר הִנֵּה. (ישעיה מ) הִנֵּה ה' אֱלֹהִים בְּחָזָק יָבוֹא וּזְרֹעוֹ מֹשְׁלָה לוֹ הִנֵּה שְׂכָרוֹ אִתּוֹ וּפְעֻלָּתוֹ לְפָנָיו. מַהוּ וּפְעֻלָּתוֹ? זֶה פֹּעַל שֶׁל אוֹתָהּ ק' (פְּעֻלָּה שֶׁל אוֹתוֹ חָמֵץ) שֶׁיִּשְׁבֹּר אוֹתָהּ, וְהִיא פְּעֻלָּה שֶׁלְּפָנָיו, וְהוּא יַעֲבִיר רַגְלוֹ וְיִהְיֶה הִנֵּה, שֶׁנֶּאֱמַר (שם מא) רִאשׁוֹן לְצִיּוֹן הִנֵּה הִנָּם וְגוֹ'.
Pinchas 741-742
Psalms 68:31
"גְּעַר חַיַּת קָנֶה, עֲדַת אַבִּירִים בְּעֶגְלֵי עַמִּים– מִתְרַפֵּס בְּרַצֵּי-כָסֶף; בִּזַּר עַמִּים, קְרָבוֹת יֶחְפָּצוּ"
"Rebuke the beasts that dwell among the reeds, the herd of bulls with the calves of the peoples. Trample underfoot those who lust after tribute; scatter the peoples who delight in war."
The Zohar reveals to us that when King Solomon took the daughter of Pharaoh he created an opening for judgments and the angel Gabriel placed a cane (hollow in the middle) of reed in the sea. The cane is the aspect of Chokmah and the sea is the aspect of Malchut.
It was the aspect of the male of the Klipah that has a spark of Light that gives it sustenance. On that cane of reed the city of Rome was built and gained control over the world.
The minister of the negative side is Sama-el and his female, Lil-ith influence impurities in the Holy. The male of the Klipah has a spark of light that gives him sustenance. He places himself between the Klipah and the Holiness that is the 'sea' of Light that is revealed in Malchut. The 'cane' also feeds the female and gives her life.
God broke the hold of the "beast of the reeds" in Egypt with the secret of the Matzah, מצה. God broke the letter ח of חמצ and made it ה.
When the little gap made it the ח, the life of the Kilpah was removed.
Isaiah 19:6
"וְהֶאֶזְנִיחוּ נְהָרוֹת, דָּלְלוּ וְחָרְבוּ יְאֹרֵי מָצוֹר; קָנֶה וָסוּף, קָמֵלוּ"
"and its canals will become foul, and the branches of Egypt's Nile will diminish and dry up, reeds and rushes (Cane) will rot away"
In the future God will break the 'cane' קנה that is the leg of the letter ק that goes below the baseline of the letters and feeds the Klipah in the 'ground'. The קנה will become הנה.
Isaiah 40:10
"הִנֵּה אֲדֹנָי יְהוִה בְּחָזָק יָבוֹא, וּזְרֹעוֹ מֹשְׁלָה לוֹ; הִנֵּה שְׂכָרוֹ אִתּוֹ, וּפְעֻלָּתוֹ לְפָנָיו"
"Behold (הִנֵּה), YHVH GOD comes with might, and his arm rules for him; behold (הִנֵּה), his reward is with him, and his recompense before him."
When the Klipah is broken, its hold on the left column and Chokma will be diminished and the Light could flow abundantly to Malchut and reward us with the care of God.
11: "כְּרֹעֶה, עֶדְרוֹ יִרְעֶה, בִּזְרֹעוֹ יְקַבֵּץ טְלָאִים, וּבְחֵיקוֹ יִשָּׂא; עָלוֹת, יְנַהֵל."
"He will tend his flock like a shepherd; he will gather the lambs in his arms; he will carry them in his bosom, and gently lead those that are with young"
Isaiah 41:27
"רִאשׁוֹן לְצִיּוֹן, הִנֵּה הִנָּם; וְלִירוּשָׁלִַם, מְבַשֵּׂר אֶתֵּן"
"I was the first to say to Zion, "Behold (הִנֵּה), here they are!" and I give to Jerusalem a messenger of good news"
Zion is the Yessod of Malchut and Jerusalem is Malchut. Here God is bringing the good news of removing the negativity from the world and the 'messenger of good news' is the Mashiach.
{||}