Daily Zohar # 1786 – Zohar pesach – Four cups from salvery to freedom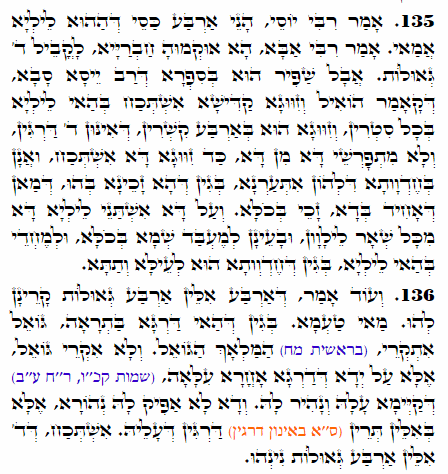 .
Hebrew translation:
135. אָמַר רַבִּי יוֹסֵי, אַרְבַּע הַכּוֹסוֹת הַלָּלוּ שֶׁל אוֹתוֹ הַלַּיְלָה לָמָּה? אָמַר רַבִּי אַבָּא, הֲרֵי פֵּרְשׁוּהָ הַחֲבֵרִים, כְּנֶגֶד אַרְבַּע גְּאֻלּוֹת. אֲבָל יָפֶה הוּא בְּסִפְרוֹ שֶׁל רַב יֵיסָא סָבָא, שֶׁאָמַר, הוֹאִיל וְהַזִּוּוּג הַקָּדוֹשׁ נִמְצָא בַּלַּיְלָה הַזֶּה בְּכָל הַצְּדָדִים, וְהַזִּוּוּג הוּא בְּאַרְבָּעָה קְשָׁרִים, שֶׁהֵם אַרְבַּע דְּרָגוֹת, וְלֹא נִפְרָדִים זֶה מִזֶּה, כְּשֶׁהַזִּוּוּג הַזֶּה נִמְצָא, וְאָנוּ בְשִׂמְחָתָם מִתְעוֹרְרִים, מִשּׁוּם שֶׁהֲרֵי זָכִינוּ בָהֶם, שֶׁמִּי שֶׁאוֹחֵז בָּזֶה – זוֹכֶה בַכֹּל. וְעַל כֵּן הִשְׁתַּנָּה הַלַּיְלָה הַזֶּה מִכָּל שְׁאָר הַלֵּילוֹת, וּצְרִיכִים לַעֲשׂוֹת שֵׁם בַּכֹּל וְלִשְׂמֹחַ בַּלַּיְלָה הַזֶּה, מִשּׁוּם שֶׁשִּׂמְחָה הִיא לְמַעְלָה וּלְמַטָּה.
136. וְעוֹד אָמַר, שֶׁאַרְבַּע אֵלּוּ אַרְבַּע גְּאֻלּוֹת קוֹרְאִים לָהֶם. מָה הַטַּעַם? מִשּׁוּם שֶׁהַדַּרְגָּה הָאַחֲרוֹנָה הַזּוֹ נִקְרֵאת גּוֹאֵל, הַמַּלְאָךְ הַגּוֹאֵל. וְלֹא נִקְרֵאת גּוֹאֵל אֶלָּא עַל יְדֵי דַרְגָּה אַחֶרֶת עֶלְיוֹנָה שֶׁעוֹמֶדֶת עָלֶיהָ וּמְאִירָה לָהּ, וְזוֹ לֹא מוֹצִיאָה לָהּ אוֹר, אֶלָּא בִּשְׁתֵּי (בְּאוֹתָן דְּרָגוֹת) הַדְּרָגוֹת הַלָּלוּ שֶׁעָלָיו. נִמְצָא שֶׁאַרְבַּע אֵלּוּ הֵן אַרְבַּע גְּאֻלּוֹת.
.
Zohar Pesach
Rabbi Yosei asks why we drink four cups of wine during the night of the Seder. Rabbi Aba says, it's already explained before that the four cups are against the four words that God used to promise the redemption.
Exodus 6:6,7



"לָכֵ֞ן אֱמֹ֥ר לִבְנֵֽי־יִשְׂרָאֵל֘ אֲנִ֣י יְהֹוָה֒ וְהֽוֹצֵאתִ֣י אֶתְכֶ֗ם מִתַּ֨חַת֙ סִבְלֹ֣ת מִצְרַ֔יִם וְהִצַּלְתִּ֥י אֶתְכֶ֖ם מֵֽעֲבֹֽדָתָ֑ם וְגָֽאַלְתִּ֤י אֶתְכֶם֙ בִּזְר֣וֹעַ נְטוּיָ֔ה וּבִשְׁפָטִ֖ים גְּדֹלִֽים"
"וְלָֽקַחְתִּ֨י אֶתְכֶ֥ם לִי֙ לְעָ֔ם וְהָיִ֥יתִי לָכֶ֖ם לֵֽאלֹהִ֑ים וִֽידַעְתֶּ֗ם כִּ֣י אֲנִ֤י יְהֹוָה֙ אֱלֹ֣הֵיכֶ֔ם הַמּוֹצִ֣יא אֶתְכֶ֔ם מִתַּ֖חַת סִבְל֥וֹת מִצְרָֽיִם:"
""Say, therefore, to the sons of Israel, 'I am YHVH, and I will bring you out from under the burdens of the Egyptians, and I will deliver you from their bondage. I will also redeem you with an outstretched arm and with great judgments."
"I will take you to be my people, and I will be your God, and you shall know that I am YHVH your God, who has brought you out from under the burdens of the Egyptians."
Rabbi Aba continues and refer to the book of Rabbi Yeisa the elder that explains that we celebrate the unification of the four; Chokmah and Binah, Tiferet (Zeir Anpin) and Malchut. With the four cups we make four connections and create happiness above and below.
The Redemption requires the flow of the light from Chokmah and Binah to Tiferet and Malchut. With each cup of wine that we drink we should meditate on drawing the light of freedom as we explained in the DZ 1785.
The Seder is not a special gathering for a good meal and good wine but a once-a-year opportunity to draw freedom into our souls. The 15 steps, the reading of the Haggadah and the four cups, are the tools to achieve that goal. When you sit by the Seder table, don't think about the food but the energy that is coming from it. If you don't have the consciousness the you can not make the proper connection to the light of freedom. We remove the Chametz before the Holiday so we can have a vessel without the desire for the self alone. We make room for pure Light to lead us from slavery to freedom and the Final Redemption.
{||}