Daily Zohar # 1827 – Bamidbar – Give thanks to the name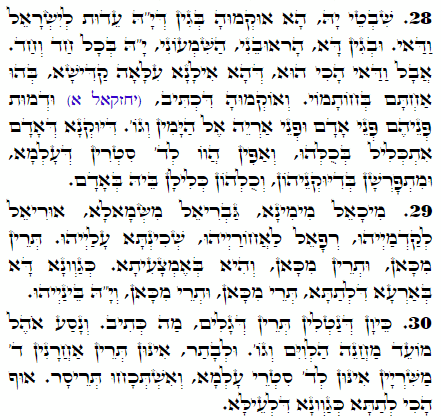 .
Hebrew translation:
28. שִׁבְטֵי יָהּ – הֲרֵי פֵּרְשׁוּהָ, מִשּׁוּם שֶׁיָּ"הּ עֵדוּת לְיִשְׂרָאֵל וַדַּאי. וְלָכֵן (במדבר כו) הָראוּבֵנִי, הַשִּׁמְעוֹנִי, יָ"הּ בְּכָל אֶחָד וְאֶחָד. אֲבָל וַדַּאי כָּךְ הוּא, שֶׁהֲרֵי הָעֵץ הָעֶלְיוֹן הַקָּדוֹשׁ, בּוֹ חוֹתֵם בְּחוֹתָמוֹ. וּפֵרְשׁוּהָ שֶׁכָּתוּב, (יחזקאל א) וּדְמוּת פְּנֵיהֶם פְּנֵי אָדָם וּפְנֵי אַרְיֵה אֶל הַיָּמִין וְגוֹ'. דְּמוּת אָדָם נִכְלֶלֶת בְּכֻלָּם, וְהַפָּנִים הָיוּ לְאַרְבַּעַת צִדְדֵי הָעוֹלָם, וְנִפְרָדִים בִּדְמֻיּוֹתֵיהֶם, וְכֻלָּם כְּלוּלִים בּוֹ בָּאָדָם.
29. מִיכָאֵל מִיָּמִין, גַּבְרִיאֵל מִשְּׂמֹאל, אוּרִיאֵל לִפְנֵיהֶם, רְפָאֵל לַאֲחוֹרֵיהֶם, הַשְּׁכִינָה מֵעֲלֵיהֶם. שְׁנַיִם מִכָּאן, וּשְׁנַיִם מִכָּאן, וְהִיא בָּאֶמְצַע. כְּמוֹ זֶה בָּאָרֶץ שֶׁלְּמַטָּה – שְׁנַיִם מִכָּאן, וּשְׁנַיִם מִכָּאן, וְיָ"הּ בֵּינֵיהֶם.
30. כֵּיוָן שֶׁלּוֹקְחִים שְׁנֵי דְגָלִים, מַה כָּתוּב? וְנָסַע אֹהֶל מוֹעֵד מַחֲנֵה הַלְוִיִּם וְגוֹ'. וְאַחַר כָּךְ אוֹתָם שְׁנַיִם אֲחֵרִים אַרְבַּע מַחֲנוֹת הֵן לְאַרְבַּעַת צִדְדֵי הָעוֹלָם, וְנִמְצָאִים שְׁנֵים עָשָׂר. אַף כָּךְ לְמַטָּה כְּמוֹ שֶׁלְּמַעְלָה.
.
Zohar Bamidbar
Psalms 122 describe the joy of the unification of the Light in Jerusalem (Malchut).
1: "A Song of Ascents, of David. I was glad when they said to me, 'Let us go to the house of YHVH'"
The call to go to the house of God , which is the Holy Temple will bring joy.
2: "Our feet are standing Within your gates, O Jerusalem,"
3: "Jerusalem, that is built As a city that is joined together;"
The Israelites welcome the unification of the Light and Malchut.
4: "שֶׁשָּׁם עָלוּ שְׁבָטִים, שִׁבְטֵי-יָהּ–עֵדוּת לְיִשְׂרָאֵל: לְהֹדוֹת, לְשֵׁם יְהוָה"
"To which the tribes go up, even the tribes of YH (יה)– A testimony for Israel– To give thanks to the name of YHVH."
The Zohar explains that the twelve tribes are the aspect of the 12 borders of Zeir Anpin (See DZ 1677 https://dailyzohar.com/daily-zohar-1677/). They are the 'connectors' between Malchut and the upper three Sefirot that are represented by the two letters YH of the YHVH name.
The verses describe the tribes as the tribes of YH (שִׁבְטֵי-יָהּ) and the testimony is in the way the families of the tribes were called at the time of the counting in the book of Numbers.
The three names we brought as example show the letter H at the beginning of the word and the letter Y at the end.

God provided us with the protection that we need. All we have to do is elevate ourselves and give thanks to the YHVH name.