Daily Zohar # 3297 – Vayakhel – Those who sow in tears shall reap in joy
Daily Zohar 3297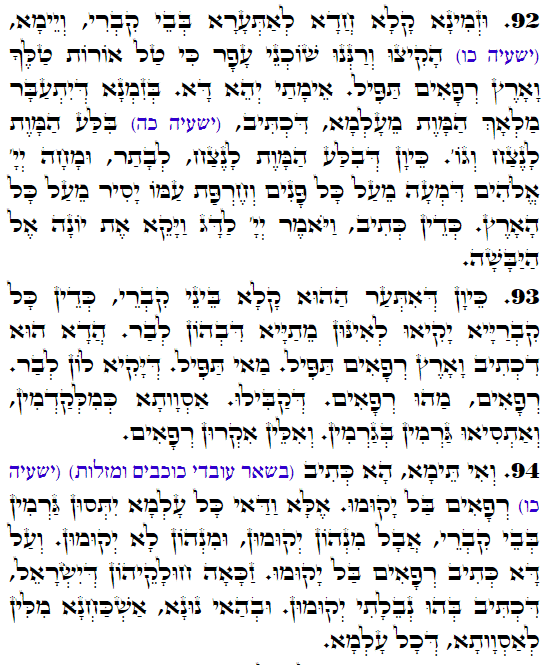 .
Hebrew translation:
92. וְעָתִיד קוֹל אֶחָד לְהָעִיר בְּבֵית הַקְּבָרוֹת וְיֹאמַר, (ישעיה כו) הָקִיצוּ וְרַנְּנוּ שֹׁכְנֵי עָפָר כִּי טַל אוֹרֹת טַלֶּךָ וָאָרֶץ רְפָאִים תַּפִּיל. אֵימָתַי זֶה יִהְיֶה? בִּזְמַן שֶׁיָּעֳבַר מַלְאַךְ הַמָּוֶת מִן הָעוֹלָם, שֶׁכָּתוּב (שם כה) בִּלַּע הַמָּוֶת לָנֶצַח וְגוֹ'. כֵּיוָן שֶׁבִּלַּע הַמָּוֶת לָנֶצַח, אַחַר כָּךְ, וּמָחָה ה' אֱלֹהִים דִּמְעָה מֵעַל כָּל פָּנִים וְחֶרְפַּת עַמּוֹ יָסִיר מֵעַל כָּל הָאָרֶץ. אָז כָּתוּב, וַיֹּאמֶר ה' לַדָּג וַיָּקֵא אֶת יוֹנָה אֶל הַיַּבָּשָׁה.
93. כֵּיוָן שֶׁהִתְעוֹרֵר אוֹתוֹ קוֹל בֵּין הַקְּבָרִים, אֲזַי כָּל הַקְּבָרִים יָקִיאוּ אֶת אוֹתָם הַמֵּתִים שֶׁבָּהֶם הַחוּצָה. זֶהוּ שֶׁכָּתוּב וָאָרֶץ רְפָאִים תַּפִּיל. מַה זֶּה תַּפִּיל? שֶׁתָּקִיא אוֹתָם הַחוּצָה. רְפָאִים, מַה זֶּה רְפָאִים? שֶׁקִּבְּלוּ רְפוּאָה כְּמִקֹּדֶם, וְנִרְפְּאוּ עֲצָמוֹת בַּעֲצָמוֹת, וְאֵלֶּה נִקְרָאִים רְפָאִים.
94. וְאִם תֹּאמַר, הֲרֵי כָּתוּב (בִּשְׁאָר עוֹבְדֵי כוֹכְבִים וּמַזָּלוֹת) (ישעיה כו) רְפָאִים בַּל יָקוּמוּ? אֶלָּא וַדַּאי כָּל הָעוֹלָם יִתְרַפְּאוּ עַצְמוֹתָם בְּבֵית הַקְּבָרוֹת, אֲבָל מֵהֶם יָקוּמוּ וּמֵהֶם לֹא יָקוּמוּ. וְעַל זֶה כָּתוּב רְפָאִים בַּל יָקוּמוּ. אַשְׁרֵי חֶלְקָם שֶׁל יִשְׂרָאֵל, שֶׁכָּתוּב בָּהֶם נְבֵלָתִי יְקוּמוּן. וּבַדָּג הַזֶּה מָצָאנוּ דְבָרִים לִרְפוּאָה שֶׁל כָּל הָעוֹלָם.
.
Zohar Vayakhel
#92
When the time of the Resurrection comes, a voice will rise in the cemetery telling them;
Isaiah 26:19
"יִחְיוּ מֵתֶיךָ נְבֵלָתִי יְקוּמוּן הָקִיצוּ וְרַנְּנוּ שֹׁכְנֵי עָפָר כִּי טַל אוֹרֹת טַלֶּךָ וָאָרֶץ רְפָאִים תַּפִּיל."
"Your dead shall live; Together with my dead body, they shall arise. Awake and sing, you who dwell in dust; For your dew is like the dew of herbs, And the earth shall cast out the dead."
This voice will be heard when death is removed from the world.
Isaiah 25:8
"בִּלַּע הַמָּוֶת לָנֶצַח וּמָחָה אֲדֹנָי יְהוִה דִּמְעָה מֵעַל כָּל פָּנִים וְחֶרְפַּת עַמּוֹ יָסִיר מֵעַל כָּל הָאָרֶץ כִּי יְהוָה דִּבֵּר."
"He will swallow up death forever, And YHVH GOD will wipe away tears from all faces; The rebuke of His people He will take away from all the earth; For YHVH has spoken."
This aspect is revealed when God told the fish to vomit Jonah out of his belly that as we explained previously, it is the aspect of death.
Jonah 2:11
"וַיֹּאמֶר יְהוָה לַדָּג וַיָּקֵא אֶת יוֹנָה אֶל הַיַּבָּשָׁה."
"So YHVH spoke to the fish, and it vomited Jonah onto dry land."
#93
After the voice in the cemetery is sound, the graves will release out all the dead as it says "And the earth shall cast out the dead". The Verse describes the dead as 'רְפָאִים' that comes from the root 'רפא' that is healing. The dead that comes out is called this way to tell us that they will be healed as they come out of their graves.
#94
On the people from the negative side, it says;
Isaiah 26:14
"מֵתִים בַּל יִחְיוּ רְפָאִים בַּל יָקֻמוּ לָכֵן פָּקַדְתָּ וַתַּשְׁמִידֵם וַתְּאַבֵּד כָּל זֵכֶר לָמוֹ."
"They are dead, they will not live; They are deceased, they will not rise. Therefore You have punished and destroyed them, And made all their memory to perish."
The verse uses the same word related to healing, 'רְפָאִים' and the Zohar explains that all dead would be healed but some would rise and some would fall back to their graves.
Lesson;
All dead will rise in their graves with the same body and state as at the time of death. They will be healed and receive a completely healed body. Only those with merits would be able to step out of their graves but the rest will fall down.
Daniel 12:2
"וְרַבִּים מִיְּשֵׁנֵי אַדְמַת־עָפָר יָקִיצוּ אֵלֶּה לְחַיֵּי עוֹלָם וְאֵלֶּה לַחֲרָפוֹת לְדִרְאוֹן עוֹלָם"
"And many of those who sleep in the dust of the earth shall awake, Some to everlasting life, Some to shame and everlasting contempt."
The pain that we are going through in life is a process of cleansing that prepares our souls to have merits for the world to come. We should always accept the pain because it is TEMPORARY. We want to see God "swallow up death forever" and rise to a life of no pain and immortality. It is worth it.
Before we recite the Birkat Hamazon, we read/sing Psalms 126. It connects to the final redemption when the YHVH returns to 'Zion' that is the aspect of Yessod of Malchut. His return opens the flow of light to the world and starts the redemption process.
{||}