Daily Zohar # 3994 – Shelach Lecha – Fear not, for I have redeemed you
Daily Zohar 3994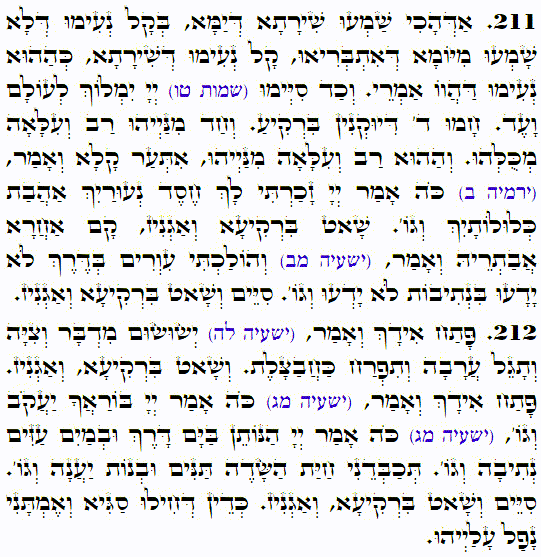 Hebrew translation:
211. בֵּין כָּךְ שָׁמְעוּ שִׁירַת הַיָּם בְּקוֹל נָעִים שֶׁלֹּא שָׁמְעוּ מִיּוֹם שֶׁנִּבְרְאוּ, קוֹל נָעִים שֶׁל שִׁירָה כְּאוֹתָהּ נְעִימָה שֶׁהָיוּ אוֹמְרִים. וּכְשֶׁסִּיְּמוּ (שמות טו) ה' יִמְלֹךְ לְעֹלָם וָעֶד, רָאוּ אַרְבַּע דְמֻיּוֹת בָּרָקִיעַ, וְאֶחָד מֵהֶם גָּדוֹל וְעֶלְיוֹן מִכֻּלָּם. וְאוֹתוֹ גָּדוֹל וְעֶלְיוֹן מֵהֶם עוֹרֵר קוֹל וְאָמַר, (ירמיה ב) כֹּה אָמַר ה' זָכַרְתִּי לָךְ חֶסֶד נְעוּרַיִךְ אַהֲבַת כְּלוּלֹתָיִךְ וְגוֹ'. שָׁט בָּרָקִיעַ וְנִגְנַז, עָמַד אַחֵר אַחֲרָיו וְאָמַר, (ישעיה מב) וְהוֹלַכְתִּי עִוְרִים בְּדֶרֶךְ לֹא יָדָעוּ בִּנְתִיבוֹת לֹא יָדְעוּ וְגוֹ'. סִיֵּם וְשָׁט בָּרָקִיעַ וְנִגְנַז.
212. פָּתַח הָאַחֵר וְאָמַר, (שם לה) יְשֻׂשׂוּם מִדְבָּר וְצִיָּה וְתָגֵל עֲרָבָה וְתִפְרַח כַּחֲבַצָּלֶת. וְשָׁט בָּרָקִיעַ וְנִגְנַז. פָּתַח הָאַחֵר וְאָמַר, (שם מג) כֹּה אָמַר ה' בֹּרַאֲךָ יַעֲקֹב וְגוֹ'. (שם) כֹּה אָמַר ה' הַנּוֹתֵן בַּיָּם דָּרֶךְ וּבְמַיִם עַזִּים נְתִיבָה וְגוֹ', תְּכַבְּדֵנִי חַיַּת הַשָּׂדֶה תַּנִּים וּבְנוֹת יַעֲנָה וְגוֹ'. סִיֵּם וְשָׁט בָּרָקִיעַ וְנִגְנַז. אָז פַּחַד גָּדוֹל וְאֵימָה נָפַל עֲלֵיהֶם.
.
Zohar Shelach Lecha
Continued from previous DZ
#211
Meanwhile, they heard the Song of the Sea in a pleasant voice, which they had not heard since the day a pleasant singing voice was created. And when they had finished saying "יְהוָה יִמְלֹךְ, לְעֹלָם וָעֶד." "YHVH would reign forever and ever" (end of the Song of the Sea, Exodus 15:18); they saw four forms of man in the heavens. One of them is, the greatest and highest of them all, raised a voice and said;
Jeremiah 2:2
"הָלֹךְ וְקָרָאתָ בְאָזְנֵי יְרוּשָׁלַ‍ִם לֵאמֹר כֹּה אָמַר יְהוָה זָכַרְתִּי לָךְ חֶסֶד נְעוּרַיִךְ אַהֲבַת כְּלוּלֹתָיִךְ לֶכְתֵּךְ אַחֲרַי בַּמִּדְבָּר בְּאֶרֶץ לֹא זְרוּעָה."
"Go and cry in the hearing of Jerusalem, saying, 'Thus says YHVH: "I remember you, The kindness of your youth, The love of your betrothal, When you went after Me in the wilderness, In a land not sown."
Then he flew in the sky and disappeared.
Another one got up after him and said
Isaiah 42:16
"וְהוֹלַכְתִּי עִוְרִים בְּדֶרֶךְ לֹא יָדָעוּ בִּנְתִיבוֹת לֹא יָדְעוּ אַדְרִיכֵם אָשִׂים מַחְשָׁךְ לִפְנֵיהֶם לָאוֹר וּמַעֲקַשִּׁים לְמִישׁוֹר אֵלֶּה הַדְּבָרִים עֲשִׂיתִם וְלֹא עֲזַבְתִּים."
"I will bring the blind by a way they did not know; I will lead them in paths they have not known. I will make darkness light before them, And crooked places straight. These things I will do for them, And not forsake them."
When he finished, he flew and disappeared.
#212
The third one opened and said;
Isaiah 35:1
"יְשֻׂשׂוּם מִדְבָּר וְצִיָּה וְתָגֵל עֲרָבָה וְתִפְרַח כַּחֲבַצָּלֶת."
"The wilderness and the wasteland shall be glad for them, And the desert shall rejoice and blossom as the rose;."
Then he flew in the sky and disappeared.
The fourth one said;
Isaiah 43:1
"וְעַתָּה כֹּה אָמַר יְהוָה בֹּרַאֲךָ יַעֲקֹב וְיֹצֶרְךָ יִשְׂרָאֵל אַל תִּירָא כִּי גְאַלְתִּיךָ קָרָאתִי בְשִׁמְךָ לִי אָתָּה."
"But now, thus says YHVH, who created you, O Jacob, And He who formed you, O Israel: "Fear not, for I have redeemed you; I have called you by your name; You are Mine."
Isaiah 43:16
"כֹּה אָמַר יְהוָה הַנּוֹתֵן בַּיָּם דָּרֶךְ וּבְמַיִם עַזִּים נְתִיבָה."
"Thus says YHVH, who makes a way in the sea And a path through the mighty waters,"
Isaiah 43:20
"תְּכַבְּדֵנִי חַיַּת הַשָּׂדֶה תַּנִּים וּבְנוֹת יַעֲנָה כִּי נָתַתִּי בַמִּדְבָּר מַיִם נְהָרוֹת בִּישִׁימֹן לְהַשְׁקוֹת עַמִּי בְחִירִי."
"The beast of the field will honor Me, The jackals and the ostriches Because I give waters in the wilderness And rivers in the desert, To give drink to My people, My chosen."
After he finished, he flew into the sky and disappeared. Then a great fear and terror fell upon them.
Lesson;
With the messengers from the heavens, Rabbi Shimon experienced the awesomeness of these revelations about the first and Final Redemption. It shook them with great fear.
When there is great spiritual excitement, every cell in the body is 'under the influence' and tries to break out of its 'material state.' The body is shaken, and fear of death comes to the consciousness.
When Moses wanted to see the glory of Hashem, he was told;
Exodus 33:20
"וַיֹּאמֶר לֹא תוּכַל לִרְאֹת אֶת פָּנָי כִּי לֹא יִרְאַנִי הָאָדָם וָחָי."
"But He said, "You cannot see My face; for no man shall see Me, and live."
A higher light nullifies lower Light. Some people feel like their body is shaken during a deep study, and it means that they have a greater revelation of Light.
{||}