Daily Zohar # 4108 – Toldot – Satisfy your soul with the supreme Light
Daily Zohar 4108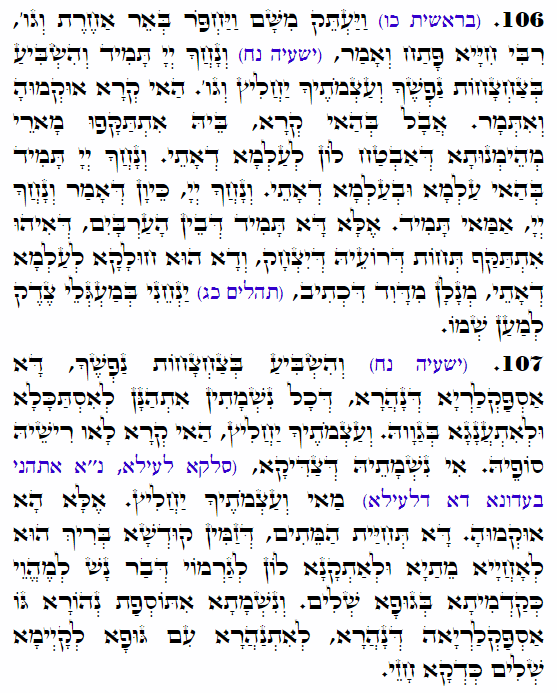 Hebrew translation:
106. וַיַּעְתֵּק מִשָּׁם וַיַּחְפֹּר בְּאֵר אַחֶרֶת וְגוֹ'. רַבִּי חִיָּיא פָּתַח וְאָמַר, (ישעיה נח) וְנָחֲךָ ה' תָּמִיד וְהִשְׂבִּיעַ בְּצַחְצָחוֹת נַפְשֶׁךָ וְעַצְמֹתֶיךָ יַחֲלִיץ וְגוֹ'. הַפָּסוּק הַזֶּה בֵּאֲרוּהוּ וְנִתְבָּאֵר. אֲבָל בַּפָּסוּק הַזֶּה בּוֹ הֶחֱזִיקוּ בַּעֲלֵי הָאֱמוּנָה שֶׁהִבְטִיחַ לָהֶם לָעוֹלָם הַבָּא. וְנָחֲךָ ה' תָּמִיד – בָּעוֹלָם הַזֶּה וּבָעוֹלָם הַבָּא. וְנָחֲךָ ה', כֵּיוָן שֶׁאָמַר וְנָחֲךָ ה', לָמָּה תָּמִיד? אֶלָּא זֶה הַתָּמִיד שֶׁל בֵּין הָעַרְבַּיִם שֶׁהוּא הִתְחַזֵּק תַּחַת זְרוֹעוֹ שֶׁל יִצְחָק, וְזֶהוּ הַחֵלֶק לָעוֹלָם הַבָּא. מִנַּיִן לָנוּ? מִדָּוִד, שֶׁכָּתוּב (תהלים כג) יַנְחֵנִי בְמַעְגְּלֵי צֶדֶק לְמַעַן שְׁמוֹ.
107. וְהִשְׂבִּיעַ בְּצַחְצָחוֹת נַפְשֶׁךָ – זוֹ הָאַסְפַּקְלַרְיָה הַמְּאִירָה שֶׁכָּל הַנְּשָׁמוֹת נֶהֱנוֹת לְהִסְתַּכֵּל וּלְהִתְעַנֵּג בְּתוֹכָהּ. וְעַצְמֹתֶיךָ יַחֲלִיץ – הַפָּסוּק הַזֶּה אֵין רֹאשׁוֹ סוֹפוֹ. אִם נִשְׁמָתוֹ שֶׁל הַצַּדִּיק [עוֹלָה לְמַעְלָה, נ"א נֶהֱנֵית בָּאוֹר שֶׁל מַעְלָה], מַה זֶּה וְעַצְמֹתֶיךָ יַחֲלִיץ? אֶלָּא הִנֵּה פֵּרְשׁוּהָ, זוֹ תְחִיַּת הַמֵּתִים. שֶׁעָתִיד הַקָּדוֹשׁ בָּרוּךְ הוּא לְהַחֲיוֹת אֶת הַמֵּתִים וּלְתַקֵּן אֶת עַצְמוֹת הָאָדָם שֶׁיִּהְיוּ כְּבָרִאשׁוֹנָה בְּגוּף שָׁלֵם, וְהַנְּשׁמָה מוֹסִיפָה אוֹר בְּתוֹךְ הָאַסְפַּקְלַרְיָה הַמְּאִירָה שֶׁתָּאִיר עִם הַגּוּף לִבְרִית שָׁלֵם כָּרָאוּי.
.
Zohar Toldot
Continued from previous DZ
#106
Genesis 26:22
"וַיַּעְתֵּק מִשָּׁם וַיַּחְפֹּר בְּאֵר אַחֶרֶת וְלֹא רָבוּ עָלֶיהָ וַיִּקְרָא שְׁמָהּ רְחֹבוֹת וַיֹּאמֶר כִּי עַתָּה הִרְחִיב יְהוָה לָנוּ וּפָרִינוּ בָאָרֶץ."
"And he moved from there and dug another well, and they did not quarrel over it. So he called its name Rehoboth because he said, "For now, YHVH has made room for us, and we shall be fruitful in the land."
Rabbi Chiya explains that the following verse strengthens the righteous on their path ;
Isaiah 58:11
"וְנָחֲךָ יְהוָה תָּמִיד וְהִשְׂבִּיעַ בְּצַחְצָחוֹת נַפְשֶׁךָ וְעַצְמֹתֶיךָ יַחֲלִיץ וְהָיִיתָ כְּגַן רָוֶה וּכְמוֹצָא מַיִם אֲשֶׁר לֹא יְכַזְּבוּ מֵימָיו."
"YHVH will guide you continually (תָּמִיד), And satisfy your soul in drought (Also, supreme Light), And strengthen your bones (Essence); You shall be like a watered garden, And like a spring of water, whose waters never run dry."
The people with faith draw strength from this verse that promises them the world to come and Hashem's guidance in this world and the world to come.
The word "Continually" "תָּמִיד" implies the afternoon sacrifice in the Holy Temple that receives its strength from the side of Isaac. It is the secret of the illumination from the Left and the part of the world to come because this light comes from Chokmah of Israel Sava and Tevuna that are called the world to come (עולם הבא).
King David revealed Hashem's guidance in his life;
Psalm 23:3
"נַפְשִׁי יְשׁוֹבֵב יַנְחֵנִי בְמַעְגְּלֵי צֶדֶק לְמַעַן שְׁמוֹ."
"He restores my soul; He guides me in the paths of righteousness For His name's sake."
Lesson;
Hashem promises an endless flow of water to those who follow the Torah and strengthen the faith that is the connection to the Nukva to be "like a spring of water, whose waters never run dry."
#107
"וְהִשְׂבִּיעַ בְּצַחְצָחוֹת נַפְשֶׁךָ" "And satisfy your soul with the supreme Light"- this is the Light of Chassadim from the Right of Zeir Anpin that all souls enjoy looking at and delighting in it. And he will "וְעַצְמֹתֶיךָ יַחֲלִיץ" "strengthen your bones".
The beginning of this verse is not as its end. If, in the beginning, we read that the soul of the righteous enjoys the light from above, then what is "strengthen your bones?" that is related to this world?
The explanation is that it is related to the Resurrection of the dead.
In the future, the Holy One, blessed be He, will revive the dead, repair the human bones and restore the whole body. Another Light would be added to the soul of a Tzadik to illuminate the body in a perfect state forever.
{||}