Daily Zohar – Tikunim – # 903 – God is in the house
Click here to listen to the Daily Zohar
for iOS devices touch here [audio:https://dailyzohar.com/wp-content/uploads/audio/dz903.mp3|titles=Daily Zohar 903]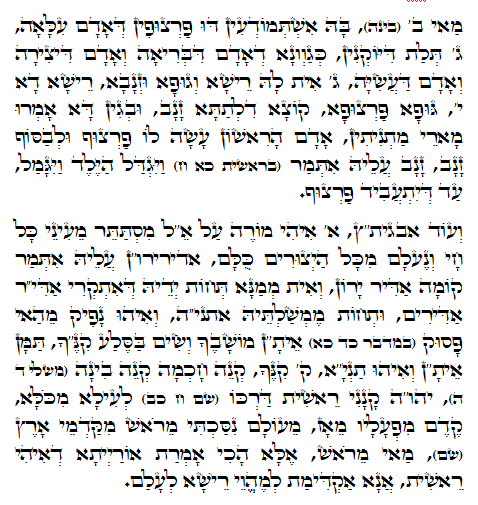 Hebrew translation:
מַה זֶּה ב' (בִּינָה)? בָּהּ נוֹדָעִים דּוּ הַפַּרְצוּפִים שֶׁל הָאָדָם הָעֶלְיוֹן, ג' שָׁלֹשׁ דְּמֻיּוֹת, כְּמוֹ שֶׁאָדָם שֶׁל בְּרִיאָה וְאָדָם שֶׁל יְצִירָה וְאָדָם שֶׁל עֲשִׂיָּה, ג' יֵשׁ לָהּ רֹאשׁ וְגוּף וְזָנָב, הָרֹאשׁ זֶה י', הַגּוּף הַפַּרְצוּף, הַקּוֹץ שֶׁלְּמַטָּה זָנָב, וּמִשּׁוּם זֶה אָמְרוּ בַּעֲלֵי הַמִּשְׁנָה, אָדָם הָרִאשׁוֹן עָשָׂה לוֹ פַּרְצוּף וּלְבַסּוֹף זָנָב. עַל הַזָּנָב נֶאֱמַר וַיִּגְדַּל הַיֶּלֶד וַיִּגָּמַל, עַד שֶׁיֵּעָשֶׂה פַרְצוּף.
וְעוֹד אבגית"ץ, א' מוֹרֶה עַל אֵ"ל מִסְתַּתֵּר מֵעֵינֵי כָּל חָי וְנֶעְלָם מִכָּל הַיְצוּרִים כֻּלָּם, עַל אדירירו"ן נֶאֱמַר קוֹמָה אַדִּיר יָרוֹן, וְיֵשׁ מְמֻנֶּה תַּחַת יָדוֹ שֶׁנִּקְרָא אַדִּי"ר אַדִּירִים, וְתַחַת מֶמְשַׁלְתּוֹ אתני"ה, וְהוּא יוֹצֵא מֵהַפָּסוּק הַזֶּה, אֵיתָ"ן מוֹשָׁבֶךָ וְשִׂים בַּסֶּלַע קִנֶּ"ךָ, שָׁם אֵיתָ"ן וְהוּא תַּנְיָ"א. ק' קִנֶּךָ, קְנֵה חָכְמָה קְנֵה בִינָה, יהו"ה קָנָנִי רֵאשִׁית דַּרְכּוֹ לְמַעְלָה מֵהַכֹּל, קֶדֶם מִפְעָלָיו מֵאָז, מֵעוֹלָם נִסַּכְתִּי מֵרֹאשׁ מִקַּדְמֵי אָרֶץ. מַה זֶּה מֵרֹאשׁ? אֶלָּא כָּךְ אָמְרָה תוֹרָה שֶׁהִיא רֵאשִׁית, אֲנִי הִקְדַּמְתִּי לִהְיוֹת רֹאשׁ לָעוֹלָם.
Tikkun 70 – 8
The first 6 letters of the 42 letter name known as Ana B'Koach are אבגיתץ. In addition to the previous study of the first letter, Alef, the Zohar here, brings another aspect of that special letter.
The Alef is the aspect of God that is hidden from all that he created. This letter also represents אדירירון, an angel under whom there is a minister with a name אדיר אדירים. It means 'great of the greats'. Under his government אתניה, a name that is concealed in the verse from Numbers 24:21 "אֵיתָן, מוֹשָׁבֶךָ, וְשִׂים בַּסֶּלַע, קִנֶּךָ " "Though firm (אתניה) be thy dwelling-place, and though thy nest (קִנֶּךָ) be set in the rock "
Proverb 8:22 " יְהוָה–קָנָנִי, רֵאשִׁית דַּרְכּוֹ: קֶדֶם מִפְעָלָיו מֵאָז"
"YHVH made me (קָנָנִי) as the beginning of His way, the first of His works of old."
The word קִנֶּךָ,'Your nest קנ', implies to Chokmah and Binah and connect the Alef to the second letter ב, Bet. The spelling of this letter is בית , which means 'dwelling-place', 'house'.
The Ana B'Koach starts with the letters Alef and Bet that represent the concealed and the revealed. The Alef 'dwells' inside the Bet. The first letter of the Torah is Bet and it appears in larger size than the other letters. This is an indication for us that there is a higher connection to Binah and it also concealed Alef, that is the essence of the Creator.
When we meditate with the Ana B'Koach we should give special attention to the first three letters. They are the first three of the Hebrew letters and include the seed of Creation from the concealed level to the revealed.
{||}