Daily Zohar – Tikunim – # 947 – ¿Donde podemos obtener ayuda?
Click here to listen to the Daily Zohar [audio:https://dailyzohar.com/wp-content/uploads/audio/dz947.mp3|titles=Daily Zohar 947]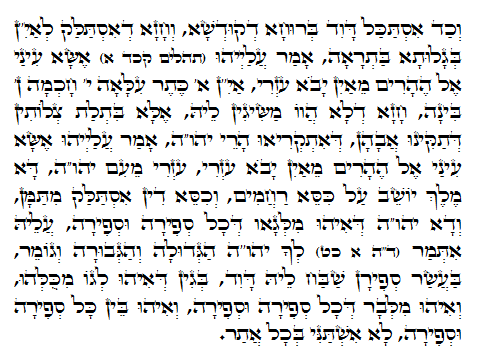 Hebrew translation:
———-
Traducción Sebastian Palen
Tikun 70-52
Salmos 121:1 "שִׁיר, לַמַּעֲלוֹת: אֶשָּׂא עֵינַי, אֶל – הֶהָרִים – מֵאַיִן, יָבֹא עֶזְרִי"
"Cántico para las Ascenciones. Alzo mis ojos a las montañas: ¿de dónde (מֵאַיִן) vendrá mi ayuda? "
El Rey David tenía el Espíritu Sagrado (Ruaj Hakodesh) en él. Vio que en el exilio final (nuestro tiempo), el Sagrado Templo no existirá, debido a que la unificación de Zeir Anpin (ZA) y Maljut no existe. La luz que estaba disponible para nosotros sin trabajo, requiere de un proceso para lograrlo.
"¿De dónde (מֵאַיִן) vendrá mi ayuda?" incluye la respuesta a la pregunta. Desde אַיִן, literalmente significa "nada" hace referencia al Ein Sof (Infinito).
Alef א – para Keter
Yod י – para Jojma
Nun ן – para Bina
Las tres Sefirot superiores que no estaban involucradas en el proceso de la ruptura de los kelim (recipientes, vasijas) originales que crearon nuestro mundo, están en un estado espiritual perfecto.
Job 28:12 "וְהַחָכְמָה, מֵאַיִן תִּמָּצֵא; וְאֵי זֶה, מְקוֹם בִּינָה"
"Pero la sabiduría (Jojma), donde (מֵאַיִן) se la puede encontrar? ¿Y dónde está el lugar de entendimiento (Bina)? "
Nuestra primera conexión debe ser con las "montañas" que son el aspecto de los patriarcas, Abraham, Isaac y Jacob. Cuando nos elevamos a su nivel, manteniendo a las tres columnas del árbol de la vida, somos capaces de ascender a la parte superior de las tres Sefirot Keter, Jojma y Bina. Sólo entonces, el Infinito אין (Ein Sof) nos dará el apoyo que necesitamos.