Click here to listen to the Daily Zohar [audio:https://dailyzohar.com/wp-content/uploads/audio/dz950.mp3|titles=Daily Zohar 950]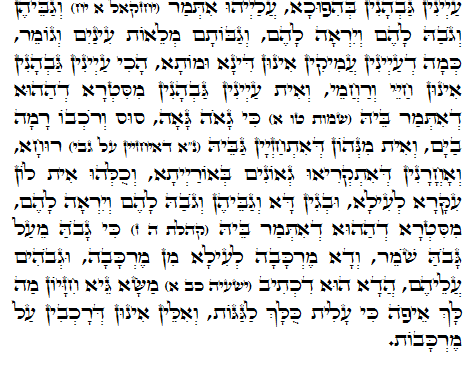 Hebrew translation:
Sorry Hebrew translation is missing from my original files.
Tikkun 70 – 54
Anteriormente lemos que uma pessoa com olhos profundamente fixos, na maioria dos casos, representa julgamento e morte. Pessoas com olhos que são maiores na fronte da face e alinhados acima do topo da orelha tem energia de vida e misericórdia.
Ezequiel 1:18 "וְגַבֵּיהֶן–וְגֹבַהּ לָהֶם, וְיִרְאָה לָהֶם; וְגַבֹּתָם, מְלֵאֹת עֵינַיִם סָבִיב–לְאַרְבַּעְתָּן " "E os seus aros eram tão altos, que faziam medo; e estas quatro tinham as suas cambotas cheias de olhos ao redor."
Na visão de Ezequiel nós lemos que as Criaturas Sagradas do trono foram elevadas com olhos em torno delas de modo que elas pudessem ver em todas direções. Os olhos são o mais elevado "sentido" no corpo e é o nível de Chochmah. Se os olhos são posicionados na parte superior da face (não profundos) então isso siginifica habilidade para elevadas conexões espirituais. Os aspectos negativos são orgulho e ego.
Êxodo 15:1 "…אָשִׁירָה לַיהוָה כִּי-גָאֹה גָּאָה…" "…cantarei a YHVH, seja Ele exaltado nas alturas (גָאֹה גָּאָה)…"
O versículo acima é da canção que veio após a divisão do Mar Vermelho. Ela louva Deus pelo estado de exaltação vivido naquele evento. A raiz da palavra é גא. O aspecto espiritual disso é positivo pois reprensenta elevação acima do físico. No nível físico significa ego e gravidade em direção ao egoísmo e matéria.
A palavra para 'gênio" em hebraico é גאון que significa espiritualidade elevada acima da norma. Aprendemos do Zohar que pessoas com olhos acima da posição normal tem maior habilidade mental. Os mestres espirituais, depois da destruição do Segundo Templo Sagrado, foram chamadas גאונים, significando literalmente "gênio". Isso não significa um título para o ego, mas para sua habilidade de conectar mais alto no nível espiritual que pode canalizar energia de vida de Binah e luz de misericórdia.
{||}