Click here to listen to the Daily Zohar [audio:https://dailyzohar.com/wp-content/uploads/audio/dz949.mp3|titles=Daily Zohar 949]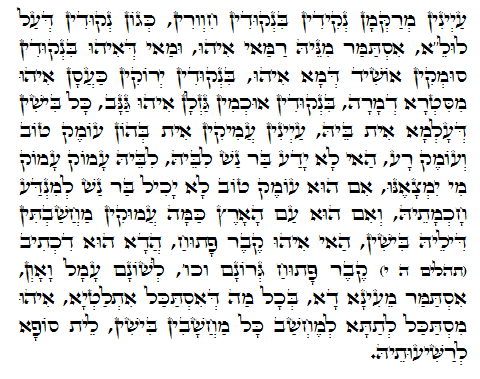 Hebrew translation:
Sorry Hebrew translation is missing from my original files.
Tikkun 70 – 54
Um die Augen herum können wir lange Linien oder Punkte sehen. Punkte zeigen den Aspekt von negativen Attributen an, weiße Punkte zeigen trügerische und nicht vertrauenswürdige Person, wie Laban den Aramäer, an. Grüne Punkte sind die Gallenflüssigkeit, die negative Elemente des physischen Körpers sammeln. So eine Person ist reaktiv und schnell zu ärgern. Rote Punkte an einer Person zeigen an, sie kann leicht das Blut anderer vergießen. .
Schwarze Punkte zeigen starke und Wünsche für das eigene Selbst an, einen Dieb, der von anderen alles nimmt, was auch immer er kriegen kann. Schwarz schließt alle anderen Farben ein, diese Person ist also zu allen Arten von Negativität in der Lage .
Menschen mit tief sitzenden Augen haben tiefe Gedanken, die wir nicht lesen oder voraussagen können. Wenn die Person positiv ist, dann kann sie tiefe Weisheit haben, die wir nicht verstehen können.
Wenn es eine negative Person ist, dann sagen uns ihre Augen, dass sie eine Menge negative Gedanken hat. Sie ist wie ein schwarzes Loch und der Zohar erklärt, es sei wie ein ´´offenes Grab´´. Sie haben das böses Auge und könnten mit ihrem Blick Tod bringen. Wir sollten vorsichtig sein und dieser Art von Menschen fernbleiben.
Hinweis und Mahnung: Bitte beurteilt Menschen mit tiefen Augen nicht vorschnell. .
Möglicherweise sehen einige von ihnen wie schlechte Menschen aus, aber sie könnten eine große, weise Person verbergen. Es ist selten, aber wenn wir einen Fehler im Beurteilen machen, dann könnte es uns verletzen.
{||}