Click here to listen to the Daily Zohar [audio:https://dailyzohar.com/wp-content/uploads/audio/dz954.mp3|titles=Daily Zohar 954]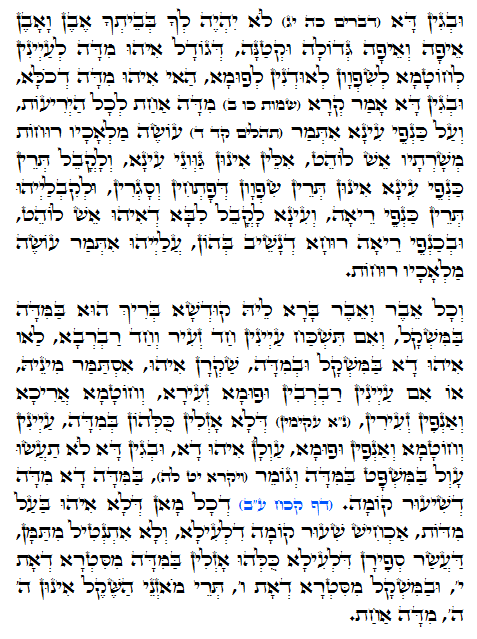 Hebrew translation:
Sorry Hebrew translation is missing from my original files.
Tikkun 70 – 59
Deuteronomy 25:14 " לֹא-יִהְיֶה לְךָ בְּבֵיתְךָ, אֵיפָה וְאֵיפָה: גְּדוֹלָה, וּקְטַנָּה." "Du sollst in deinem Haus nicht verschieden Maße haben, ein großes und ein kleines.´´
Exodus 26:2 "אֹרֶךְ הַיְרִיעָה הָאַחַת, שְׁמֹנֶה וְעֶשְׂרִים בָּאַמָּה, וְרֹחַב אַרְבַּע בָּאַמָּה, הַיְרִיעָה הָאֶחָת; מִדָּה אַחַת, לְכָל-הַיְרִיעֹת" "Die Länge von jedem Vorhang soll acht und zwanzig Ellen sein und die Breite von jedem Vorhang vier Ellen; alle die Vorhänge sollen ein Maß haben."
Das rechte und linke der Augen, Ohren, Nase, und Lippen sollte die gleiche Größe haben. (die Nase hat zwei Teile, von Innenwand getrennt)
Auf den Lidern, sagt es in Psalm 104:4 " עֹשֶׂה מַלְאָכָיו רוּחוֹת; מְשָׁרְתָיו, אֵשׁ לֹהֵט." "Wer macht den Wind, deine Boten, das flammende Feuer deine Minister."
Wie die Engel oben, öffnen und schließen die Lider die oberen Tore und dienen als Boten des Lichts. Sie haben ähnliche Arbeit, wie die Lippen des Mundes. Der Aspekt von Feuer in den Augen, ist die unterschiedliche Farbe der Augen. Öffnen und schließen ist, als weht der Wind, um das Feuer zu kühlen. Diese Lehre des Zohars erklärt die Wirkung von ´´Feuer´´ , das wir in den Augen von Menschen sehen. Wir können nicht zu lange in die Augen von Menschen starren, es sei denn sie blinken öfters, was ein kühlender Aspekt des Feuers ist, der aus den Augen kommt.
Die andere Verbindung des Feuers ist im Herzen und in dem Öffen und Schließen des Mundes, was der Aspekt des Atmens ist, den Wind in die Lungen zu bringen, um das Herz zu kühlen. Wenn wir ungleiche Größen Rechts und Links der Augen, Ohren, Nase und des Mundes sehen, deutet es an, dass die Person leicht lügen kann. Wenn es Missverhältnisse in Gesichts Teilen gibt, dann ist da ein Defekt in der Seele von der Person, aus vorherigen Leben. Wir können sagen, welcher Aspekt der Seele defekt ist, basierend auf dem Teil des Gesichts. Augen sind die Ebene von Chochmah, Ohren sind Binah, Nase ist Zeir Anpin und Mund ist Malchut.
.
{||}