Click here to listen to the Daily Zohar [audio:https://dailyzohar.com/wp-content/uploads/audio/dz954.mp3|titles=Daily Zohar 954]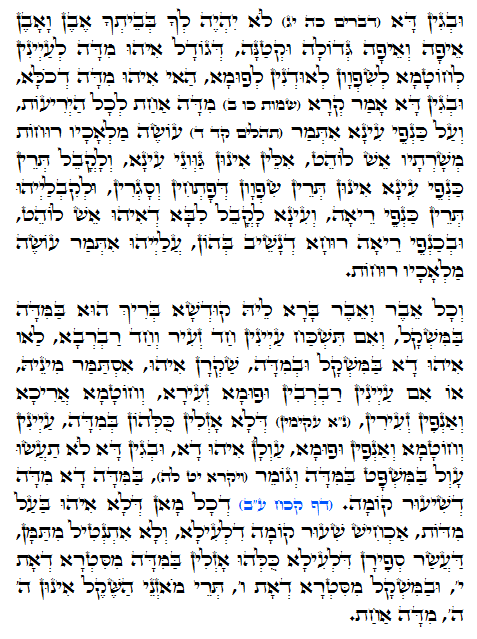 Hebrew translation:
Sorry Hebrew translation is missing from my original files.
Tikkun 70-59
Deuteronomio 25:14
"לֹא – יִהְיֶה לְךָ בְּבֵיתְךָ, אֵיפָה וְאֵיפָה:. גְּדוֹלָה, וּקְטַנָּה""lò-yìheyeh lechà beveytecha eifàh vè'eifàh ghedolàh ùktànàh."tu non devi avere in casa due misure diverse, una grande e una piccola."
Esodo 26:2
"אֹרֶךְ הַיְרִיעָה הָאַחַת, שְׁמֹנֶה וְעֶשְׂרִים בָּאַמָּה, וְרֹחַב אַרְבַּע בָּאַמָּה, הַיְרִיעָה הָאֶחָת; מִדָּה אַחַת, לְכָל – הַיְרִיעֹת""orèch hayeri'àh hà'achàt shmònèh vè'esrìm bà'amàh vèrochàv arbà ba'amàh hàyeri'àh hà'echàt midàh achàt lechòl-hàyeri'òt."la lunghezza di ogni telo sarà di ventotto cubiti, e la larghezza di ogni telo sarà di quattro cubiti; tutte le tende devono avere una misura."
La destra e la sinistra degli Occhi, delle Orecchie,del Naso e delle Labbra dovrebbero avere dimensioni uguali. (Il Naso ha due parti separate da una parete interna).
Sulle palpebre, è detto nei Salmi-Tehillìm 104:4
"עֹשֶׂה מַלְאָכָיו רוּחוֹת;. מְשָׁרְתָיו, אֵשׁ לֹהֵט""osè malachàv rùchòt meshàretàv èsh lohèt""Egli fa dei venti i Suoi messaggeri e delle fiamme di fuoco i Suoi ministri"
Come gli Angeli sopra, le palpebre aprono e chiudono le porte superiori e servono come messaggeri di Luce. Esse hanno un lavoro simile come le labbra della bocca. L'aspetto del fuoco negli occhi sono i diversi colori degli occhi. L'apertura e la chiusura sono come soffiare il vento per raffreddare quel fuoco. Questo insegnamento dello Zohàr spiega l'effetto di 'fuoco' che vediamo negli occhi della gente. Non possiamo guardare negli occhi una persona troppo a lungo a meno che non batta gli occhi frequentemente, che è un aspetto di raffreddamento del fuoco che proviene dagli occhi.
L'altra connessione del fuoco è nel cuore e l'apertura e la chiusura della bocca, che è l'aspetto della respirazione, porta il vento dentro ai polmoni per raffreddare il cuore.
Quando vediamo dimensioni diverse nella destra e nella sinistra degli Occhi, delle Orecchie,del Naso e della Bocca, questo indica che la persona può mentire facilmente. Se ci sono sproporzioni nelle parti del viso, allora c'è un difetto nell'anima di quella persona,difetto che viene dalle vite precedenti. Possiamo dire quale aspetto dell'anima è viziato in base alla parte della faccia,che presenta il difetto. Gli occhi sono il livello di Chockmàh, le Orecchie sono il livello di Binàh, il Naso è il livello di Zeir Anpìn e la Bocca è il livello di Malchùt.
{||}