Click here to listen to the Daily Zohar [audio:https://dailyzohar.com/wp-content/uploads/audio/dz954.mp3|titles=Daily Zohar 954]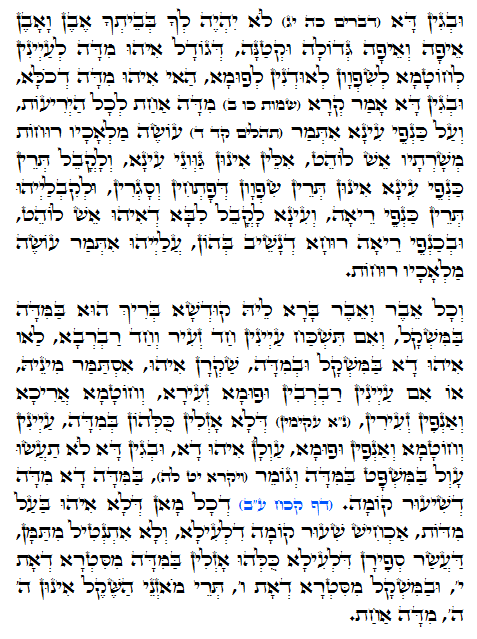 Hebrew translation:
Sorry Hebrew translation is missing from my original files.
Traduccion Sebastian Palen
Tikun 70-59
Deuteronomio 25:14
"לֹא – יִהְיֶה לְךָ בְּבֵיתְךָ, אֵיפָה וְאֵיפָה:. גְּדוֹלָה, וּקְטַנָּה"
"No tendrás en tu casa diversas medidas, una grande y una pequeña"
Éxodo 26:2
"אֹרֶךְ הַיְרִיעָה הָאַחַת, שְׁמֹנֶה וְעֶשְׂרִים בָּאַמָּה, וְרֹחַב אַרְבַּע בָּאַמָּה, הַיְרִיעָה הָאֶחָת; מִדָּה אַחַת, לְכָל – הַיְרִיעֹת"
"La longitud de cada cortina será de ocho y veinte codos, y la anchura de cada cortina de cuatro codos; todas las cortinas tendrán una misma medida"
La derecha y la izquierda de los ojos, oídos, nariz y los labios deben tener el mismo tamaño. (La nariz tiene dos partes separadas por la pared interna).
Sobre los párpados se dice en el Salmo 104:4
"עֹשֶׂה מַלְאָכָיו רוּחוֹת;. מְשָׁרְתָיו, אֵשׁ לֹהֵט"
"Que haces a los vientos tus mensajeros, llama de fuego, tus ministros"
Al igual que los ángeles superiores, los párpados se abren y cierran las puertas superiores y sirven como mensajeros de la luz. Ellos tienen trabajo similar como los labios de la boca. El aspecto del fuego en los ojos son los diferentes colores de los ojos. Abrir y cerrar es como soplar el viento para que el fuego se enfríe. Esta enseñanza del Zóhar nos explica el efecto de "fuego" que vemos en los ojos de la gente. No podemos mirar a los ojos de una persona mucho tiempo a menos que parpadeen con frecuencia, que es un aspecto de enfriamiento del fuego que viene de los ojos.
La otra conexión de fuego está en el corazón y la apertura y cierre de la boca, que constituye el aspecto de la respiración, llevando el viento a los pulmones para enfriar el corazón.
Cuando vemos los tamaños desiguales de la derecha e izquierda de los ojos, oídos, nariz y boca, indica que la persona puede mentir fácilmente. Si hay una desproporción en las partes de la cara, entonces hay un defecto en el alma de esa persona en vidas anteriores. Nos puede decir qué aspecto del alma es deficiente sobre la base de la parte de la cara. Los ojos son el nivel de Jojma, Las orejas son Bina, la nariz es Zeir Anpin y la boca es Maljut.
{||}