Daily Zohar – Tikunim – # 972 – Pavimente usted mismo una autopista al cielo.
Click here to listen to the Daily Zohar [audio:https://dailyzohar.com/wp-content/uploads/audio/dz972.mp3|titles=Daily Zohar 972]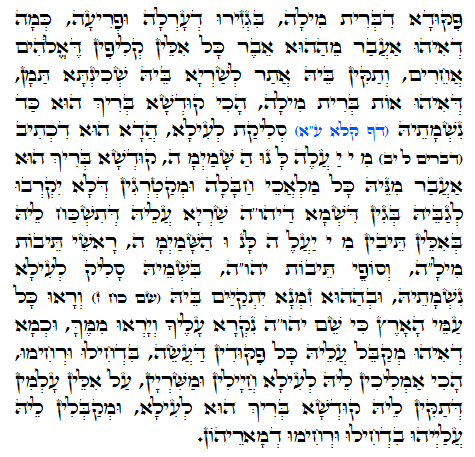 Hebrew translation:
Traduccion Sebastian Palen
Tikun 70-77
El proceso de la circuncisión remueve las Klipot que quedaron fijadas al cuerpo físico cuando Adán hizo la primer transgresion. El prepucio cubre la 'corona' de Yesod y bloquea la luz. La eliminación de las klipot abre el canal de Yesod y la persona tiene mayor potencial para llegar a ser justos.
Cuando una persona muere, su alma asciende a los niveles superiores. Las fuerzas del lado negativo 'atacan' el alma, en busca de agujeros en sus vestiduras para "chupar" energía todo lo que puedan antes que el alma continue su ascenso y esté lejos de su alcance.
Un alma "pesada", es decir, una con mayores deseos por la conexión propia y fuerte con el mundo material, es muy lenta para elevarse y proporciona una buena "comida" para el otro lado (otro lado sitra ajara) al mismo tiempo que experimenta un proceso doloroso. Este es el paso a través de las puertas del infierno antes que el alma sea juzgada y pasa al proceso adecuado de limpieza.
Las leyes de la Torá nos ordena enterrar el cuerpo lo más pronto posible y antes de la puesta del sol. Esto ayuda a acortar u omitir el dolor del alma en el camino. Mientras que el cuerpo no está de vuelta en la tierra, el alma no se mueve al siguiente paso.
El Zohar nos revela que a causa de la circuncisión Dios nos da un pase fácil a los mundos superiores y protege al alma de aquellos que desean hacerle daño.
Deuteronomio 30:12
"מִי יַעֲלֶה – לָּנוּ הַשָּׁמַיְמָה"
"'¿Quién subirá por nosotros al cielo?"
Las iniciales de esta cita forman el término (Milah) 'מילה "," circuncisión ", y la última letra deletrea el nombre יהוה YHVH. Nuestra conexión a YHVH con el proceso de corrección de nuestro cuerpo con las acciones positivas nos preparan un "modo de autopista" sin problemas y directo al mundo superior.
Tenemos la Torá y el Zohar como nuestra herramienta: el 'pavimento'. Con su luz, enriquecemos nuestra alma y terminamos nuestra corrección. Cuando llegue el momento, tenemos la autopista para alcanzar nuestro destino.
Todos queremos experimentar al Mashíaj y la Redención final en nuestras vidas y debemos creer que va a ser hoy en día, pero si no, entonces estamos felices de tener a otro día mas de trabajo ganando más en el futuro.
Y, por cierto, para tener éxito en su trabajo debe disfrutar cada momento de él, independientemente de lo difícil o fácil que es.
{||}