Daily Zohar – Tikunim – # 959 – Wie sind wahre Farben zu sehen?
Click here to listen to the Daily Zohar [audio:https://dailyzohar.com/wp-content/uploads/audio/dz959.mp3|titles=Daily Zohar 959]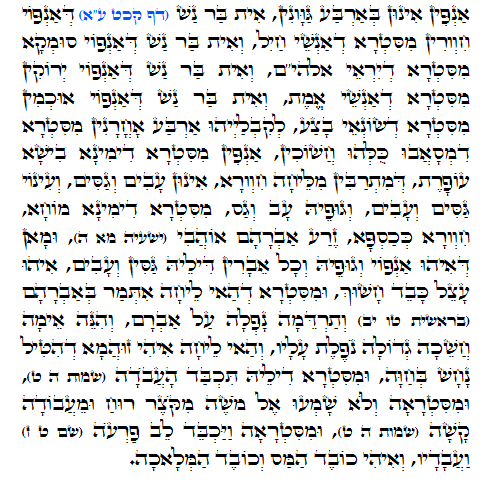 Hebrew translation:
Tikkun 70 – 64
Die Farben vom Gesichts haben den Aspekt von dem Namen YHVH
Y – Weiß – Rechts – Chessed
H – Rot – Links – Gevurah
V – Grün – Mitte – Tiferet
H – Schwarz – Malchut.
Denn es hat keine eigenes Licht und es braucht alle Sefirot/Farben von oben. .
Es gibt Aspekte, wo Yesod durch die schwarze Farbe dargestellt wird und Malchut die Blaue bekommt..
Ein Gesicht, dass weißes Licht ausstrahlt, hat den Aspekt von Chessed. Wenn das Weiß wie Blei Farbe aussieht, offenbart es Unreinheiten und negative Aspekte in dieser Person Wenn das ausstrahlende Licht rot ist, dann zeigt der reine Aspekt Wunsch und Verbindung nach dem Licht an. Der unreine Aspekt ist, irdische Wünsche für das eigene Selbst. Grün für das Gesicht, zeigt das Festhalten an der Wahrheit an und das Gegenteil gilt für Lügner und manipulierende Menschen.
Schwarz zeigt starke Energie in Malchut an. D,er positive Aspekt ist die Verbindung zur Shechina, der negative Aspekt ist Verbindung zur dunklen Seite des Lebens, Bitterkeit, Faulheit und Schwerfälligkeit. Menschen mit Mangel an Energie; gucken nach ´Abkürzungen´und vermeiden harte Arbeit.Wenn auf die Gesichter von Mensche sehend, guckt über die äußere Erscheinung hinaus.
Für die meisten Menschen ist PFR das Lesen des PFR Studiums verwirrend. Es ist keine einfache Anleitung für korrekte Interpretation. Der Charakter und Tikkun Prozess einer Person ist auf ihrem Gesicht geschrieben, wie es aus vorherigen Leben kommt und es ist nicht wie ein lebender TV Bildschirm.
Wahre Farben können nur gesehen werden, wenn wir Licht auf das Objekt werfen. Mit Menschen ist es das Gleiche. Wir sollten mit unseren Augen Licht (mit reinem Gedanken), zu der Person senden. Dieses wird unsere Fähigkeit erhöhen die Wahrheit mit unseren inneren Augen, Chochmah und Binah zu sehen. Ohne das sind wir Farbenblind.
{||}