Click here to listen to the Daily Zohar [audio:https://dailyzohar.com/wp-content/uploads/audio/dz961.mp3|titles=Daily Zohar 961]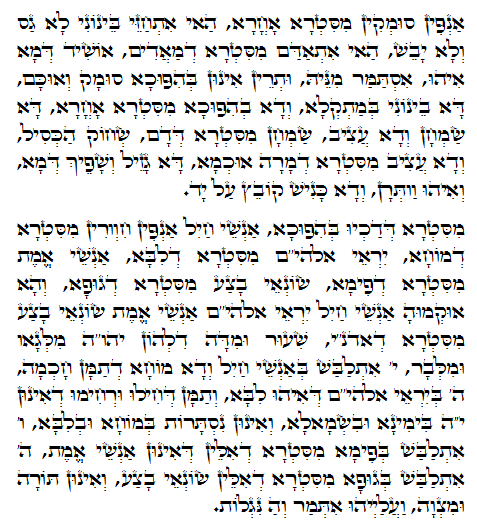 Hebrew translation:
Tikkun 70 – 66
Menschen vom Typ der roten Farbe sind gewöhnlich von der anderen Seite (negativ). Ihr Körpertyp ist durchschnittlich, wie zwischen Wasser und Feuer. Sie sind durch den Planeten Mars kontrolliert, מאדים dessen Name ´rot machen´ bedeutet. Diesen Menschen fällt es leicht ´Blut zu vergießen´ und wir sollten auf sie aufpassen.
Der ´Wasser´ Typ ist feucht und kalt, aber der Rote ist das Element der ´Luft´ und trägt das Wasser und Feuer, dass feucht und warm ist. Der Rote kann spielerisch sein, im negativen Sinn von sexuellen Wünschen zu folgen. Er kann dein Blut vergießen und dein Geld nehmen und es leicht ausgeben.
Der ´Schwarze´ Typ ist ´Erde´, kalt und trocken, herb und traurig. Er ist geizig und gibt sein Geld kaum aus.
Die positive Seite von dem ´Weißen´ ist, dass er von Chochmah genährt wird, Weisheit und der rechten Säule. Seine Blässe kommt von einem reinen Gehirn. Der positive ´Rote´ ist der Aspekt von Binah, linker Säule und des Herzens, das pure Energie in das rote Blut befördert.
Der positive ´Grüne´hat die Attribute der mittleren Säule und spricht die Wahrheit.
Das Y von dem Namen YHVH ist 'gekleidet´mit dem ´Weiß´und Chochmah, der Weisheit der Torah .
Das H ist ´gekleidet´ in dem 'Rot' und Binah, der Ehrfurcht im Herzen.
Das V ist 'gekleidet' in dem 'Grün' und Zeir Anpin, mit dem Spechen der Wahrheit und Chochmah und Binah im Herzen.
Das H ist 'gekleidet' in dem Schwarz von Yessod und dem Blau von Malchut, folgt den Wegen des Lichts.
{Anmerkung MS: Über die wörtliche Bedeutung hinaus, ist der spirituelle Aspekt von ´´Blut vergießen´´, wenn Einer den Anderen in einer Weise verletzt, dass es sich auf die Seele auswirkt. Gegen einen Anderen negative Worte gebrauchen, besonders öffentlich, wird mit ´´Blut|vergießen´´ bezeichnet. Einen Menschen um sein Geld betrügen oder ihn arm zu machen, hat den gleichen Aspekt.}