Click here to listen to the Daily Zohar [audio:https://dailyzohar.com/wp-content/uploads/audio/dz955.mp3|titles=Daily Zohar 955]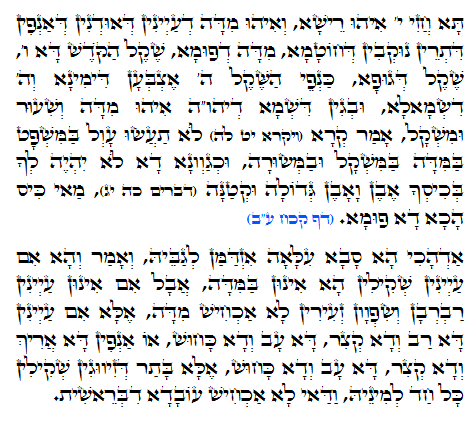 Hebrew translation:
Tikkun 70 – 60
Leviticus 19:35 "לֹא-תַעֲשׂוּ עָוֶל, בַּמִּשְׁפָּט, בַּמִּדָּה, בַּמִּשְׁקָל וּבַמְּשׂוּרָה." "Ihr sollt nicht Ungerechtigkeit im Urteil tun, bei Meter- Yard, beim Gewicht oder bei der Messung."
Das gesamte spirituelle System in dieser Welt erfordert Balance, um positiv ausgedrückt zu werden. Die drei Säulen des Baums des Lebens sind wie eine Waage der Gerechtigkeit. Wir sollten die rechte und linke Säule in Balance bringen, um den Fluss des Lichts von oben zu haben.
Das YHVH System ist in perfekter Balance. Das Y י ist die obere Mitte und der Aspekt von Chochmah, wie sie alle von den Ästen von Chochmah kommen..
Das H ה von Binah ist rechts für 5 Chassadim und das H ה von Malchut ist auf der Linken für 5 Gevurot.
Die Illustration unten zeigt die Waage von YHVH.


Bei unseren Handlungen sollten wir immer mehr Chessed benutzen, um Urteil zu überwinden. Wenn wir auf der Waage auf dem physischen und spirituellen Aspekt betrügen, dann werden wir einen Mangel an Chessed haben und erfahren mehr Urteil und Chaos im Leben. Wir können ins nächste Leben mit einem ´Zeugnis´ unserer Handlungen aus früheren Leben kommen.
Wir sollten Versprechen immer halten und abgeben was von uns erwartet wird. Wenn wir versuchen auf der Waage zu betrügen, beschädigen wir den Aspekt von dem Namen YHVH und bringen über uns selbst starkes Urteil.
Die mittlere Säule wird "Gerechtigkeit und Wahrheit" genannt, wie es in Micha 7:20 "תִּתֵּן אֱמֶת לְיַעֲקֹב, חֶסֶד לְאַבְרָהָם, אֲשֶׁר נִשְׁבַּעְתָּ לַאֲבֹתֵינוּ, מִימֵי קֶדֶם" gesagt wird "Sie werden Wahrheit zu Jakob zeigen, Barmherzigkeit (Chessed) zu Abraham, wie sie es zu ihren Vätern aus den alten Tagen geschworen haben"
Der Zohar lehrt uns, wenn die Augen die gleiche Größe haben und proportioal größer als der Mund sind, dann gibt es keinen Fehler in der Seele der Person, weil seine Ebene der Verbindung stärker ist. Wenn die Augen unterschiedliche Größen haben, und auch die Nase und der Mund, dann hat die Person Fehler in ihrer Verbindung oben. Sie kann auch die Existenz Gottes leugnen.
Diese Fehler im Gesicht und Körper erzählen ihr vergangenes Leben und das Tikun, durch das sie in diesem Leben gehen muss. Wenn wir so eine Person sehen, sollten wir ihr nicht sagen, dass er oder sie in ihren früheren Leben nicht gut war, oder dass sie keinen Glauben hatte, aber sie zu ihren Glauben leiten und ihre Verbindung zu dem YHVH System zu steigern, um ihr Leben zu verbessern.
Merkt euch, dass wir in der Welt von Tikun sind und wir sollten eine Person nicht als fehlerhaft ´kennzeichnen´, aber ihnen die Richtung für das Licht zeigen und den Weg, an ihrem Tikun zu arbeiten. Wir könnten in unserer Gemeinschaft eine Person mit kleinen Augen und großem Mund sehen. Es sagt uns, dass diese Person schon im Prozess ist, ihre Fehler zu korrigieren und alles was wir tun müssen ist, sie nur zu unterstützen und zu ermutigen, ohne einer Person zu sagen, dass wir es auf ihrem Gesicht sehen. Wenn wir mit Ego kommen, einer Person sagen, dass wir PFR kennen und wir ihr Gesicht lesen können, dann verfehlen wir den Zweck des PFR..
Studiert PFR auf die Weise, bei all euren Handlungen gerecht zu werden. Dieses Wissen hilft dabei zu wissen, wie wir Anderen besser helfen können.
{||}