Daily Zohar – Tikunim – # 967 – No cierre sus oídos y siga su nariz.
Click here to listen to the Daily Zohar [audio:https://dailyzohar.com/wp-content/uploads/audio/dz967.mp3|titles=Daily Zohar 967]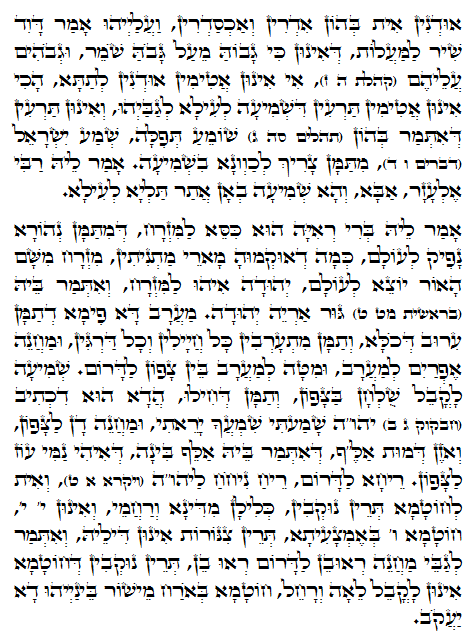 Hebrew translation:
Traduccion Sebastian Palen
Tikun 70-72
Los sentidos y sus niveles espirituales
Y – Vista – derecha – ojos – Jojma – Este – Campamento de Yehuda
H – auditiva – izquierda – oídos – Bina – Norte – Campamento de Dan
V – Olfato – centro – Nariz – Zeir Anpin – Sur – Campo de Rubén
H – Hablar – recipiente – Boca – Maljut – oeste – campamento de Efraín
Génesis 49:9 "גּוּר אַרְיֵה יְהוּדָה", "Judá es un cachorro de león"
León אַרְיֵה tiene las mismas letras que vista ראיה. Judah representa el liderazgo. La zona oriental es donde el sol sale y se trae la luz del día.
Los ojos se sitúan en la parte mas alta en el rostro y son el sentido más elevado. Esto está más cercano al cerebro para indicar su importancia.
Habacuc 3:2 "יְהוָה, שָׁמַעְתִּי שִׁמְעֲךָ יָרֵאתִי"
"oh YHVH, he oído el informe de ustedes, y me da miedo"
Bina es la columna izquierda de la tres Sefirot superiores. La audición es el aspecto de la recepción y la tribu de Dan, que se encuentra en el norte en representación de la columna de la izquierda.
Los oídos estan un poco más abajo que los ojos, están más separados. Se refieren a las habilidades espirituales y las conexiones.
Levítico 01:09 "רֵיחַ – נִיחוֹחַ לַיהוָה", "un dulce aroma a YHVH"
La nariz está en el centro de la cara y tiene dos lados, como los ojos y oídos, pero ambos están conectados con la pared interior. La fosa nasal derecha es el aspecto de Jesed y la fosa nasal izquierda de Guevurá. Cada agujero tiene el aspecto de la letra Yod y la pared interior es como la letra Vav. Juntos forman la letra Alef.
Como el aspecto de las seis (Vav) Sefirot de Zeir Anpin, la nariz representa el proceso de Tikun de una persona en este mundo. El campamento de Rubén se encuentra en el sur. Su nombre es ראו – בן, lo que significa "ver" "hijo". Zeir Anpin es el aspecto del hijo de Jojma (Padre) y Bina (la madre).
La boca está situada en el centro inferior de la cara. Tiene una abertura que trae fuera todo lo que está por encima de ella. Es el aspecto de Maljut. La boca no tiene límites de expresión en el mundo inferior y representa el poder de manifestar.
"אֹטֵם אָזְנוֹ, מִזַּעֲקַת – דָּל – גַּם – הוּא יִקְרָא, וְלֹא יֵעָנֶה"
"Si un hombre cierra sus oídos al clamor del pobre, también él clamará y no será oído"
Este versículo que el Zohar trae por aquí, es para enseñarnos que todos nuestros sentidos son partes importantes del proceso de Tikun. No podemos ser seres pasivos que se centran en los deseos egoístas, sino que debe abrirse a todas las situaciones que 'llaman' a la acción.
{||}