Daily Zohar – Tikunim – # 968 – ¿Cuánta agua puedes dirigir?
Click here to listen to the Daily Zohar [audio:https://dailyzohar.com/wp-content/uploads/audio/dz968.mp3|titles=Daily Zohar 968]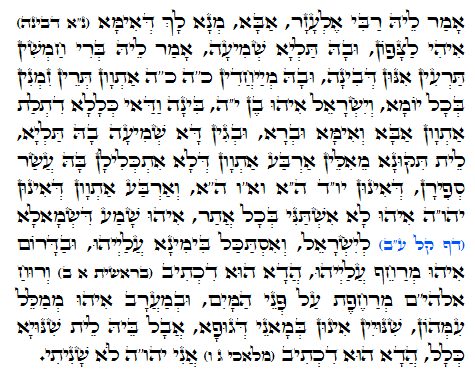 Hebrew translation:
Traduccion Sebastian Palen
Tikun 70-73
Rabí Elazar le pregunta a Rabí Shimón, "De dónde consideramos que Bina es el norte y el sentido del oído?"
"שְׁמַע, יִשְׂרָאֵל: יְהוָה אֱלֹהֵינוּ, יְהוָה אֶחָד"
"Oye, Israel: YHWH es nuestro Di-s, YHWH es uno"
Rabí Shimon explica que la oración del Shemá Israel es nuestra conexión con las 50 puertas de Bina. La primera palabra es "escucha" y la segunda palabra es "Israel" que es el nombre de Jacob. Él es el aspecto de Zeir Anpin que es el hijo בן de YH יה. YH es el padre y la madre celestial. Las letras בן + יה son las mismas que בינה, Bina. Por estas razones, escuchar conecta a Bina.
Rabí Shimón amplía su explicación y dice que debido a que las cuatro letras del nombre YHVH son el aspecto de ver, oír, oler y hablar, cada una de ellas incluye las diez Sefirot. El nombre YHVH en sí no cambia y es como el alma para el cuerpo con el sentido concreto. Se da a cada uno de ellos una fuerza de vida igual a la que ellos necesitan para funcionar.
Los cambios en los sentidos sólo pueden estar en el nivel de las Sefirot que representan la vasija, pero la luz interior que es YHVH nunca cambia.
Malaquías 3:6
"כִּי אֲנִי יְהוָה, לֹא שָׁנִיתִי; וְאַתֶּם בְּנֵי – יַעֲקֹב, לֹא כְלִיתֶם"
Porque Yo, YHVY, no cambio y vosotros, hijos de Yaacov, no estan consumidos"
YHVH es el nombre que representa toda la creación y la luz del infinito que da vida a todos los mundos desde Adam Kadmon, a través de Atzilut (Emanación), Beria (Creación), Yetzirá (Formación) y Asiah (Acción).
Es importante entender que la luz, YHVH, es siempre la misma.
Imagina una fuente inagotable de agua y una gran represa con tuberías que conducen el agua hasta el usuario final, los consumidores. Se va desde tubos grandes a los más pequeños hasta que llega al consumidor final que utiliza un grifo de agua pequeña. No se puede conectar directamente a la fuente, ya que podría romper su sistema (casa, recipiente) El agua es la misma agua como el de la fuente, pero la posibilidad de usar y canalizar más agua depende de la tubería y su lugar en el proceso de entrega al consumidor al final de la línea.
La lección para nosotros es que podamos tener todos los poderes que queremos o necesitamos si contamos con un recipiente más grande y más fuerte para manejar la situación. Fácilmente podemos crecer como un canal si dejamos de lado el deseo de tenerlo todo para nosotros mismos y elegir continuar la fuerza que recibimos. Cuando nos comportamos como el que nos da a nosotros, llegamos a el mismo nivel y conectamos con el nivel superior. Podemos seguir con el mismo método y mantener el crecimiento de nuestra capacidad para canalizar el agua / la luz más aún.
Si queremos tener una gran cantidad de agua, no deberíamos aferrarnos a ella.
{||}