Click here to listen to the Daily Zohar [audio:https://dailyzohar.com/wp-content/uploads/audio/dz984.mp3|titles=Daily Zohar 984]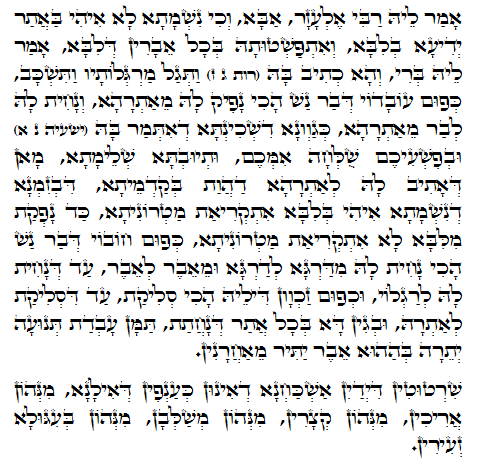 Hebrew translation:
Traduccion Sebastian Palen
Tikun 70-89
Muchas personas mueven algunas partes de su cuerpo mientras hablan. Algunas personas mueven los ojos, manos, cabeza y algunos mueven las piernas. La parte del cuerpo está animada por la energía del alma.
Isaías 50:1
"הֵן בַּעֲוֹנֹתֵיכֶם נִמְכַּרְתֶּם, וּבְפִשְׁעֵיכֶם שֻׁלְּחָה אִמְּכֶם. "
"He aquí que por vuestras iniquidades fuisteis vencido y por vuestras transgresiones fue repudiada vuestra madre"
Rabí Shimon explica que en este versículo la madre, que es la Shejiná, fue expulsada de un estado de unificación completa con la luz para ayudar con el Tikun de las personas.
La existencia entera, que es el mundo de Tikun está en continuo movimiento, nada es inanimado. El Ein Sof está en un lugar de descanso total, porque no hay ningún aspecto de la carencia. El movimiento sólo existe en el mundo de Maljut y fue creado de esta manera para que podamos hacer nuestras correcciones. En Shabat, nos conectamos con el aspecto de descanso para recibir desde la energía de Bina, que está por encima del mundo de Tikun. Nuestras oraciones de Shabat menciona el "descanso" con el fin de conectar con esa energía.
La tarde del Sabado después de la oración de Minjá, es el más alto estado de "descanso" y la mejor hora para leer el Zohar para ese propósito (10.000 veces más fuerte conexión que en días regulares!)
El alma como aspecto de la Shejiná, se expresa con fuerza en diferentes partes del cuerpo que requieren corrección. Aprendimos que el cuerpo representa la esencia espiritual y el tipo de alma de una persona. Si tiene o ha tenido impurezas, entonces se verá como "extra" el movimiento en el cuerpo o con algo que se expresa de manera diferente de lo normal. Los movimientos especiales de los ojos, boca, manos y otras partes indican la corrección espiritual que está relacionado con el área del cuerpo.
La corrección consiste en traer al cuerpo en completo equilibrio con nuestras conexiones espirituales y acciones. Cuando nos sentimos un estado de paz y descanso en nuestro corazón, mientras que estamos siguiendo nuestro proceso de Tikun, entonces estamos en el camino correcto.
{||}