Click here to listen to the Daily Zohar [audio:https://dailyzohar.com/wp-content/uploads/audio/dz955.mp3|titles=Daily Zohar 955]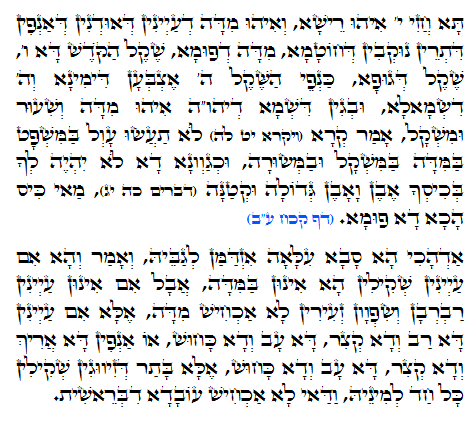 Hebrew translation:
Traducción Sebastian Palen
Tikun 70-60
Levítico 19:35
"לֹא -. תַעֲשׂוּ עָוֶל, בַּמִּשְׁפָּט, בַּמִּדָּה, בַּמִּשְׁקָל וּבַמְּשׂוּרָה"
"No pervertireis la justicia en medidas de longitud, peso o vulumen"
Todo el sistema espiritual en este mundo requiere un equilibrio que se expresa de manera positiva. Las tres columnas del árbol de la vida son como una balanza de la justicia. Debemos traer las columnas derecha e izquierda en el equilibrio para lograr el flujo de la luz desde arriba.
El sistema de YHVH está en perfecto equilibrio. La י Y es la parte central superior y es el aspecto de Jojma, ya que todos procedían de las ramas de Jojma.
La ה H de Bina es adecuad para 5 jasadim y la ה H de Maljut está en la izquierda para 5 Gevurot.
La siguiente ilustración muestra la balanza de YHVH.

En nuestras acciones nosotros siempre debemos usar más Jesed para superar el juicio. Si hacemos trampa en la balanza sobre los aspectos físicos y espirituales, entonces tendremos la falta de Jesed y se experimentará más juicio y vida del caos. Podemos llegar a la otra vida con un 'testimonio' de nuestras acciones de vidas anteriores.
Siempre debemos mantener las promesas y entregar lo que se espera de nosotros. Cuando tratamos de "engañar" en la balanza, nosotros corrompemos el aspecto del nombre de YHVH y traemos juicio fuerte sobre nosotros mismos.
La columna central se llama "justicia y verdad", como se dijo en Micha 07:20
"תִּתֵּן אֱמֶת לְיַעֲקֹב, חֶסֶד לְאַבְרָהָם, אֲשֶׁר נִשְׁבַּעְתָּ לַאֲבֹתֵינוּ, מִימֵי קֶדֶם"
"Va a mostrar la verdad a Jacob, la misericordia (Jesed) a Abraham, como lo ha jurado a nuestros padres desde los días de antaño"
El Zohar nos enseña que si los ojos tienen el mismo tamaño y en proporción mayor que la boca, entonces no hay ningún defecto en el alma de esa persona debido a su conexión de nivel superior, es más fuerte. Si los ojos tienen diferentes tamaños y también la nariz y la boca, entonces esta persona tiene defectos en su conexión anterior. También puede negar la existencia de Dios.
Los defectos de la cara de una persona y el cuerpo cuenta su vida pasada y el Tikun que necesita para ir a través de esta vida. Cuando vemos a esa persona no debería decirle que es o no bueno en vidas anteriores o que no tiene fe, sino guiarlo a aumentar su fe y su conexión al sistema de YHVH con el fin de mejorar su vida.
Recuerde que estamos en el mundo de Tikun y no debemos "etiquetar" a una persona como defectuosa pero si mostrar a ellos la dirección de la luz y la forma de trabajar en su Tikun. Podemos ver a una persona en nuestra comunidad con los ojos pequeños y boca grande. Se nos dice que esta persona ya está en el proceso de corregir sus defectos y todo lo que necesitamos hacer es apoyar y alentar lo sin siquiera decirles que lo vemos en su cara. Cuando venimos con ego, dices a una persona que conocemos PFR y podemos leer su cara, después perdemos el propósito del PFR.
Se debe estudiar PFR en el camino para ser justos en todas las acciones. Ese conocimiento ayuda a saber cómo ayudar mejor a los demás.
{||}