Zohar quotidiano # 967 – Non Chiudere le tue Orecchie e Segui il tuo Naso.
Click here to listen to the Daily Zohar [audio:https://dailyzohar.com/wp-content/uploads/audio/dz967.mp3|titles=Daily Zohar 967]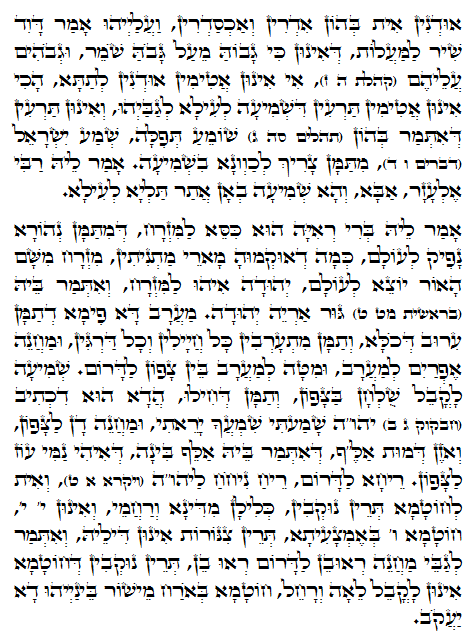 Hebrew translation:
Tikkun 70 – 72

I sensi ed i loro livelli spirituali
Y – Vedere – Destra – Occhi – Chockmàh – Est – Campo di Yehudàh
H -Udire – Sinistra – orecchie – Binàh – Nord – Camp di Dàn
V – Odore – Centro – Naso – Zeir Anpìn – Sud – Campo di Reuvèn
H – Parlare – Recipiente – Bocca – Malchùt – Ovest – Campo di Ephràim
Genesi 49:9. "גּוּר אַרְיֵה יְהוּדָה", "Gur aryeh Yehudàh" " Yehudàh è un cucciolo di leone"
Leone in Ebraicoאַרְיֵה ( Aryèh ) ha le stesse lettere come la parola Ebraica vedere ראיה. Yehudàh rappresenta la leadership. L'est è dove sorge il sole e porta luce al giorno.
Gli occhi sono posizionati più alti nella faccia e sono il senso più alto. È più vicino al cervello per indicare la sua importanza.
Abacuc 3:2. "יְהוָה, שָׁמַעְתִּי שִׁמְעֲךָ יָרֵאתִי" "O YHVH, O Eterno, io ho udito il tuo messaggio, e son preso da timore;";
Binàh è la colonna sinistra delle tre Sefiròt Superiori. L'udito è l'aspetto di ricevere e la tribù di Dan, che si trovava a nord rappresenta la colonna di sinistra.
Le orecchie sono un pochino più basse rispetto agli occhi e sono più lontani. Essi si riferiscono alle capacità e alle connessioni spirituali.
Levitico 1:9. "רֵיחַ – נִיחוֹחַ לַיהוָה" " re'àch-nìchoach l'Adonay. "profumo gradito a YHVH"
Il naso è al centro della faccia e ha due lati come gli occhi e le orecchie, ma entrambi i lati sono collegati con una parete interna. La narice destra è l'aspetto di Chessèd e la narice sinistra di Ghevuràh. Ogni "buco" ha l'aspetto della lettera Yod e la parete interna è come la lettera Vav. Insieme formano la lettera Alef.Come l'aspetto delle sei (Vav) Sefiròt di Zeir Anpin, il naso rappresenta il processo di Tikkùn di una persona in questo mondo. Il campo di Reuvèn si trovava a sud. Il suo nome è ראו – בן, che significa 'vedere' 'figlio'. Zeir Anpin è l'aspetto del figlio a Chockmàh (Padre) e a Binàh (Madre).La bocca si trova al centro inferiore della faccia. Ha una apertura che mette in evidenza tutto ciò che è sopra di essa. E 'l'aspetto di Malchùt. La bocca non ha limiti di espressione nel mondo inferiore e rappresenta il potere di manifestarsi.
Proverbi 21:13.
"אֹטֵם אָזְנוֹ, מִזַּעֲקַת – דָּל – גַּם – הוּא יִקְרָא, וְלֹא יֵעָנֶה"
"Chi chiude l'orecchio al grido del povero, griderà anch'egli, e non gli sarà risposto."
Questo versetto che lo Zohar porta qui, è allo scopo di insegnarci che tutti i nostri sensi sono parti importanti del processo di Tikkùn. Non possiamo essere esseri passivamente incentrati sui desideri egoistici, ma ci dobbiamo aprire a tutte le situazioni che ci 'chiamano' all'azione.
{| |}