Daily Zohar – Tikunim – # 976 – ¿Qué clase de ángeles quieres en tu vida?
Click here to listen to the Daily Zohar [audio:https://dailyzohar.com/wp-content/uploads/audio/dz976.mp3|titles=Daily Zohar 976]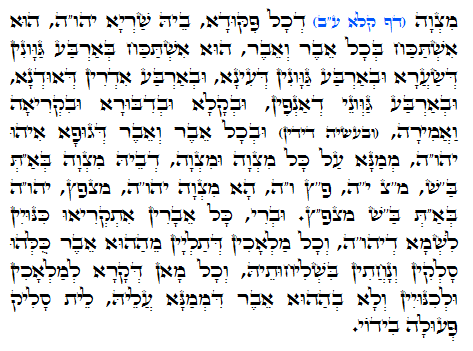 Hebrew translation:
Traduccion Sebastian Palen
Tikun 70-81
El Tetragramaton, YHVH, se revela en cada precepto.
La palabra para precepto es מצוה. Las dos primeras letras en Atbash, אתבש es יה.
'Atbash' אתבש es la forma cabalistica para revelar un aspecto diferente de la luz en el recipiente. En el uso de este método, el Alef es la primera letra de la palabra hebrea Alef-Bet, y se sustituye por la última letra. Bet, que es la segunda letra es reemplazada por la Shin que es penultima letra. Y así sucesivamente.
Las dos letras מצ, numéricamente 130 es 10 veces אהבה, que significa amor. Las otras dos letras וה VH, son las letras del nombre para Zeir Anpin y Maljut.
Sólo mediante el estudio de la palabra nosotros aprendemos el proceso de utilización de los preceptos para extraer luz hacia nuestras vidas. La H es nuestro recipiente y el deseo de conectarse debería surgir para ejecutar la acción positiva. La Vav es el aspecto de Zeir Anpin y la Torá que es la herramienta que tenemos para estudiar y usarlo como un puente hacia el nivel más alto y cuando lo hacemos así, la luz oculta de el YH que es Jojma y Bina, vuelven sus rostros a la nosotros y brilla su luz, al igual que los padres acogen a un niño cariñoso.
El Zohar nos enseña aquí, que las acciones positivas de la persona son reveladas en los cuatro colores del pelo, los ojos, las cuatro cavidades del oído y de los cuatro colores de la cara.
Rabí Shimón nos dice que los nombres de todas las partes del cuerpo son 'alias' del nombre del Dios que se viste en ellos. Los ángeles que se relacionan con estos nombres elevan la acción de la Mitzvá (precepto) y extraen a la luz benéfica relacionada con la acción.
Si uno trata de llamar a los ángeles para extraer la luz y los beneficios con nombres incorrectos, no va a funcionar.
El Zohar, en la última frase de esta sección, dice esto explícitamente. No debemos tratar de usar los ángeles que no son ya parte de nosotros. Antes de pedir la curación, debemos orar por la salud de los demás para crear a los ángeles de la curación que nos rodea. Si queremos sustento, debemos bendecir a todos en nuestro camino y les deseamos éxito, incluso de su competencia, porque los ángeles de éxito vendrán a ti. No ser celoso si la otra persona tiene su alma gemela, porque los ángeles celos te rodearán.
Cada acción que hacemos crea los ángeles, buenos o malos. Tenemos la capacidad de elegir con nuestras acciones, el tipo de ángeles que estará alrededor de nosotros. Es tu libre elección.
{||}