Zoharjev dnevnik Št. 975 – Izdelaj sebi lestev iz angelov
Click here to listen to the Daily Zohar [audio:https://dailyzohar.com/wp-content/uploads/audio/dz975.mp3|titles=Daily Zohar 975]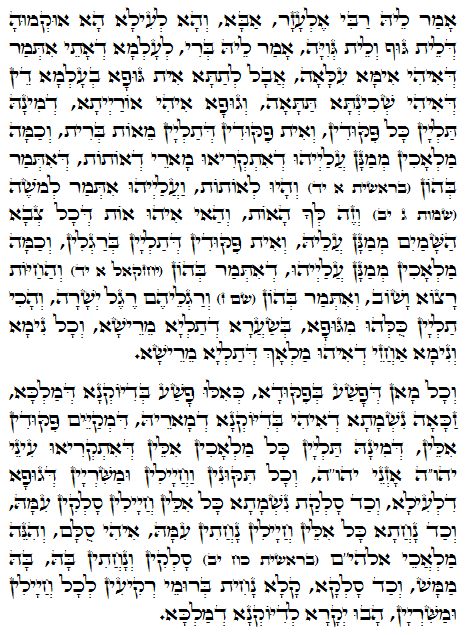 Hebrew translation:
Tikkun 70 – 80
Rabin Shimon pojasni Rabinu Elazarju, da je Torah vidik telesa Shechina-e in vse kar prihaja od nje: vse Postave ( Mitzvot ), Zapovedi na čemer temelji svet Zemeljskega kraljestva (Malchut ).
Beseda za črtko je "אות", kar prav tako pomeni znak, simbol. Predstavljajo pa različne luči odstrte v ZEMELJSKEM KRALJESTVU( Malchut ).
Genesis Prva Mojzesova Knjiga 1:14
" וַיֹּאמֶר אֱלֹהִים, יְהִי מְאֹרֹת בִּרְקִיעַ הַשָּׁמַיִם, לְהַבְדִּיל, בֵּין הַיּוֹם וּבֵין הַלָּיְלָה; וְהָיוּ לְאֹתֹת וּלְמוֹעֲדִים, וּלְיָמִים וְשָׁנִים"
"Bog je rekel: 'Naj bodo luči na nebesnem svodu, da bodo delile dan od noči; Let there be lights in the firmament of the heaven to divide the day from the night; in naj bodo (nebeške sile, angeli, ki smo jih ustvarili pred tem ) za znake ( črke ), in za letne čase (dogodke), in za dneve (nižji sefiroji) in leta (višji sefiroji);"
Exodus Druga Mojzesova Knjiga 3:12
"וַיֹּאמֶר, כִּי-אֶהְיֶה עִמָּךְ, וְזֶה-לְּךָ הָאוֹת, כִּי אָנֹכִי שְׁלַחְתִּיךָ: בְּהוֹצִיאֲךָ אֶת-הָעָם, מִמִּצְרַיִם, תַּעַבְדוּן אֶת-הָאֱלֹהִים, עַל הָהָר הַזֶּה."
"On je dejal: 'Vsekakor bom s teboj in to naj ti bo znamenje ( znak, angeli ), da sem te Jaz poslal. Ko izpelješ ljudstvo iz Egipra, boste častili Boga na tej gori."
Boj je poslal angele z Mojzesom, da bi ga varovali, kamorkoli se odpravi. Celo faraon in vse njegove moči mu niso mogle blizu, da bi ga poškodovale. Pozitivna dejanja, ki jih udejanimo v skladu z duhovnimi zakoni Tore, ustvarijo angele, ki se držijo korena dejanja kjerkoli kakor dlaka na telesu. Na osnovi dejanja in zavesti, prihajajo angeli iz različnih ravni. Lahko povežejo osebe iz nižjih ravni z višjimi svetovi vse do Atzilut-a. Oseba, ki gre proti duhovnemu sistemu pokvari svojo duhovno navezavo na Toro in luč, ki je osnova zapovedi. Pravična oseba zasluži 'lesteb' in njenih angeli ji pomagajo na višje ravni.
{||}