Click here to listen to the Daily Zohar [audio:https://dailyzohar.com/wp-content/uploads/audio/dz977.mp3|titles=Daily Zohar 977]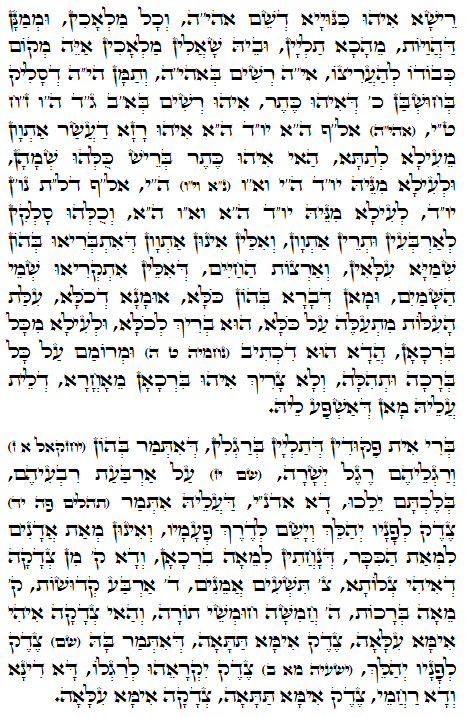 Hebrew translation:
Tikkun 70 – 82
Keter ist der Kopf und hat den Namen אהיה AHYH und er ist die Wurzel für alle Engel, die aus den anderen Heiligen Namen kommen.
Im letzten Gebet von Shabbat, erhöhen wir uns zu Keter und rezitieren die Worte der Engel "איה מקום כבודו", wenn es gelesen wird, klingt es wie eine Frage "Wo ist sein Platz von der Ehre?" aber es ist eine Ankündigung, die repräsentiert, dass איה (des Namens אהיה) Chochmah, Binah und Daat der Platz von seiner Ehre sind. Der Platz ist der Thron von Keter.
Hier enthüllt der Zohar für uns, dass der Buchstabe Caf כ von כתר Keter nach den ersten 10 Buchstaben des Hebräischen Alef-Bet, אבגדהוזחטי kommt, um uns zu sagen, dass die 10 Sefirot vor Keter, das ist der Kopf von den unteren Welten von Tikkun, geschaffen wurden.
Die buchstabierten Namen von Keter und diejenigen darunter, haben 42 Buchstaben
אלף הא יוד הא
יוד הי ויו הי
יוד הא ואו הא
אלף דלת נון יוד
Mit diesen 42 Buchstaben hat Gott die Himmel geschaffen, welche die obere Welt von Briah (Schöpfung) ist und das Land der Lebenden, das Malchut von Briah ist.
Nehemia 9:5 "וִיבָרְכוּ שֵׁם כְּבֹדֶךָ, וּמְרוֹמַם עַל-כָּל-בְּרָכָה וּתְהִלָּה" "und lasst sie sagen: Gesegnet sei Sein glorreicher Name, der erhaben ist über alle Segen und Lobpreisungen."
Der Status von ' über alles erhaben' ist für den Schöpfer von allem, das ist das Unendliche, gesegnet sei Er. Er ist derjenige, der die Segen und den Wohlstand zu allen Sefirot und den unteren Welten bringt.
Nach dem ersten Tzimtzum, formte die Unendlichkeit die 10 Sefirot in dem leeren Raum, so wie die Formel für alles was folgen wird. Erst dann konnten dann die Welten von Atzilut, Briah, Yetzirah and Assia gegründet werden.
*Alles was einen Namen hat, wurde durch das Unendliche Licht in den unteren Welten geschaffen. Keter ist die erste und der Kopf der 10 Sefirot, aber das Licht kommt immer aus der Unendlichkeit.
{|* Anmerkung: Das unendliche Licht ist in allem enthalten, inclusive den unteren Welten, aber da in der Unendlichkeit alles Eins ist, gibt es dort keine Namen. Alles was Namen hat ist darunter|}