Daily Zohar – Tikunim – # 978 – ¿Cómo quieres pintar tu alma?
Click here to listen to the Daily Zohar [audio:https://dailyzohar.com/wp-content/uploads/audio/dz978.mp3|titles=Daily Zohar 978]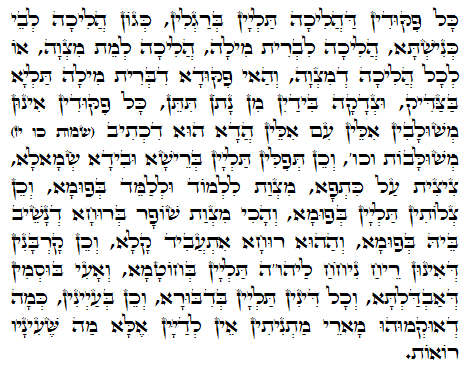 Hebrew translation:
Traduccion Sebastian Palen
Tikun 70-83
Los preceptos que se refieren a la acción de caminar, como caminar hacia el templo, caminar despues a los muertos al cementerio o al caminar a una ceremonia de circuncisión es el aspecto de Maljut. La circuncisión es en sí en el nivel de Yesod, pero la acción de caminar al acontecimiento está en Maljut.
Hay preceptos que son más analogos con una parte del cuerpo y de acción. El uso de Tefilin conecta la cabeza y la mano izquierda. El Talit (manto de oración) se conecta a los hombros. Orar conecta la boca con el corazón y la mente. Soplar el shofar conecta a los pulmones y la boca. El olor del mirto o la fragancia durante la Havdalá después del Shabat conecta a la nariz. También hay preceptos que conectan los ojos y todas las otras partes del cuerpo a la luz.
Cada movimiento que hacemos, cada aliento que tomamos, cada cosa que vemos, hablar, oír u oler forma parte de nuestra alma. Todo se hace "visible" en la 'tela' (leer Zohar diario anterior, # 977). Así que ahora, después de estudiar esta parte del Zohar, surge una pregunta ¿Cómo pinta su alma?
{||}