Click here to listen to the Daily Zohar [audio:https://dailyzohar.com/wp-content/uploads/audio/dz979.mp3|titles=Daily Zohar 979]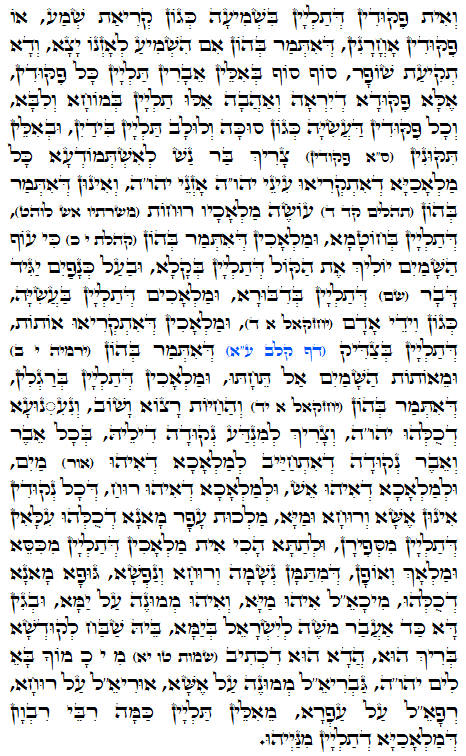 Hebrew translation:
Tikkun 70 – 84
Die Gebote, die auf das Hören beziehen wie das Gebet "Shema (Höre) Israel" oder auf das Zuhören vom Shofar blasen oder auf andere Gebote die eine Rezitation beinhalten, sind im Rahmen der körperlichen Aktion.
Die Gebote von Liebe und Ehrfurcht sind vom Herzen und dem Verstand abhängig, die innere Organe und unter dem Aspekt von Chochmah und Binah sind. Der Zohar sagt uns, dass die Gebote bei dieser Art von Aktion, die Beteiligung von Herz und Verstand erfordern. Außerdem lehrt uns der Zohar, dass wir lernen sollten, dass es Engel gibt, die die Augen von YHVH und die Ohren von YHVH genannt werden und es Engel auf jeder Ebene der Existenz und auf jeder Ebene der Natur Elemente Feuer, Wind, Wasser und Erde, gibt.
Die meisten Menschen sind sich über die Wichtigkeit von positiven Aktionen bewusst, aber hier lehrt uns der Zohar auch über die Wichtigkeit der Augen und Ohren. Wir sollten dieses nicht versäumen. Es sind die höchsten Ebenen von allen, weil die größten Lichter mit ihnen verbunden sind.
Der Rashash, ein großer Kabbalist, der anhand er Lehren des Heiligen Ari expandiert ist, lehrt uns, dass die Ohren kein passiver Sinn sind, sie produzieren feine Energie auf der Ebene von Binah. Die Augen sind auf der Ebene von Chochmah und haben die Energie von Leben und Tod. Die Torah sagt uns, dass der Hohepriester schon heilen konnte, indem er nur auf den Kranken sahen. Viele von uns haben die Energie des bösen Auges von anderen erfahren. Was wir sehen und auf welche Weise wir auf Dinge um uns und um die Welt um uns sehen, wirkt sich deutlich auf unsere Seele aus.
.
Psalms 104:4 " עֹשֶׂה מַלְאָכָיו רוּחוֹת; מְשָׁרְתָיו, אֵשׁ לֹהֵט." "Wer macht Winde, deine Boten, das flammende Feuer deine Minister."
Ecclesiastes 10:20 "כִּי עוֹף הַשָּׁמַיִם יוֹלִיךְ אֶת-הַקּוֹל, וּבַעַל הכנפים (כְּנָפַיִם) יַגֵּיד דָּבָר." "denn ein Vogel des Himmels wird die Stimmen befördern und das was Flügel hat, wird die Sachen erzählen" Die Engel befördern die Stimme/Klänge der Gebete (der Sprechenden/Malchut zu den oberen Ebenen (Zeir Anpin, mittlere Säule).
Ezekiel 1:14 " וְהַחַיּוֹת, רָצוֹא וָשׁוֹב, כְּמַרְאֵה, הַבָּזָק" "Und die lebenden Wesen liefen und kehrten zurück wie die Erscheinung eines Blitzes.´´
Dieser Vers enthüllt die Engel, die den Geboten entsprechen die im Zusammenhang mit den Beinen stehen, der Ebene von Malchut.
Die Kraft die sie alle ist bewegt ist YHVH, der Engel ernannt hat, um den weiten Aspekt von Feuer, Wind, Wasser und Erde zu kontrollieren. Diese Engel sind;
Wasser – Michael, Chessed
Feuer – Gabriel, Gevurah
Luft – Uriel, Tiferet
Erde – Raphael, Malchut

Michael's Name und Plicht sind in Exodus 15:11 gefunden " מִי-כָמֹכָה בָּאֵלִם יְהוָה" "Wer ist gleich dir, O YHVH"
Der Name ist in dem ´Lied des Meeres´verborgen. Der vollständige Vers hat 42 Buchstaben in 3 Teilen von 14 Buchstaben, jeder stellt die drei Hände Gottes dar. Die erste Hand ist der Aspekt von Michael. Wenn wir die 14 Buchstaben in zwei Teile a 7 Buchstaben aufteilen, sehen wir am Anfang den Namen Michael, gefolgt von dem Wort für Wasser מים.

So lange wie wir dieses ´Kleidungsstück´, Körper genannt tragen haben wir es, zum Wohle unsere Seele, richtig zu benutzen. Wenn wir mit der Arbeit aufhören, während wir in der Arbeitskleidung sind, bedeutet das die Belohnungen am Zahltag zu verlieren.
{||}