Click here to listen to the Daily Zohar [audio:https://dailyzohar.com/wp-content/uploads/audio/dz981.mp3|titles=Daily Zohar 981]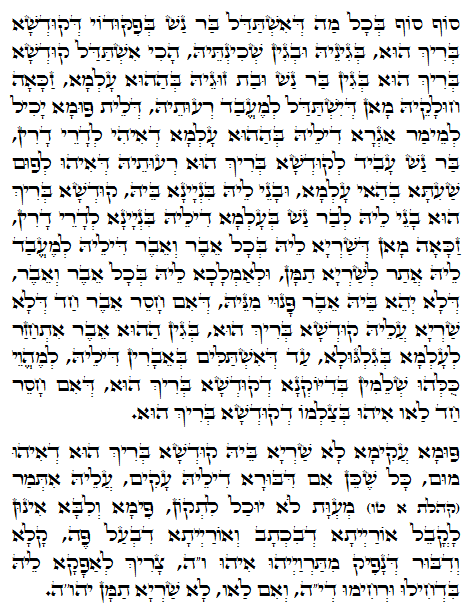 Hebrew translation:
Tikkun 70 – 86
(continue from DZ #980)
Existem 248 preceitos no quadro "você deve fazer…" e 365 no quadro "você não deve fazer…".
248 é o número de partes do corpo e o valor numérico de רחם, 'útero' que é também amor em aramaico. Nascemos com um ato de amor e unificação do masculino e feminino que atraem a luz e iniciam um processo de criação no útero que é um recipiente de amor.
Todo preceito cria uma conexão de luz a uma diferente parte do corpo. É impossível para uma pessoa completar 248 preceitos em uma vida e temos o processo de reencarnação para nos ajudar a alcançar a unificação de todas as partes do corpo/ alma com a luz.
Quando seguimos a meditação descrita no Daily Zohar #980, nós temos certeza que a luz traz pureza a essa parte. O preceito que cobre todos os preceitos é o estudo da Torah que nos é possível através do estudo do Zohar. A luz da Torah brilha pelo estudo do Zohar e isso nos conecta com todos os preceitos. Quando lemos sobre o trabalho dos sacerdotes, os Dez pronunciamentos e todos os preceitos, nós atraimos aquela luz especial em nossas almas.
Os sábios nos ensinam; אֵלּוּ דְבָרִים שֶׁאָדָם אוֹכֵל פֵּרוֹתֵיהֶם בָּעוֹלָם הַזֶּה, וְהַקֶּרֶן קַיֶּמֶת לוֹ לָעוֹלָם הַבָּא: כִּבּוּד אָב וָאֵם, וּגְמִילוּת חֲסָדִים, וַהֲבָאַת שָׁלוֹם בֵּין אָדָם לַחֲבֵרוֹ; וְתַלְמוּד תּוֹרָה כְּנֶגֶד כֻּלָּם. תלמוד בבלי, שבת קכז ע"א."
Tradução: "Essas são as coisas que uma pessoa "come" de seus frutos nesse mundo e o principal é guardado para o mundo do porvir; honrar os pais, atos de bondade para com os outros, trazer a paz entre as pessoas e o estudo da Torah é contra todos eles."
A razão dessa afirmação é que nossas ações são limitadas ao tempo e espaço, mas o estudo (da Torah) é a conexão à luz que purifica a alma e é levada conosco ao mundo do porvir. As ações que praticamos afetam nosso tikun diretamente, o estudo afeta esta vida e as anteriores.
Se falecermos antes de corrigirmos todas as partes da alma, nós voltamos reencarnados com uma parte do corpo defeituosa que nos ensina sobre nossa correção.
{||}