Click here to listen to the Daily Zohar [audio:https://dailyzohar.com/wp-content/uploads/audio/dz983.mp3|titles=Daily Zohar 983]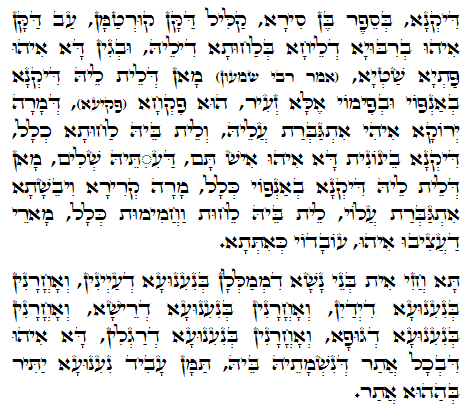 Hebrew translation:
Tikkun 70 – 88
Barba rala com poucos pelos indicam homem sábio com mente afiada. Barba grossa e cheia indica pessoa ingênua que pode ser enganada facilmente. Pouco cabelo na face e ao redor da boca indica homem inteligente, mas que não tem equilíbrio interno. Eles usam sua inteligência de maneira negativa e enganam os outros. Pessoas com barba normal e proporcionalmente densa são da coluna central. Aqueles que não tem barba em sua face têm tendência à tristeza ou em cair em estado emocional negativo, porque não conseguem segurar muita luz.
O pelo da barba representa a conexão à Arich Anpin, que é uma das cabeças de Keter juntamente com Atik Yomin. Os 13 atributos de D'us vêm de Arich Anpin e traz sabedoria e misericórdia a todos mundos abaixo. É benéfico ao homem deixar a barba crescer para estar apto a se conectar e canalizar a esta luz alta.
Existe uma história sobre o Baba Sali (Rabbi Israel Abu-Chatzeira), um grande cabalista de gerações anteriores. Ele ensinou aos seus alunos sobre os benefícios do crescimento das barbas e eles seguiram seu mestre. Depois de um tempo um deles veio sem a barba. Para a pergunta "o que aconteceu?", ele respondeu "Minha esposa me forçou a raspar". O Baba Sali disse ao seu estudante para voltar à sua esposa e dizer que se ela não o deixar crescer a barba, crescerá uma nela própria. Conhecendo os poderes de Baba Sali, ela fez questão que seu marido deixasse crescer sua barba novamente e que a conservasse.
Se alguém tem grandes problemas em deixar crescer a barba, eu aconselho a não cortar com lâminas afiadas, porque passar lâminas diretamente na face traz o aspecto de julgamento. Melhor usar algum tipo de aparador.
Baba Sali nunca cortou sua barba e usou seus olhos para propósitos sagrados. Ele era conhecido por realizar inúmeros milagres. Seu verdadeiro nome era Rabbi Israel Abu Chatzeira, mas o povo o chamava Baba Sali, que significa o pai que ora, porque ele orava pelos outros e suas preces eram normalmente respondidas. Ele era o que abriu a Sinagga do Santo Ari em Safed ao povo. Antes disso, todas as tentativas de usar a sinagoga trouxe danos e mesmo morte às pessoas. Ele fez meditações especiais e equilibrou a energia naquele local.
Devido à cabeça ser uma "face" completa que inclui todas Dez Sefirot, faz dela um dispositivo espiritual que nos conecta ao reino espiritual. Mantendo todos as 7 aberturas dos olhos(2), ouvidos(2), nariz(2) e boca para propósitos sagrados nos garantem grandes capacidades de usar o Chochmah interno (lado esquerdo do cérebro) e Binah (lado direito do cérebro) como ferramentas para atrair luz de Keter, a Da'at e o mundo inferior.
Mulheres não têm e não devem deixar crescer pelos faciais porque elas são vasilhas e seu foco deve ser em construir desejos maiores para atrair luz ao mundo e manifestá-la.
{||}