Click here to listen to the Daily Zohar [audio:https://dailyzohar.com/wp-content/uploads/audio/dz983.mp3|titles=Daily Zohar 983]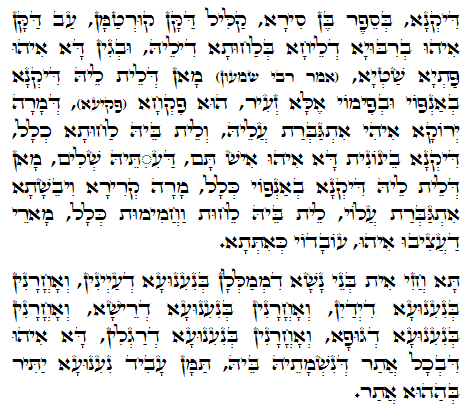 Hebrew translation:
Traduccion Sebastian Palen
Tikun 70-88
La barba delgada, con poco pelo indica un hombre sabio con una mente aguda.
Barba espesa y llena indica una persona ingenua que puede ser fácilmente engañada.
Poco pelo en la cara y alrededor de la boca indica un hombre inteligente, pero no tiene el equilibrio interior. Ellos usan su astucia en forma negativa y engañan a otros.
Las personas con barba normal y densa proporcionalmente son de la columna central.
Los que no tienen barba en su rostro tienen tendencia a la tristeza o caer en estado emocional negativo, ya que no puede contener mayor cantidad de luz.
El pelo de la barba representa la conexión a Arij Anpin, que es una de las cabezas de Keter, junto con Atik Yomin.
Los 13 atributos de Dios proceden de Arij Anpin y traen la sabiduría y la misericordia a todos los mundos inferiores.
Es beneficioso para un hombre hacer crecer la barba para ser capaz de conectar y canalizar esta luz elevada.
Hay una historia sobre el Baba Sali (el rabino Israel Abujatzeira), un gran cabalista de la generación anterior. Enseñó a sus alumnos los beneficios de la barba en crecimiento y siguieron a su maestro. Después de un tiempo uno de ellos llegó sin barba. A la pregunta de "¿qué pasó?" Él respondió: "Mi esposa me obligó a afeitarme". El Baba Sali le dijo a su alumno a volviera a su esposa para decirle que si ella no lo dejaba hacer crecer la barba, le crecerá una en sí misma.
Sabiendo los poderes del Baba Sali, se aseguró de que su marido vuelva a hacer crecer la barba y la mantenga.
Si uno tiene problemas importantes con la barba cada vez que sugerimos no afeitar con cuchillas afiladas, porque la colocación de láminas directamente en la cara aporta aspectos de juicio. Mejor es el uso de cortadoras de algún tipo diferente.
Baba Sali nunca se cortó la barba y usó sus ojos para fines sagrados. Era conocido por hacer muchos milagros. Su verdadero nombre era Rabi Israel Abujatzeira pero la gente lo llamaba Baba Sali eso significa el padre de la oración, porque él estaba orando por los demás y sus oraciones fueron contestadas por lo general. Él fue el que abrió la Sinagoga del Santo Arí en Safed a la gente. Antes de eso, todo intento de utilizar la sinagoga trajo daños e incluso la muerte a la gente. Hizo meditación especial y la energía fue equilibrada en ese lugar.
Debido a que la cabeza es un completo "rostro" que incluye todas las Diez Sefirot, que hace que sea un dispositivo espiritual que nos conecta con el mundo espiritual. Manteniendo todas las 7 aberturas de los ojos (2), orejas (2) , nariz (2) y la boca para los propósitos santos nos garantiza grandes habilidades para utilizar la Jojma interna (cerebro izquierdo) y Bina (cerebro derecho) como herramientas para extraerrla luz de Keter, para Daat y el mundo de abajo.
Las mujeres no tienen y no deberían hacer crecer el vello facial, ya que son los recipientes y su atención debe centrarse en la construcción de grandes deseos para extraer luz al mundo y manifestarla.
{||}