Click here to listen to the Daily Zohar [audio:https://dailyzohar.com/wp-content/uploads/audio/dz996.mp3|titles=Daily Zohar 996]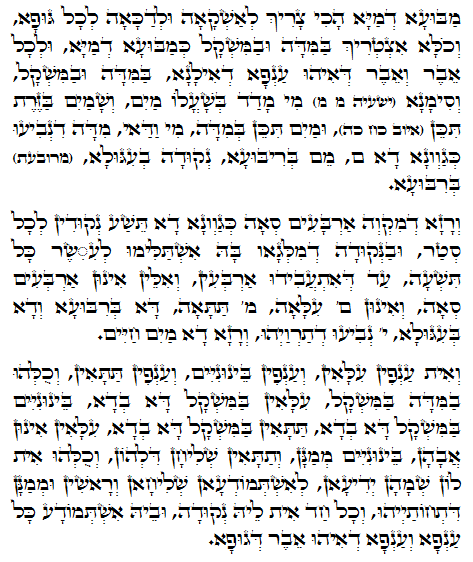 Tikkun 70 – 101
Isaías 40:12 "מִי-מָדַד בְּשָׁעֳלוֹ מַיִם, וְשָׁמַיִם בַּזֶּרֶת תִּכֵּן, וְכָל בַּשָּׁלִשׁ, עֲפַר הָאָרֶץ; וְשָׁקַל בַּפֶּלֶס הָרִים, וּגְבָעוֹת בְּמֹאזְנָיִם. " "Quem mediu na concha da sua mão as águas, e tomou a medida dos céus aos palmos, e recolheu numa medida o pó da terra e pesou os montes com peso e os outeiros em balanças?"
A fonte de água, desce e 'irriga' todos os ramos da Árvore que são as Sefirot inferiores. Cada Sefira recebe sua prórpia medida de água e luz que precisa, para completar seu papel em todo o sistema. A primeira palavra do versículo מִי , 'quem', é numericamente igual a 50 e indica Binah.
A palavra para água é מים , numericamente 90 e é o aspecto das nove Sefirot de Luz. A primeira letra é um מ aberto e o aspecto de Yessod que é a fonte da vida. A última letra ם é a forma final da primeira letra מ. ם é a fonte de água e a letra central י Yod é a luz que vem de Binah para alimentar os níveis inferiores.
O segred do Mikveh está na palavra מים, água.
[frame type="lifted"]https://dailyzohar.com/wp-content/uploads/2012/08/mikveh-secret1.jpg[/frame]
O Zohar nos mostra essa imagem e explica que no meio temos o Mem final ם . O nome superior de אלף-הה-יוד-הה tem valor numérico de 151 de Mikveh, מקוה . Quatro lados para as quatro letras de ה estão no neste nome (dos comentários de 'Matok Midvash', מתוק מדבש). Cada lado tem 3×3 =9 pontos (Sefirot) e ao adicionar o ponto central que conecta todos eles, temos 10 e 40 como em 4 י Yod no total.
O volume de água em um mikveh deve ser de no mínimo סאה 40 'Seah' . É uma unidade de medida bíblica e de acordo com Maimônides um Seah equivale a 7.2 litros, assim quando multiplicamos por 40 temos 288 litros (1 litro = 33.81 fl oz). Seah também é o volume de 144 ovos. 288 é רפח e o número das faíscas de luz que temos que corrigir no mundo para trazer a redenção final e imortalidade. [blockquote align="left" cite=""]Rabbi Abraham Azulai escreveu em seu livro "Chessed L'avraham" que o segredo do Mikveh nos conecta à Redenção Final e à Ressurreição. Ele estava se referindo ao versículo da profecia de Zacarias (13:2) "farei sair da terra os de espírito da impureza" que recitamos antes da imersão no Mikveh. [/blockquote] 288 é o volume mínimo para conectar as águas superiores e inferiores e trazer limpeza espiritual ao mergulhar no Mikveh. O Mikveh padrão contém 1000 litros ou mais de água.
Da próxima vez que você imergir no Mikveh medite para ter a 'vida' da Árvore da Vida ao seu redor e ajudá-lo em sua limpeza espiritual.
{||}