Click here to listen to the Daily Zohar [audio:https://dailyzohar.com/wp-content/uploads/audio/dz997.mp3|titles=Daily Zohar 997]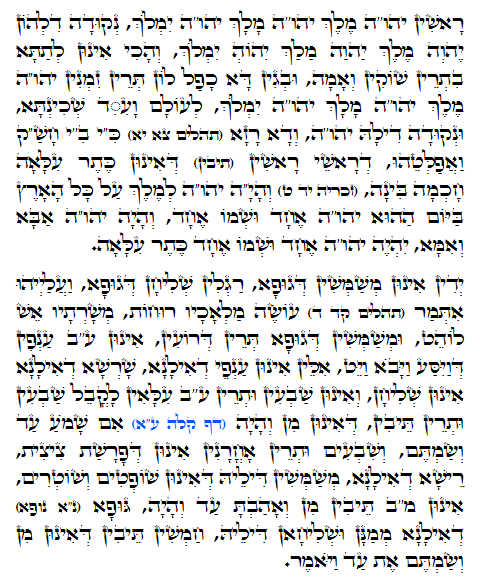 Tikkun 70 – 102
Na prece matinal elevamos nossas almas do mundo de Asiah (Ação) através do mundo de Yetzirah (Formação) e Beriah (Criação) ao mundo de Atzilut (Emanação). Nós, então atraímos luz dos níveis superiores e descemos de volta aos mundos com a luz reunida de cima. Uma das partes importantes na prece nos ajuda a cruzar a ponte entre o mundo de Asiah para Yetzira. Ficamos de pé e recitamos o seguinte:
יֶהוֶה מֶלֶךְ, יַהוַה מָלָךְ; יִהְוָה יִמְלֹךְ, לְעֹלָם וָעֶד "YHVH reina, YHVH reinou, YHVH reinará para todo o sempre." O Zohar explica a conexão e o Santo Ari no portão de meditação nos dá os detalhes que, a primeira vez que recitamos a linha, conectamos com Cochmah, Binah e Da'at com Chessed, Gevurah e Tiferet יֶהוֶה מֶלֶךְ, יַהוַה מָלָךְ; יִהְוָה יִמְלֹךְ, לְעֹלָם וָעֶד Quando recitamos pela segunda vez, conectamos o anterior com Netzach, Hod and Yessod.
Essas duas linhas são seguidas por um versículo de Zacarias 14:9 "וְהָיָה יְהוָה לְמֶלֶךְ, עַל-כָּל-הָאָרֶץ; בַּיּוֹם הַהוּא, יִהְיֶה יְהוָה אֶחָד–וּשְׁמוֹ אֶחָד." "E YHVH será Rei sobre toda a terra; naquele dia Um será YHVH (níveis superiores), e Seu nome (níveis inferiores) um." Com isso, fundimos o nível superior de Keter/Da'at com os níveis inferiores para criar a ponte ao mundo superior.
Nós vemos três YHVH e três palavras com a raiz מלך , 'Rei/ governante'. יֶהוֶה מֶלֶךְ – YHVH reina – forma presente יַהוַה מָלָךְ – YHVH reinou – passado יִהְוָה יִמְלֹךְ – YHVH reinará – futuro O valor numérico dessas seis palavras é 358, o mesmo que a palavra משיח , Mashiah . Toda palavra sagrada que pronunciamos em nossas preces têm o poder de conectar níveis espirituais.
As três Sefirot superiores, como a maioria das pessoas sabem, são Keter, Chochmah e Binah, mas como você pode ver neste artigo e em outros lugares, especificamos Chochmah, Binah e Da'at. Da'at é uma Sefirah que fica ativa quando Chochmah e Binah se unem. Keter é a semente/ raiz de tudo, mas a luz aparece totalmente em Chochmah. É por isso que Keter está apenas 'insinuado' no nome de YHVH com a ponta da primeira letra Yod enquanto que Yod propriamente é Chokmah. Em "Sefer Yetzirah" afirma-se que existem 10 Sefirot e não 9 , 10 e não 11. Imagine uma semente (Keter) de uma árvore que desaparece quando solta sua energia (Chochmah conecta em Binah) e começa a crescer (Da'at).
{||}
traduzido por Denis Schaefer